Running an eCommerce site and looking for alternate payment providers? Do you own a WordPress site and want users to make payments easily? If you're here, then you must be considering setting up Stripe for WordPress.
Stripe is "the best software platform for running an internet business." Cutting through the bias and hyperbole of marketing, Stripe is a very powerful and useful tool for eCommerce and because of that, there are a number of popular plugin options to choose from to integrate Stripe into your WordPress site.
This post contains some affiliate links. We may receive a commission for purchases made through these links. See the
disclosure
for more details.
Pros & Cons of

Stripe
Before we go into telling you how to integrate Stripe into your WordPress site, let's look at the general pros and cons of the service, just in case you're still considering the download.
Pros
Easy-to-use.

You can accept donations.

You do not have to set up a merchant account in order to use Stripe, just a Stripe account.

Your customers don't need a Stripe account in order to use Stripe, they just input their credit card information and they're good to go!

If you know code, you can customize Stripe however you'd like.

Really good choice for small businesses, but has big names to back it up: Pinterest, Lyft, and Blue Apron, to name a few.

No contract or fees.

100% of payments are handled on your site.

24/7 Phone and Chat Support.

Smaller chargeback fee than the average payment portal.
Cons
Recurring billing for use of Stripe (if you do not use the light versions).

A little more goes into setting up your Stripe account versus other payment options like PayPal.

You do not immediately see funds, it takes up to two days.
In my opinion, I'd go with Stripe simply for the fact that my customers do not have to create their own Stripe account and it lends itself to donations.
Stripe might not be as efficient as PayPal in terms of receiving funds, but as a small business owner or head of a non-profit running a fundraiser, I need accessibility and convenience; Stripe lends itself to those two things.
Stripe for WordPress using
WP Simple Pay

First thing's first, download WP Simple Pay Lite for Stripe plugin here. Make sure you are using WordPress 4.7 or higher. You also need SSL in order to use Stripe. This simply guarantees secure transactions and is worth downloading.
On your WordPress site, go to "Add New Plugins" on your admin dashboard, select your file, install, and activate.
After installing and activating WP Simple Pay Stripe into your WordPress, go into the plugin's settings and input your API keys which you can obtain from your Stripe account. This is where you can rename the Stripe button that appears on your page, too. 'Save Changes' and continue. In your default settings, set your site's name and currency, add an image, and select whether or not you'd like customers to be redirected to a "thank you" after they make a payment.
After you save your progress, you can add buttons anywhere on your website using shortcode. *Shortcodes are bits of code (directions for design and operation) that you place into content. They're simple to use and this shouldn't sway you from choosing to use this plugin.
If you cannot see your buttons, go back into your settings and make sure you are 'Live'! Once this is complete, visitors will be able to click on the payment button and send you money with ease through Stripe.
Note: WP Simple Pay works well with the Easy Pricing Tables plugin to create appealing pricing pages for products.
You can also download the premium version of WP Simple Pay which has further features. This one is useful for collecting donations, tax, and selling digital products. 
Stripe WordPress Plugin Integrations
Because of Stripe's compatibility with WordPress and other plugins, there are quite a few ways to make use of Stripe.
With integrations, you get the best of both plugin worlds, so you'll be able to reap the benefits of whatever plugin you're integrating with as well as Stripe.
Some plugins will include their own Stripe add-on, others you may have to pay separately for the Stripe plugin. Here are some more of the popular ones.
WPForms


WPForms is an incredibly reliable and popular drag-and-drop form plugin for WordPress. If you upgrade to the Pro version, which is advisable for those looking to accept payments and donations without needing an eCommerce platform, you can unlock the Stripe integration.
This means that you can generate easy donation and payment forms accessible almost anywhere on your WordPress and all your visitors have to do is present their payment. There will be no need to navigate away from your site and the payment will be processed through Stripe.
Don't like WPForms? You can also use Gravity Forms or Ninja Forms, other plugins that integrate with Stripe. Like WPForms, you'll have to pay for a license in order to access the Stripe add-on feature.
WooCommerce

If you are using an eCommerce platform, in this case WooCommerce, you'll have absolutely no problem using Stripe. It's what happens when everything is just oh so compatible!
After installing WooCommerce, you will be given two payment provider options automatically: PayPal and Stripe. Select Stripe, but make sure you download the Stripe add-on for WooCommerce, available on their website.
WooCommerce is great for selling tickets or auctioning tickets, as well connecting to Jetpack. and other plugins.
Easy Digital Downloads

A lot of eCommerce sites deal with physical products, but let's not forget that digital downloads are also worthy of purchase! Fortunately, Stripe hasn't forgotten that either. Easy Digital Downloads allows you to sell digital products.
It includes Amazon Pay and PayPal, but you can download a paid Stripe extension starting at $89. In this case, it's up to you whether or not Stripe is worth the money. See our pros and cons list for consideration.
LearnDash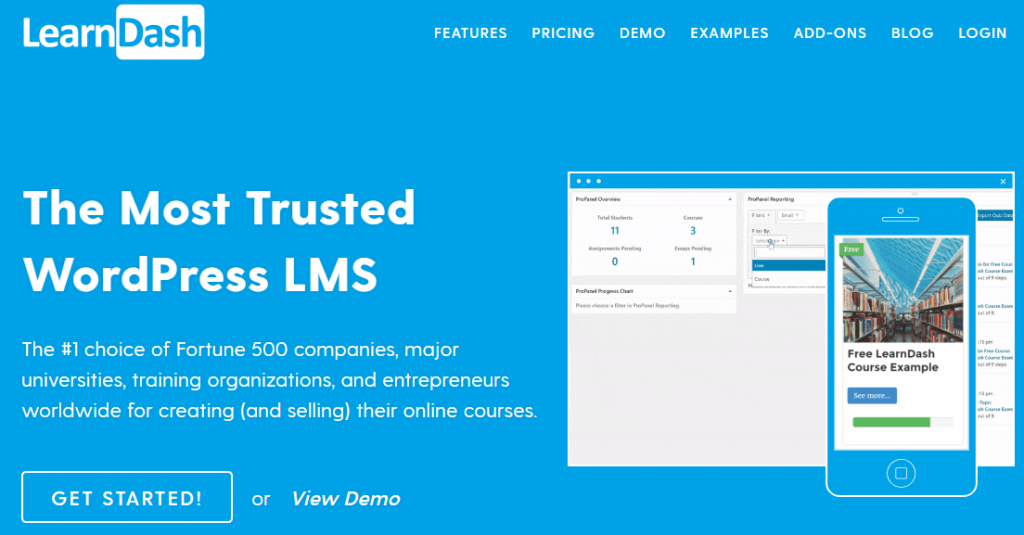 LearnDash allows you to create and sell courses online and comes with a free Stripe integration. With this plugin you can transform your WordPress into an educational and tutorial hub, taking advantage of the virtual classroom and getting paid for it!
Not only will you receive the Stripe payment feature, you'll also be able to manage students and performance tracking (tests, quizzes, grades, etc.)
Wrapping Up
Not all payment providers are on the same level with each other, but certainly Stripe is one of the providers to beat. Next to Paypal it stands strong and if you choose to use Stripe with your WordPress site, you'll reap almost all the benefits Paypal has to offer, plus some Stripe-specific ones.
Yes, many of the integrations out there do require that you pay extra to use Stripe, which is absolutely something to keep in mind when budgeting out your business, but you don't need an eCommerce platform for Stripe to work on your WordPress with WP Pay Simple Lite and Stripe Payments. That is the beauty of its convenience. You are able to turn your WordPress into its own eCommerce platform!
Whatever you choose to do, good luck with your eCommerce endeavors, and if you were undecided about Stripe before, perhaps we have given you some insight on its versatility and ease-of-use for WordPress.
What to hear about our latest deals and new posts? Subscribe below 👍