If you're running an ecommerce store, or just selling a few items or services from your WordPress website, then WooCommerce Services from Jetpack is a recently released plugin that could help enhance your site.
Created by Automattic – the company behind WordPress.com, Jetpack, and many more WordPress-related services and products – this plugin has been built with the aim of adding some useful features to your ecommerce store, while also attempting to increase the performance of your website.
This post contains some affiliate links. We may receive a commission for purchases made through these links. See the
disclosure
for more details.
However, due to the way this plugin is integrated closely into the core WooCommerce plugin, WooCommerce Services from Jetpack has generated some controversy from store owners who feel they've been tricked into installing this tool. Some of those users have been left wondering what WooCommerce Services for Jetpack is, what it's for, and why it's been installed on their site. So if that applies to you, or you just want to know more about this tool, this guide will provide you with all the relevant information.
First, we'll cover the main features of this plugin to help you decide if it's something that can help improve your online store. Also, if you're one of the people who has discovered that this plugin is mysteriously active on your site, you'll be able to get a better understanding of how this might've happened and then make an informed decision as to whether you want to keep it installed or not.
Let's get started.
What is WooCommerce Services?


WooCommerce is the most widely used ecommerce plugin for WordPress. In just a few clicks, the free core WooCommerce plugin can add enough features to a standard WordPress website to allow you to sell physical and digital products as well as list services for sale on your site. Payment collection and other essential ecommerce features are part of the core WooCommerce plugin.
As well as this core functionality, one of the great things about WooCommerce is its large library of extensions that can add a wide range of features to your online store. Thanks to these extensions, you can create almost any type of online shop with WordPress and WooCommerce with the ability to configure it exactly how you want.
WooCommerce Services from Jetpack is one of those extensions, but due to the way it works, it has created some confusion amongst WooCommerce users that this guide should help demystify.
WooCommerce Services Features
So, what can WooCommerce Services from Jetpack do, and should you use on your website? Let's take a closer look at the features it can add to your store now to help you decide.
Real-time Shipping Rates from USPS or Canada Post
With WooCommerce Services from Jetpack running on your store, you'll be able to provide your customers with live shipping rates for any products they want to purchase. Unfortunately, this feature only works with UPS and Canada Post.
However, as these are two big names in the shipping and postal industries, serving a large portion of the global population, there's a good chance this feature can help provide your customers with the accurate information they need to decide whether to place an order through your store or not. And if so, how much they will need to pay for shipping.
Without WooCommerce Services from Jetpack or a similar tool, you can make an estimate on shipping costs, but with this add-on, these calculations should be more accurate.
USPS Label Purchase and Printing (domestic USA only)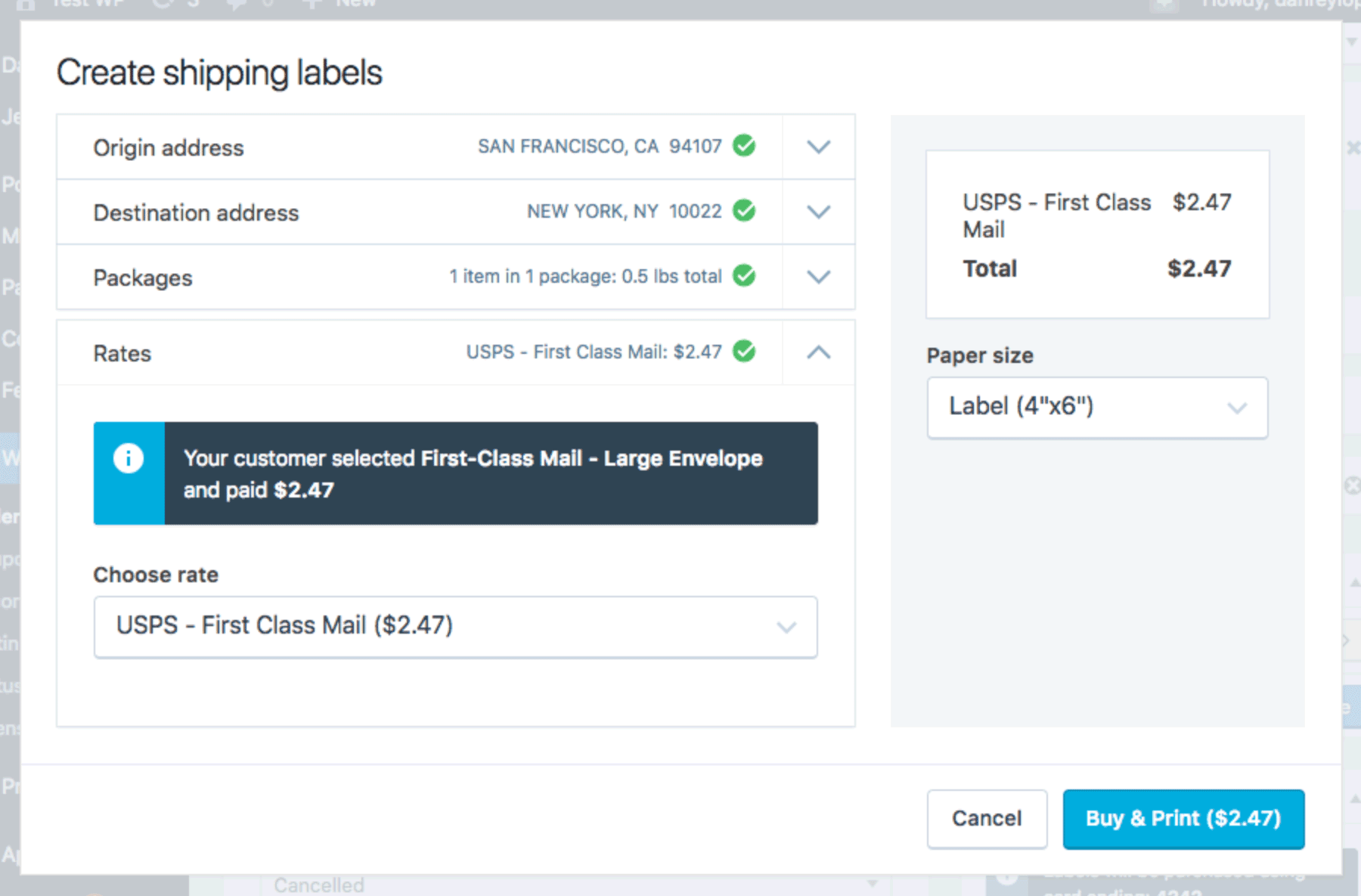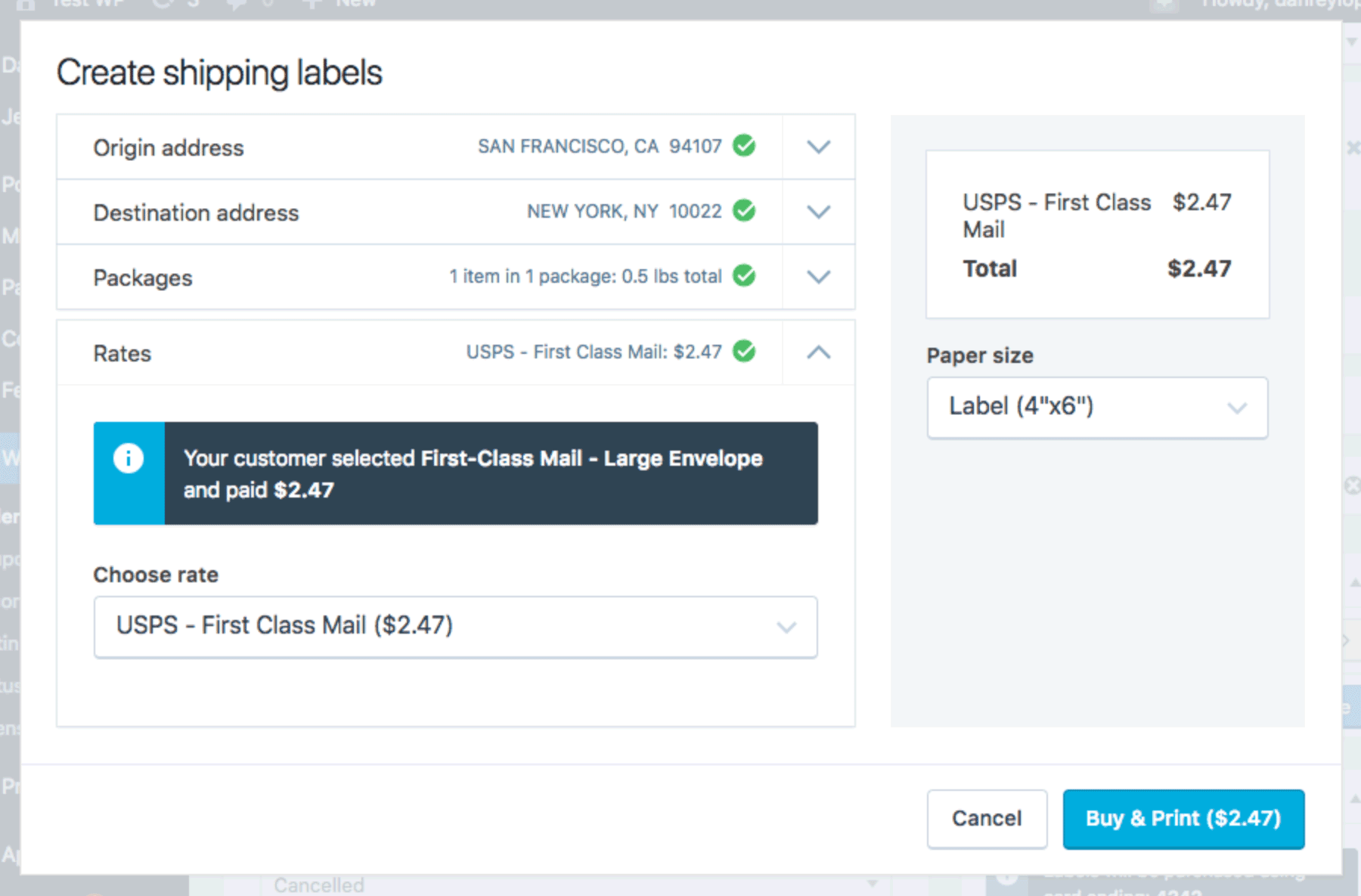 This feature not only gives you the ability to generate ready-to-print shipping labels for your products, but you also get a discount when using the USPS service via the WooCommerce Services from Jetpack plugin integration. If saving time and money sounds appealing, then this feature alone might be enough to tempt you to install this free WooCommerce add-on.
Automated Tax Calculation


Calculating the tax your customers need to pay can be tricky, especially if you're selling and shipping goods to multiple regions. So if you want to automate tax calculations at your ecommerce store, this feature of WooCommerce Services from Jetpack could help.
Stripe Account Creation
If you don't yet have a Stripe account, the WooCommerce Services from Jetpack can create one for you as part of the plugin setup process. Sure, it's not a massive effort to create your own account, but if you're experiencing any difficulties doing do, this feature could help.
Another payment-related feature of WooCommerce Services from Jetpack is the ability to accept PayPal Checkout payments without having to set up an account. Thanks to this, your customers can pay via PayPal, but directly on your store instead of having to visit the PayPal site to complete the transaction. This can help simplify the checkout process, maybe resulting in fewer abandoned carts, while also giving your store a more professional look.
These are the features that are available at the time of writing, although more are expected to be added in the future.
Why the Controversy Around WooCommerce Services from Jetpack?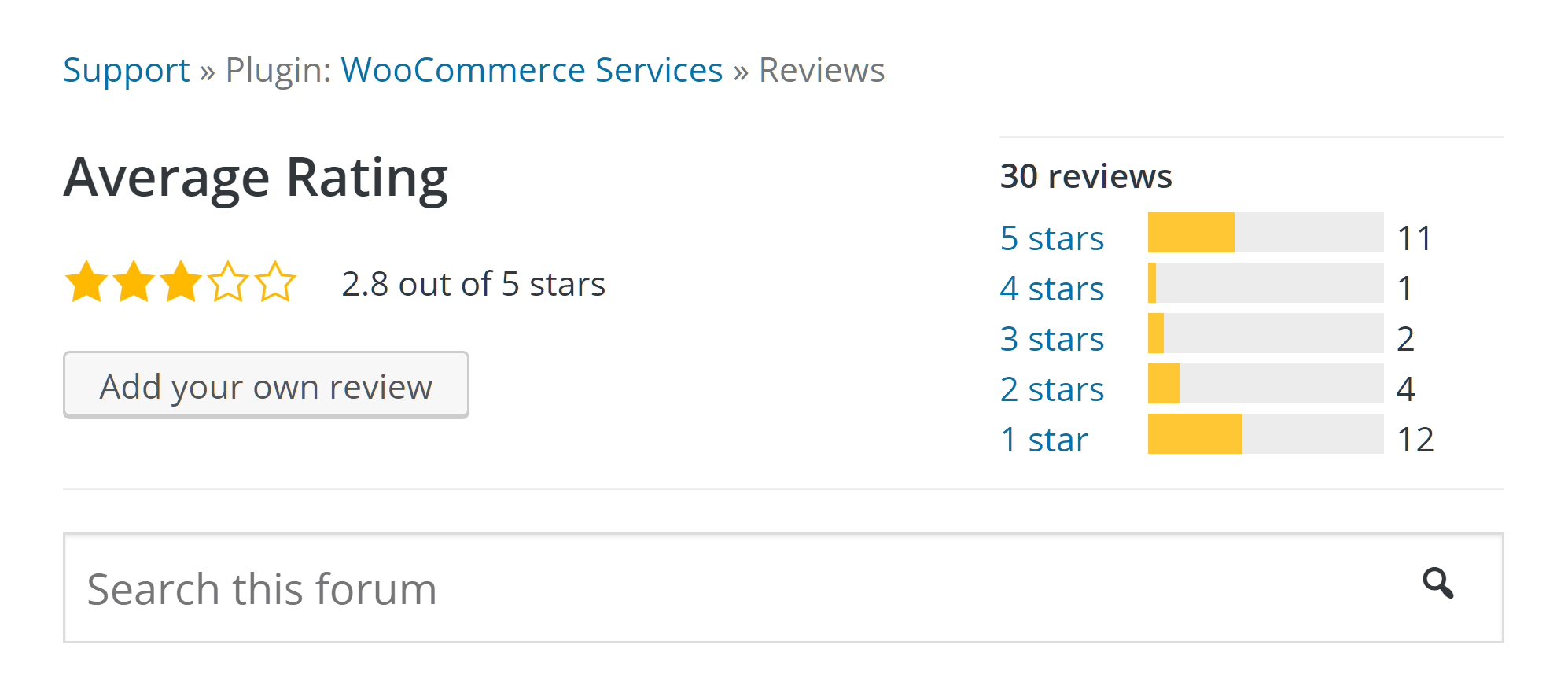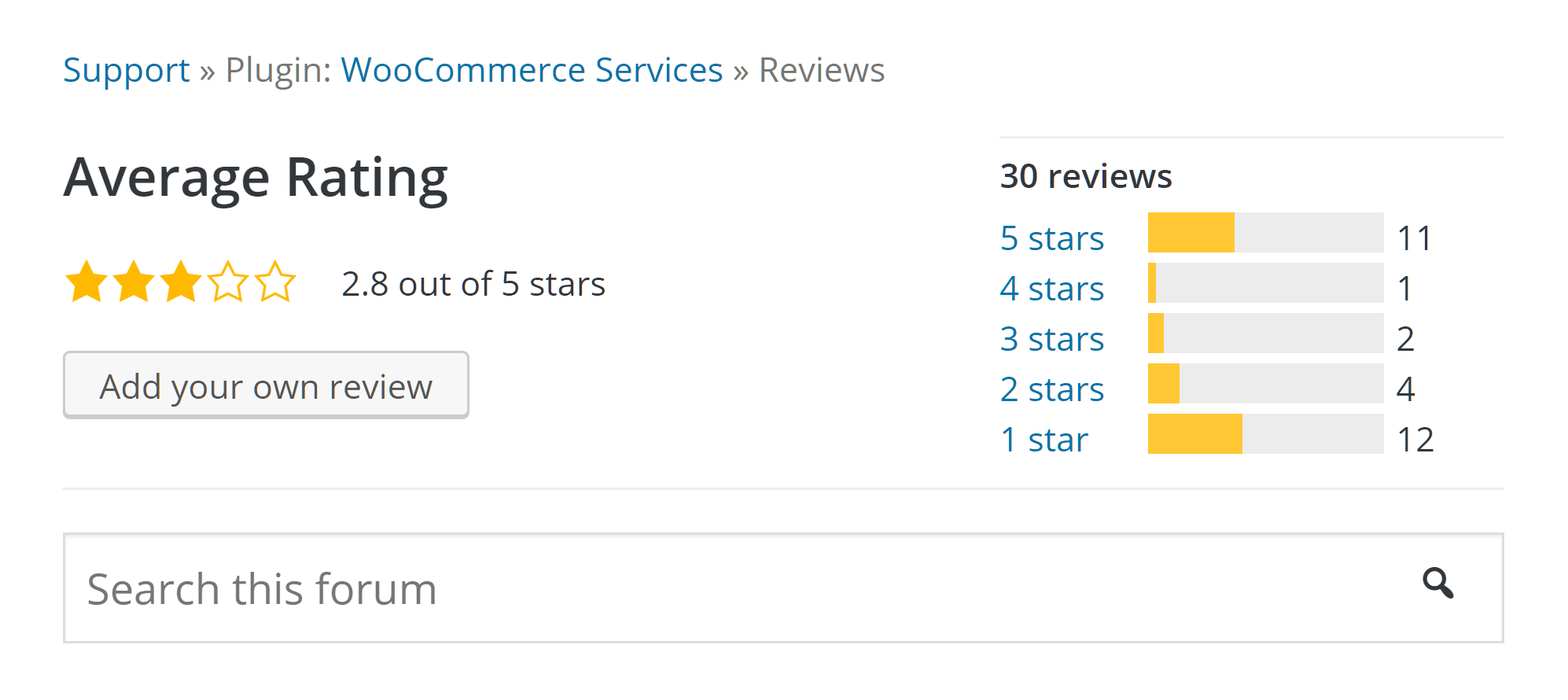 If you're a little skeptical about this tool after checking out WooCommerce Services from Jetpack at the WordPress Plugin Directory, that's perfectly understandable.
With an average rating of 2.8 stars out of 5, you'd be right to approach this plugin with caution or even feel slightly concerned to notice it's been installed on your website, apparently without authorization.
However, a closer look at the user rating breakdown tells a slightly different story. With as many 5-star ratings as 1-star ratings, WooCommerce Services from Jetpack is certainly a plugin that divides opinion. A deeper dive into those reviews reveals that one of the main reasons why people are leaving negative feedback for this plugin is that they feel they've been duped into activating it on their site, or that it's been installed entirely without their permission.
However, those who have actively chosen to install the plugin, seem to be generally happy with their decision to do so.
After using WooCommerce Services from Jetpack, it's not too difficult to see why people might think that. At certain points during the WooCommerce setup wizard, certain features are offered, which if enabled, also install the WooCommerce Services from Jetpack plugin on your site. Although this is mentioned during the wizard, it's easy to see how people who haven't read the small print can feel mislead.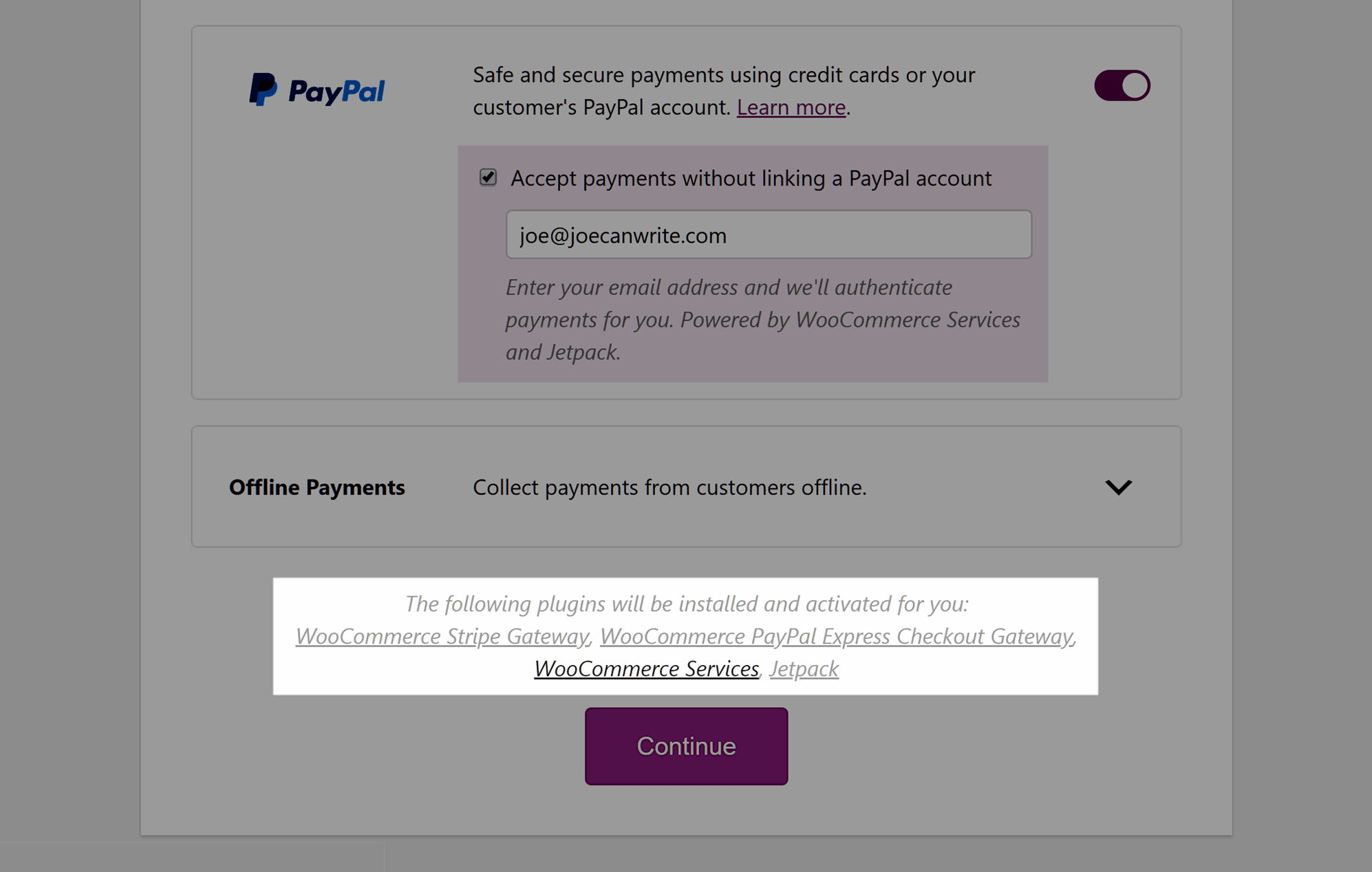 Although this guide wasn't created to promote WooCommerce Services from Jetpack or refute the negative feedback it has garnered, it's worth talking about this issue as you're sure to come across it during your research.
Using WooCommerce Services Add-on
If you're creating a new online store with the WooCommerce plugin or activating WooCommerce on your site for the first time, WooCommerce Services from Jetpack can be activated on your behalf as part of the setup process. As mentioned, this happens if you choose to enable some of the features that are offered, which rely on WooCommerce Services. Thanks to this, there's no need to install any extra plugins or tools yourself as everything is taken care of for you.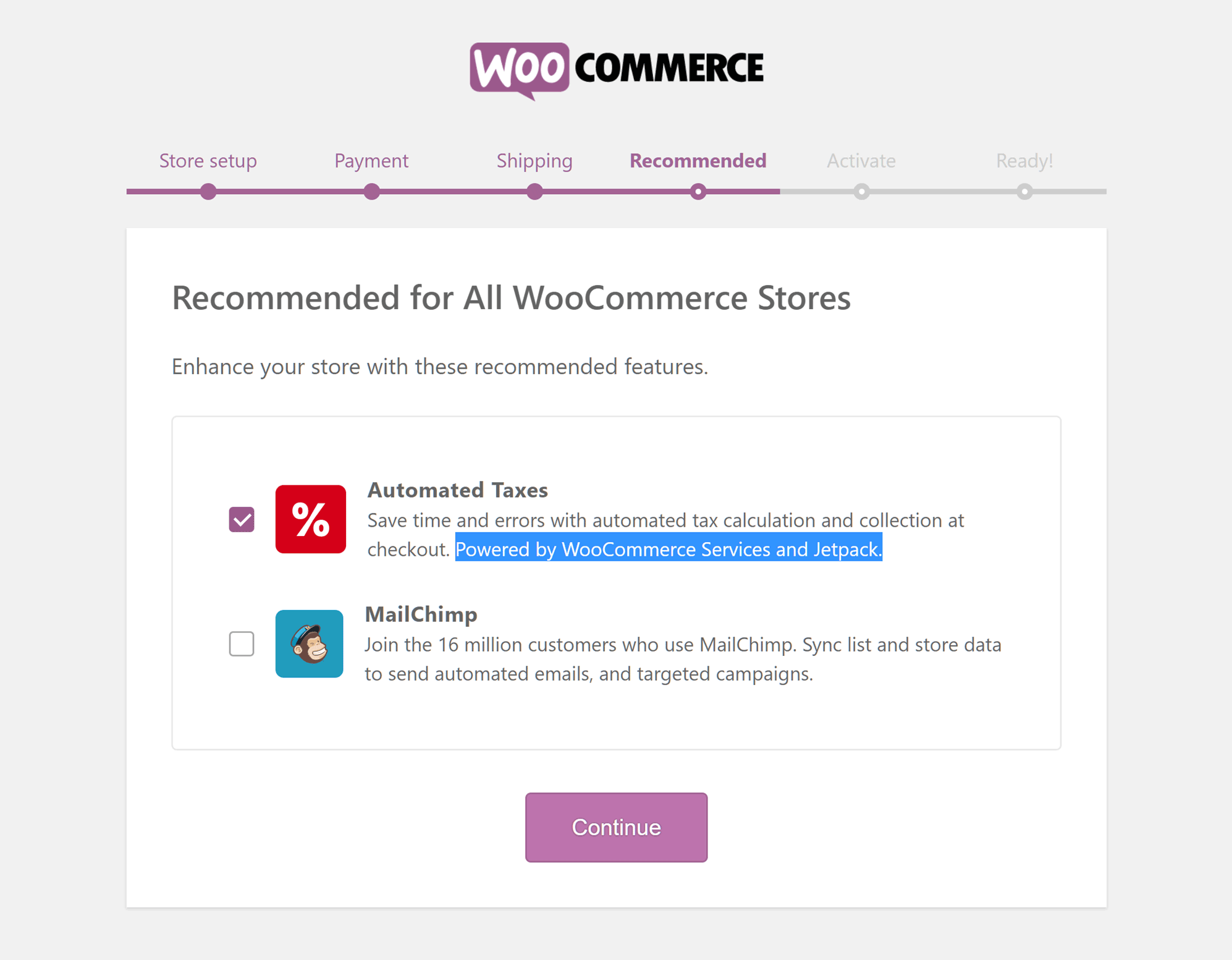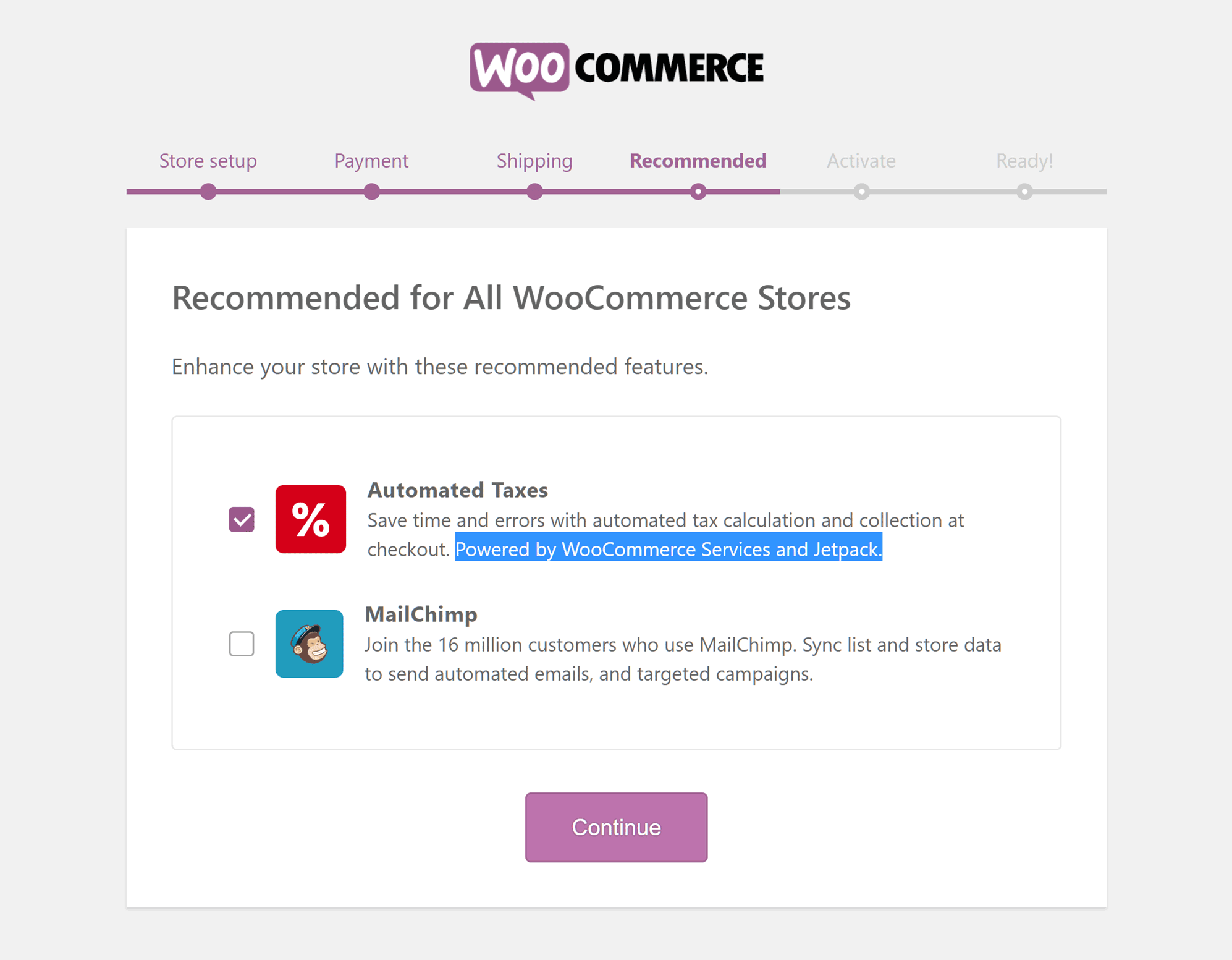 But if not, you can easily install the WooCommerce Services from Jetpack plugin through your WordPress Dashboard. Simply log into your dashboard, navigate to the Plugins page, click Add New then search for the plugin.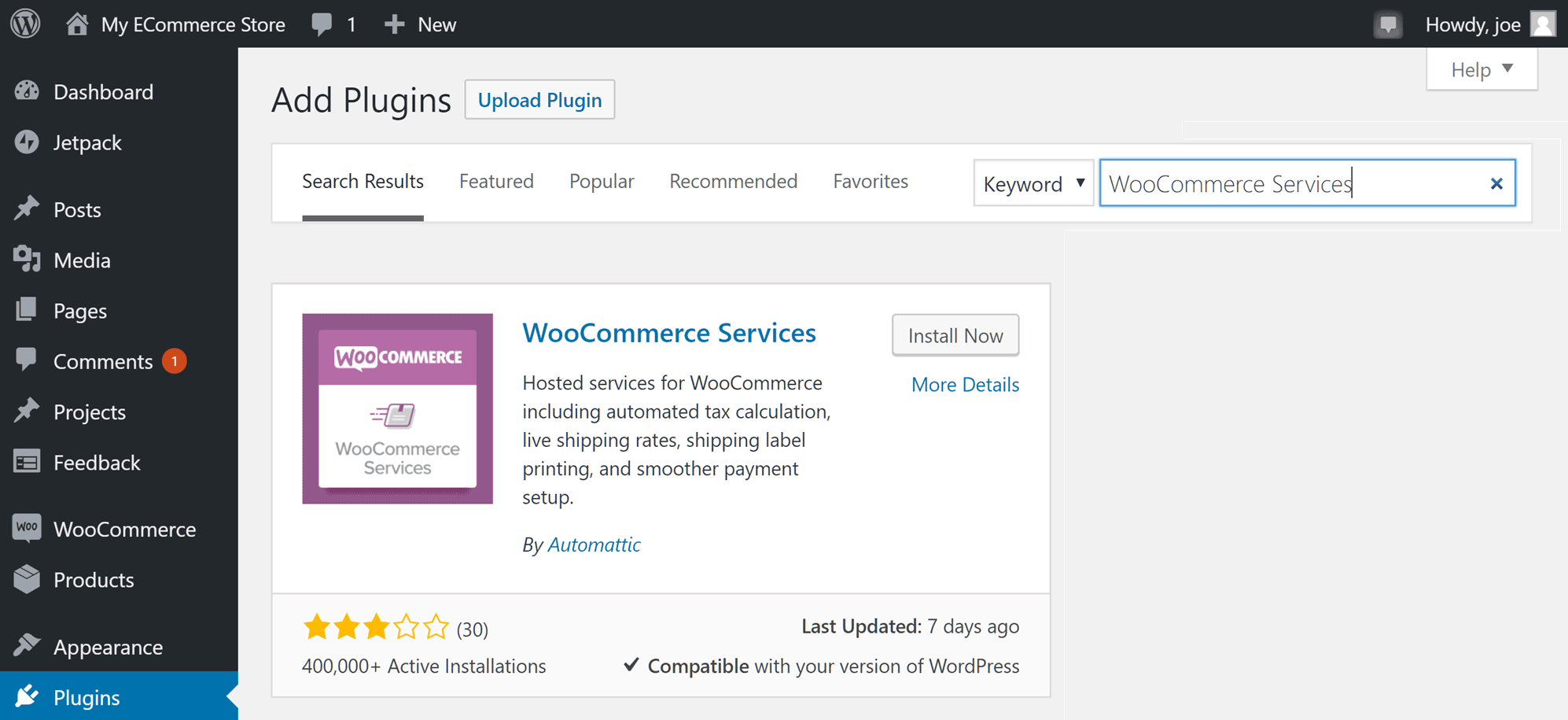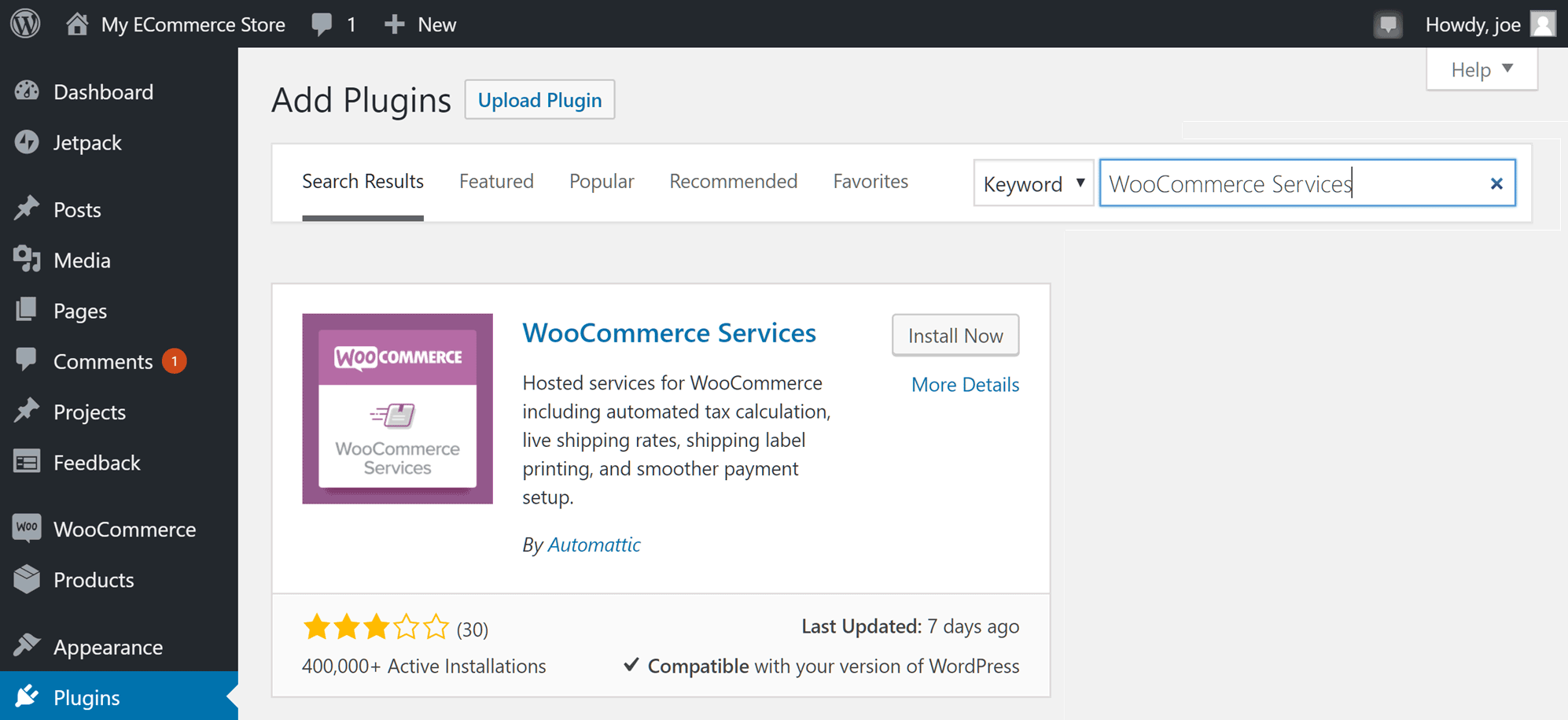 Then it just a case of heading over the WooCommerce settings of your online store and deciding which features you'd like to use, and how you want to configure them.
Final Thoughts
Hopefully, this guide hasn't come across as a ringing endorsement of WooCommerce Services from Jetpack. After using WooCommerce and this add-on, it's easy to understand why some people have negative opinions of this tool. However, there seems to also be plenty of people who are happily using this plugin and taking advantage of the useful features it adds to a WooCommerce-powered online store for free.
So whether you're looking for some free add-ons for your store, or you've been wondering what WooCommerce Services from Jetpack is, and why it's been installed on your site, hopefully, you now know more about this plugin and can make an informed decision on whether you want to use it or not.
Will you be using WooCommerce Services from Jetpack on your store? Please let us know in the comments below.
What to hear about our latest deals and new posts? Subscribe below 👍