Have you ever needed to set up a website to auction tickets? Did you know that WordPress is the perfect way to build a website to sell tickets? We've put together a list of auction ticket plugins for WordPress.
This post contains some affiliate links. We may receive a commission for purchases made through these links. See the
disclosure
for more details.
Before we go into this list, we do not condone ticket scalping. The legal repercussions for ticket scalping vary from state-to-state. But since we are not lawyers, we prefer to play it safe and not have you take your chances (nor do we support you in taking your chances). Therefore, we are not interested in plugins for ticket resales.
Instead, these plugins that will allow you to successfully hold an auction for tickets. This list considers effective WordPress auction plugins that will allow you to auction physical tickets (not all auction plugins support virtual sales) as well as regular ticket sales plugins.
We also know that some of you readers use WooCommerce as your e-commerce store, so we've included a few here that integrate with WooCommerce.
The Plugins
If you do choose to go with a traditional auction site to auction tickets, there are some major requirements you'll need to double check with before you continue your venture. For general ticket sales, you won't have to worry too much. Let's get started!
1. YITH Auctions for WooCommerce
($99.99/yr.-$249.99/yr.)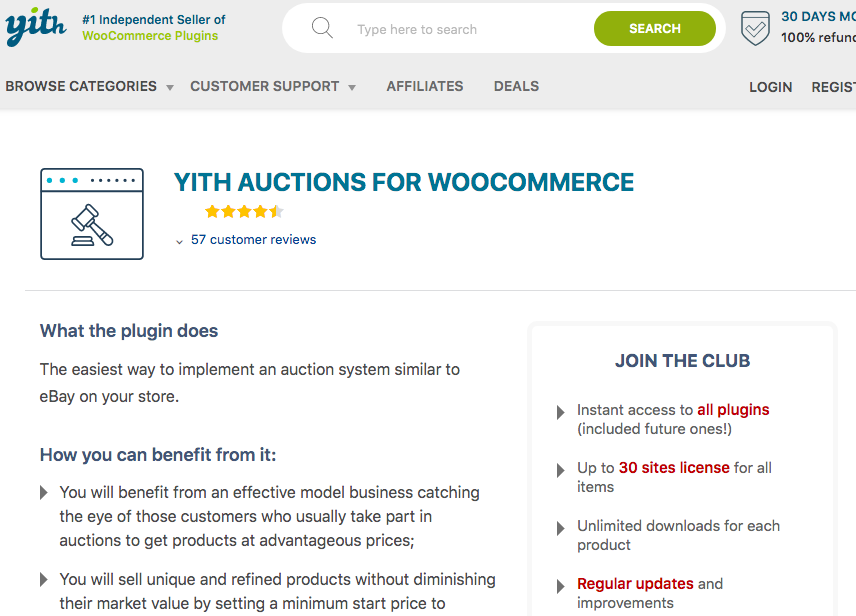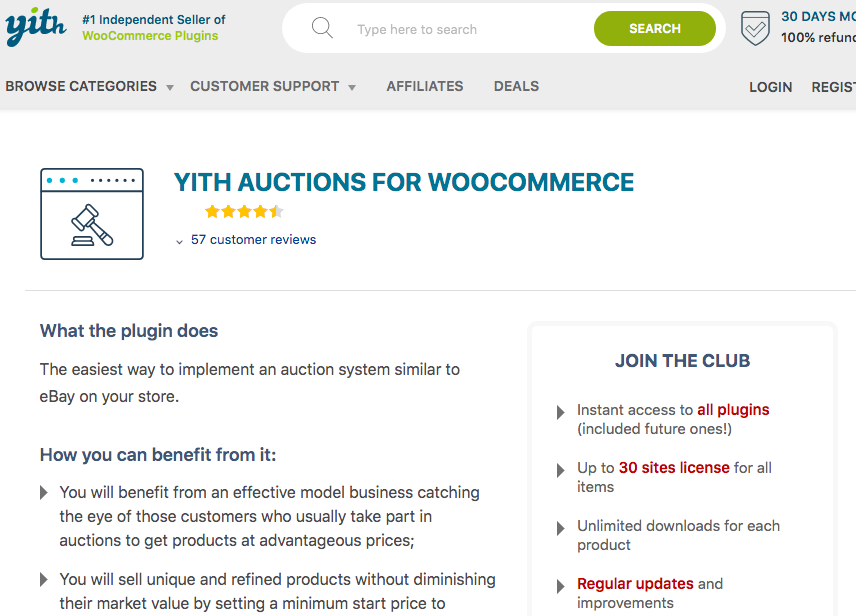 YITH Auctions allows you to set up an unlimited number of auctions with custom and reserve pricing, enable automatic price raising when a bid is met, give a customer an option to purchase the item directly at a fixed price, therefore ending the auction, and send out automatic emails to users who have previously bid on the item.
The plugin itself is very similar to how eBay works and has some fail-safes to it, including Daily Cron Job which will resend an email to a winner if the email failed, give you the option to ban users from bidding, and extend the auction date before the auction ends. It also has multi-currency compatibility.
There are two plugins you can download that will integrate with WooCommerce.
YITH Frontend Manager for WooCommerce:
This will add a front-end manager dashboard to your shop where you can manage auction items from the front end.
YITH WooCommerce Multi Vendor:
Allow vendors associated with your store to manage their own auctions. You'll receive commission after they successfully complete an auction.
You will have to purchase the premium version of YITH Auctions plugin in order to use these integrations.
2. Tickera
($49/yr.-$99/yr. plus a $70 one time fee for both bundles/Lifetime option of $449)

Tickera is a great plugin for digital ticket sales that works with any WordPress theme. It makes selling tickets easy, but gives you enough customizable options so all your bases are covered: ticket form creation, white labeling, tax administration, and more.
With Tickera, you keep 100% of your profits and can check-in ticket holders the day of the event using mobile applications.
It also works alongside WooCommerce, so not only can you sell tickets through WooCommerce and its integrations, any payment gateways available to you through WooCommerce can be used with Tickera. Another bonus feature is their seating chart. You can generate floor plans for customers to choose which seats they want to purchase.
Payment options for bundles can get a bit pricey, so if you're tight on cash, even though this is an awesome plugin, it may not be the best option.
3. Ultimate WooCommerce Auction Plugin
(Free Download Available/Licenses range from $79/yr.-$199/yr.)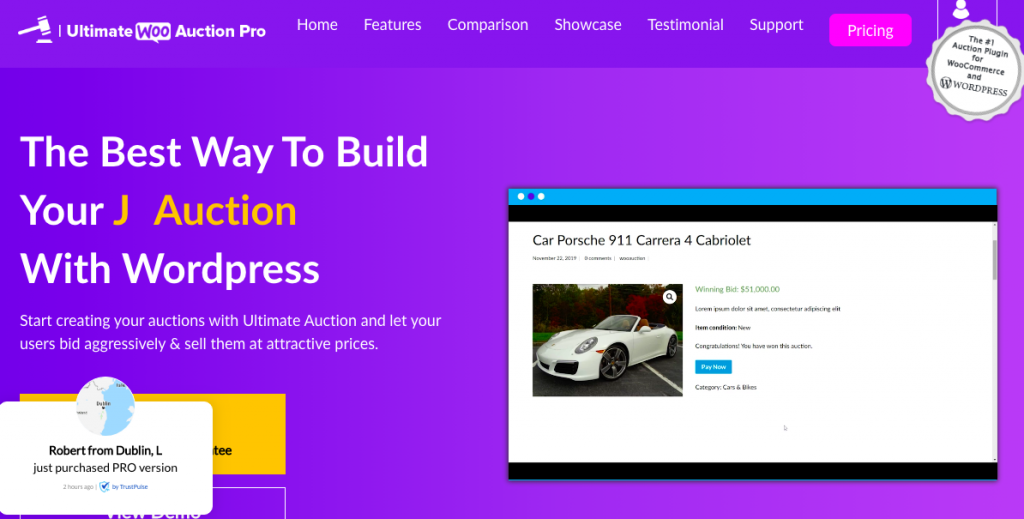 Ultimate WooCommerce Auction is a good way for the new auction administrator to get used to having an auction landscape on their site.
There is a free version available that offers a significant amount of features which include the basics: live auction editing capability, instant "buy now" with Paypal, email alerts, cancel last bid feature, etc.
The pro version processes credit and debit card transactions automatically after the auction ends, supports virtual products for auction (digital tickets, anyone?), and enables live bidding so users don't have to refresh the page.
This plugin does not appear to be as automated as YITH Auctions, but it doesn't require any coding knowledge to operate and works very well with different WordPress themes.
Like YITH, you can integrate with WooCommerce and allow vendors to sell through your store. There is a plugin formula, though, to get there. You'll have to download both the PRO Plugin—price range listed above—and the WooCommerce based Multi-Vendor plugin (which is free). Combining these two will allow your vendor to work from a front-end dashboard to manage their auctions and you will receive commission on their sales.
4. WooCommerce Simple Auctions
(6-month license for $29/Extend to 12 months for an additional $9)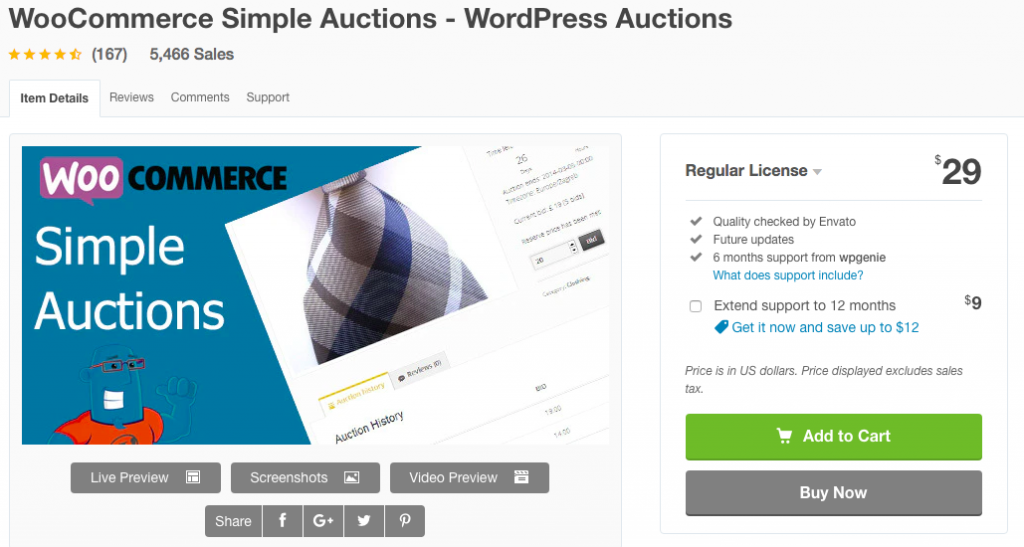 WooCommerce Simple Auctions is another eBay-esque auction plugin, not only is this one easy to set up, but it is also highly customizable as well. It is very WooCommerce friendly, working with any payment method WooCommerce supports and older versions of the plugin as well.
Along with the essential auction features, some standout ones include Ajax live updates, customizable email templates for bidding notifications, a number of Widgets to choose from that provide auction information, silent auctions, and proxy/auto bidding.
Unlike the prior plugins, the integration set up with WooCommerce is more streamlined. You just need WooCommerce, this plugin, and a payment processor—like Paypal or Stripe. There are options for multi-vendor sales, but this particular plugin integration does not automatically allow this.
If you just need an "auction" sale option on your WooCommerce store, this is the economical solution.
5. Auction Nudge
(Free Download)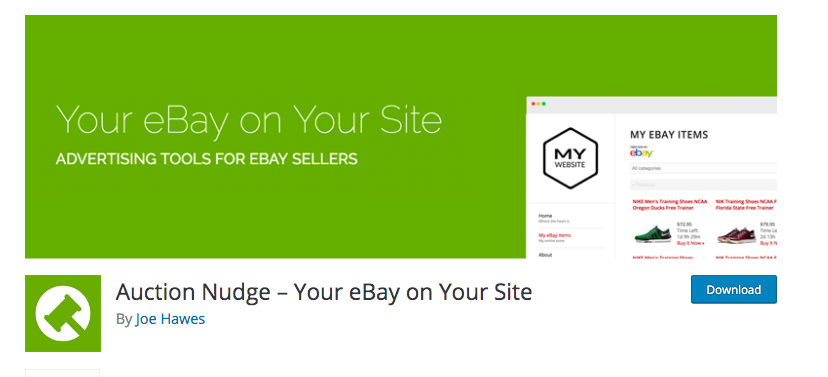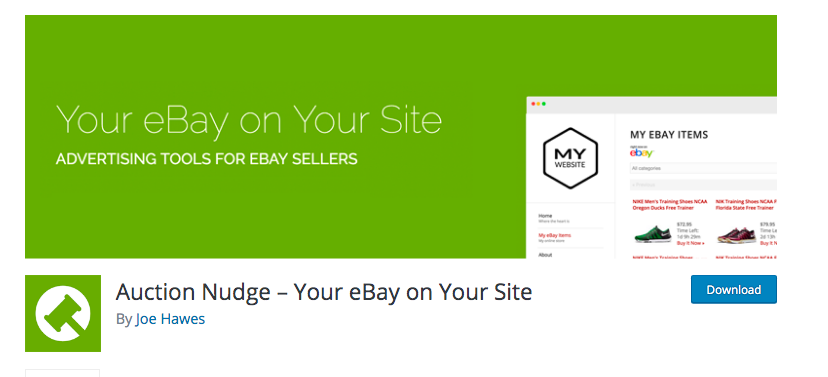 Auction Nudge is a great way to boost eBay sales through your WordPress. Instead of having to create an entirely new auction store on your WordPress, you can push your eBay catalogue instead. It will display your items currently being auctioned through eBay, your user profile, and eBay feedback.
There are also display themes for you to choose from, straightforward code instructions (you don't have to write code, just copy-paste), and sort/filter options. A note with eBay and ticket sales: eBay will not prevent you from reselling tickets, but it advises you to check and double check with your state's laws.
If you are given the okay—and you are sure of it!—Auction Nudge is a great way to increase ticket auction visibility.
6. WordPress Automatic Plugin
(6-month license for $30/Extend to 12 months for an additional $9.38)
So far the plugins on the list have been an either/or situation, either requiring a new auction site be created or simply advertising auctions through a third party site. The WordPress Automatic Plugin combines the two. You can import products listed on other pages so it will display on your WordPress auction page.
The eBay import option is also fully supported by WooCommerce. Once a new product goes up on eBay, it will automatically show on your e-commerce site (you just have to sign into eBay first). It will also live update as your eBay auction updates. This means it covers your ticket sales and auctions, too.
The amount of auto post options the plugin provides is really impressive, turning your WordPress into a terminal for social media, YouTube, other product websites like Amazon and Walmart (also WooCommerce compatible), and more.
7. WPAuctions
($59/yr.-$99/yr.)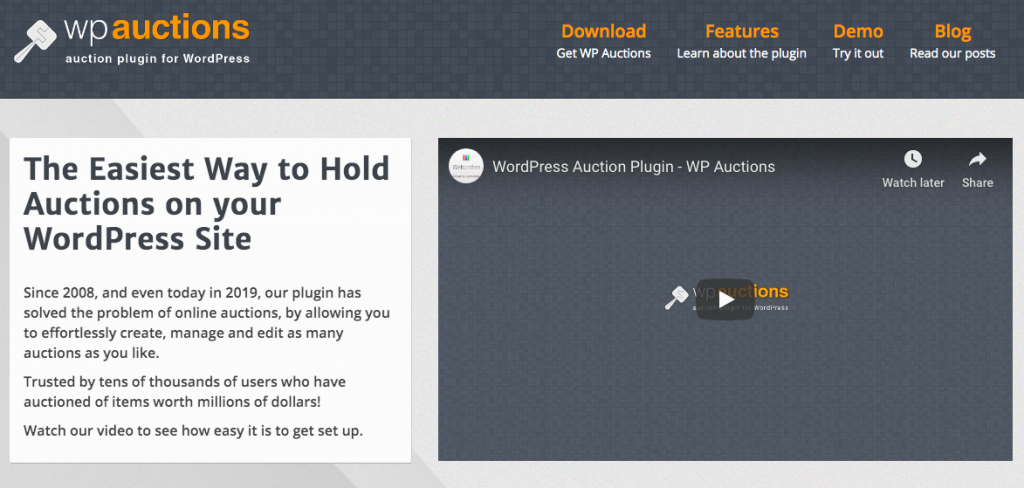 This plugin has been serving the WordPress community since 2008 with reliable and familiar features that see auctioneers through successful sales. Unlike other plugins that may take some more time to set up, the developers claim that WPAuctions only needs about two minutes. Easy!
There is no multi-vendor option with this plugin, but you keep 100% of your self-hosted auction profits, and can sell just about anything: automobiles and other transportation (like airplanes), real estate, and art and antiques. It also has similar eBay auction features like "watching" and buy it now. Virtual products are not supported.
Users have the option to pay through Paypal, wire transfer, checks/money orders, or set up custom payment options via email.
There are three different security levels for this plugin to prevent fraudulent activity, one even giving auctioneers the ability to blacklist users from bidding by email address. This can be useful if auctioning tickets and you have a history of ticket scalpers roaming your site.
The basic package gives you 3 months of updates and support and full documentation on how to use the plugin.
8. Event Espresso
($79.95/yr.-$299.95/yr.)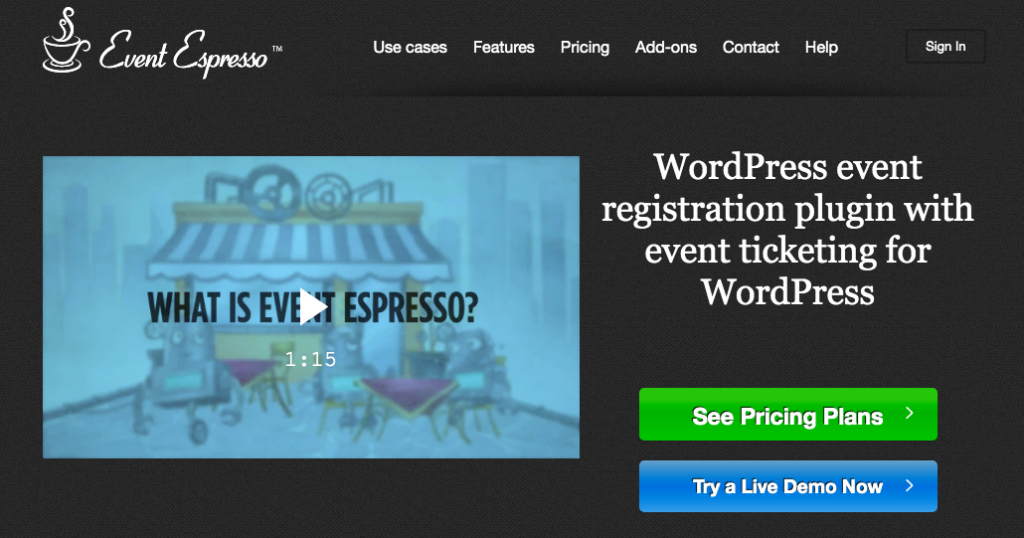 A plugin that gives you thorough event management and easy ticketing solutions. Event Espresso allows you to micro-manage or automate how you handle your event. Regardless of your preferences, Event Espresso will let you create as many types of tickets as you want and need, set quantities, prices, and more.
Not only can you sell tickets, it will also assist in online group and individual registration for events, as well. You can integrate with a variety of payment gateways for a smoother checkout process.
Conclusion
If looking to auction tickets, I suggest downloading a plugin made for setting up auctions like Ultimate WooCommerce Auction Plugin which supports the auction of virtual items. Just remember that not every auction plugin does support virtual sales, so if that's more what you want to achieve, then it may be best to choose a plugin like Tickera.
Also, don't do anything illegal. If your state says that reselling tickets is illegal, don't try to go against the law.
Have you set up a WordPress website to auction tickets before? What plugins did you use? Let us know in the comments below.
What to hear about our latest deals and new posts? Subscribe below 👍