Ready to move on from Jetpack? Although this classic WordPress plugin is incredibly useful, some may find it overwhelming—which leads WordPress users to consider alternatives to Jetpack and look for other plugins.
This post contains some affiliate links. We may receive a commission for purchases made through these links. See the
disclosure
for more details.
When you activate Jetpack, it automatically activates about 20 different modules that are difficult to turn off and require extra configuration after installation. All of these extras are clutter to those who only need two or three of those modules.
Because of this, Jetpack can ultimately hurt your site's performance. Another reason why you would want to steer away from Jetpack and consider another option is because the user interface is different than that of WordPress's interface. This is a funny one because Jetpack is designed by Automattic, the same people who design WordPress and WooCommerce. Another noted con to Jetpack is that it doesn't always work with other plugins.
Oh, what to do? Your interface is bloated and you are frustrated!
There are lists upon lists that provide alternatives to Jetpack, but most of what is listed targets specific module functions included in Jetpack, like social media plugins.
In this list, we are looking for plugins for WordPress that are all-encompassing like Jetpack, but have a higher efficiency rate, are easy to use or adapt to, have less initial clutter, and are more compatible with other plugins. Some of these may specialize in a particular function and cost money to download, but they include enough goodies to make it worth your while.
1. Beaver Builder – Page Engineering At Its Best
Why A Good Alternative: Easy-to-Use; Better Plugin Compatibility; Less Module Clutter
Plugin Focus: Page Building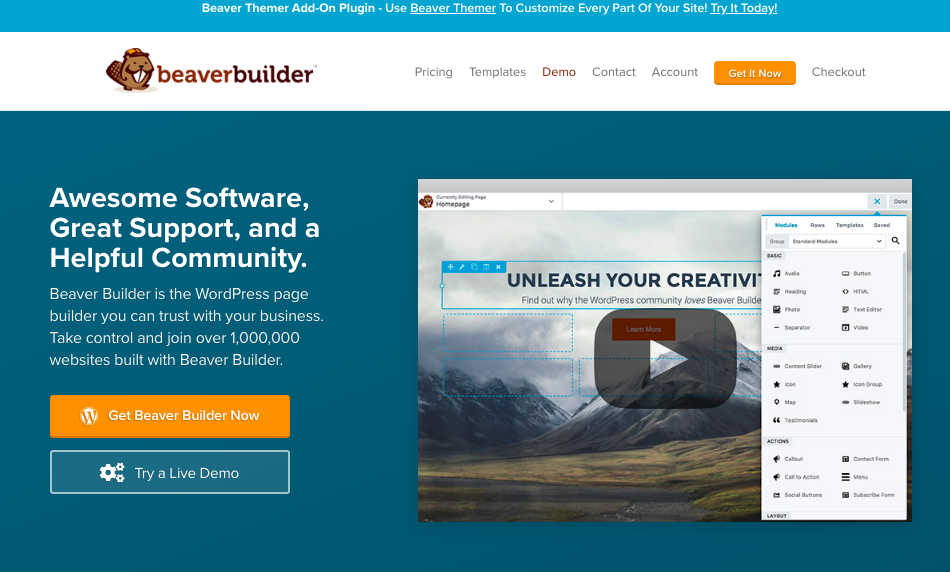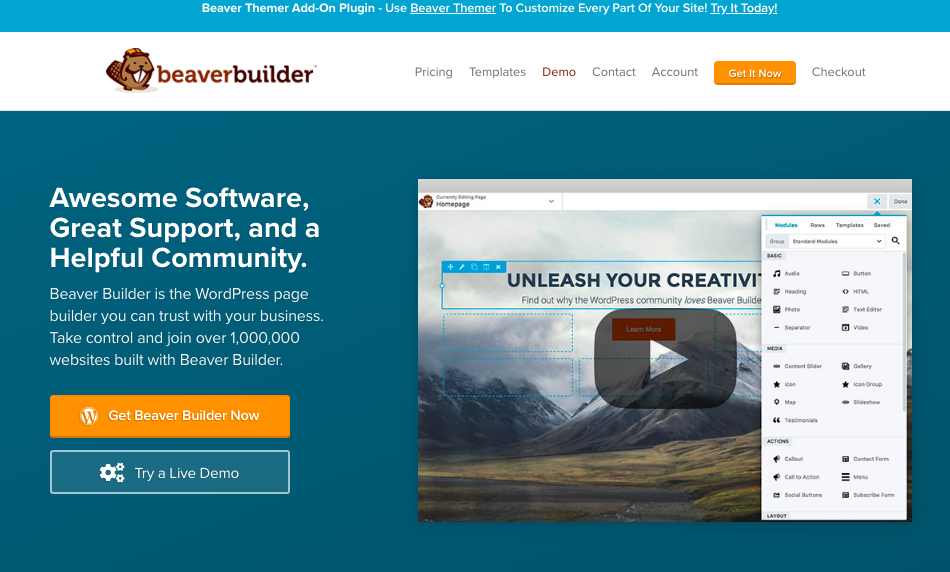 Beaver Builder is a drag-and-drop page builder. It may not be a complete site builder like Jetpack, but in terms of page building it streamlines workflow and is compatible with plugins. It also is a front-end editor, meaning you see the changes as you make them.
As with many WordPress drag-and-drop page builders, Beaver Builder helps make creating professional-looking websites simple for the beginner, which is another reason why we include it on this list. You can even test out the flow of page building using a demo on their website.
However, it does get pricey. Still, it's worth considering, especially if you're more concerned with efficient page building rather than more advanced features like brute force attack security and marketing.
Pros & Cons
| | | |
| --- | --- | --- |
| Pros | Cons | You Decide |
| Front-End Editor | Can Get Expensive | Limited Modules |
| Drag-and-Drop | Not a Site Builder | Limited Design Flexibility |
| White Labeling | No Security Features | Lite Version Has Limited Features |
| Mobile Responsive | No Social Media Features | |
| Compatible Across Multiple Browsers | No Marketing Tools | |
| Works With Existing Site | | |
| Beginner Friendly | | |
| SEO/e-Commerce Friendly | | |
Beaver Builder also offers a brand new plugin called Beaver Themer. With this plugin, you can better synchronize data and themes across your pages, down to customizing headers and footers.
The Standard License goes for $99/yr, the Pro at $199, and Agency at $399.
Overview
Beaver Builder will make your pages quickly, keep you from yelling at your computer waiting for everything to load, and is definitely for the user who doesn't want, nor need, all of Jetpack's 32 modules. You will still be able to build your site page-by-page, but you won't get the advanced security, social, or marketing features Jetpack offers.
Yet, this is why Beaver Builder is a good idea for the beginner with money they are willing to spend. Though Beaver Builder can get expensive, it offers a solid page builder that you can build upon. Definitely suggested for the blogger or DIY expert looking to jumpstart their website clutter-free and with ease.
2. OrbitFox – Social Media Expert
Why A Good Alternative: Equal, if Not Better, Social Networking Options; No Coding Required; Free
Plugin Focus: Social Networking with Over 20+ Social Media Options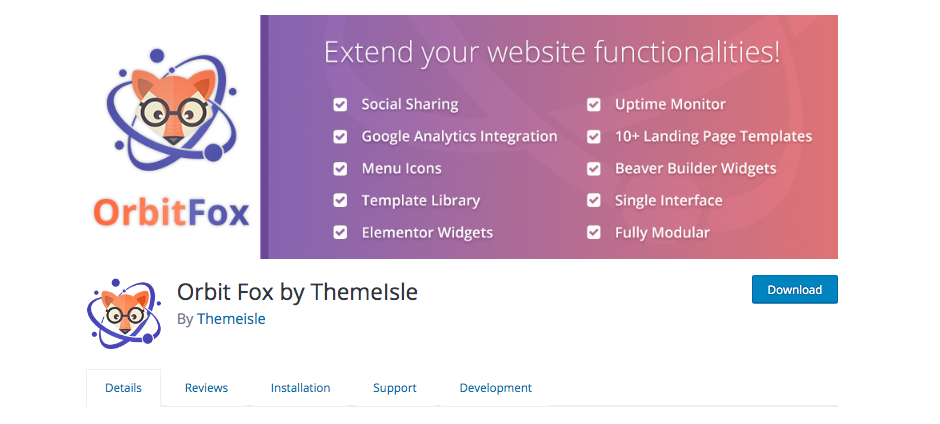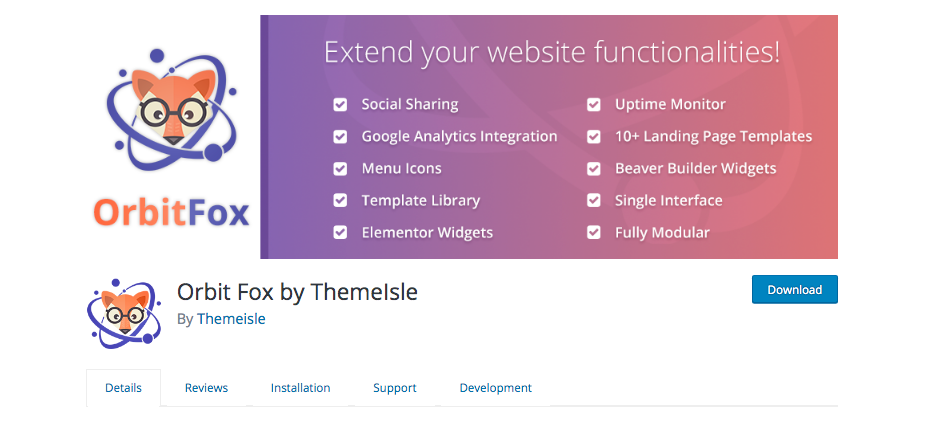 Created by ThemeIsle, OrbitFox is a smart choice for those looking to move away from Jetpack. It includes similar features to Jetpack, but is more streamlined and will only activate the modules the plugin detects you need.
It is not as page-builder friendly as Beaver Builder, but it does allow both Beaver Builder and Elementor plugins and includes its own template library and contact form creator. OrbitFox also allows for social sharing, Google Analytics integration, and can help you customize your site's menu.
Jetpack even claims this plugin is "safe." Which is pretty nice having that support behind your plugin!
Pros & Cons
| | | |
| --- | --- | --- |
| Pros | Cons | You Decide |
| Free Download | Trial-and-Error Learning Process with Interface | No Advanced Design Features |
| Solid Essential Features | No Security Features | |
| Great Social Networking Options | | |
| Great Support from Software Team | | |
| Variety of Widgets to Choose From | | |
| Uptime Monitor | | |
OrbitFox is free to download and easy to configure to your WordPress account. To set up Google Analytics all you need is a Google account and a click of a button!
Overview
OrbitFox will make up for not using Jetpack in only so many areas, but if social networking is what you rely on for marketing, then this plugin has got you covered.
The design features and page building are not that advanced, but it does include a free stock photos module and some great menu icons to choose from. Also, the way OrbitFox is set up allows you to build custom contact forms, add different content blocks, and expand on its features with other plugins. For a free plugin, this is an incredibly useful one.
Is the free download worth it? In our opinion, yes.
3. WPtouch Pro – Getting You Mobile
Why A Good Alternative: For Sites That Rely on Mobile Accessibility; Mobile Store Options; You Do Not Lose SEO or Speed Effectiveness
Plugin Focus: Mobile Compatibility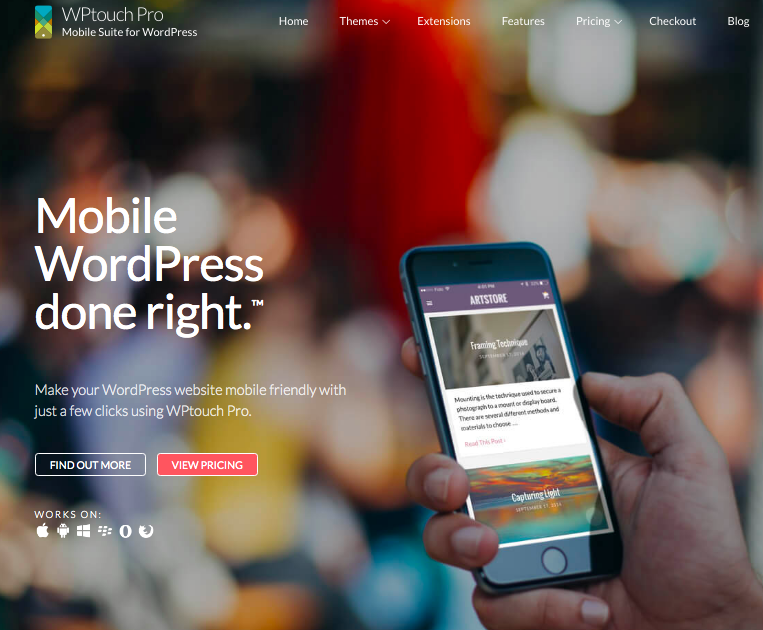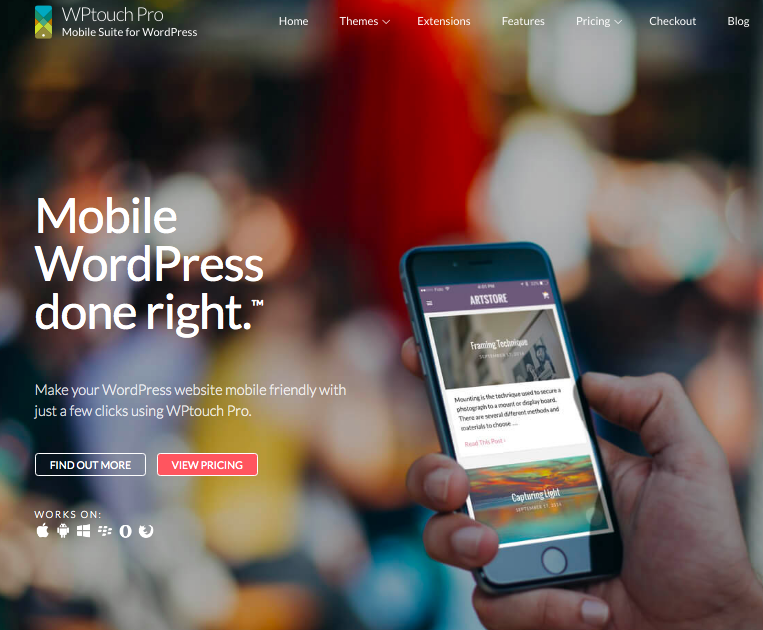 If there's one thing Jetpack doesn't consider up front, it's going mobile. In 2019, a reported 81% of Americans owned a smartphone. One cannot deny that our phones are quickly becoming our desktop replacements and applications and smartphone functions are assisting in that transition. Why not bring WordPress into the smartphone world, then? This is what WPtouch Pro does.
It's like Jetpack for mobile. Some of the extensions offered include Multi-Ads, for Google advertisements, CMS, which helps your phone process multiple pages, posts, and tags, and the Power Pack, their caching extension.
They also have a minification extension and a Mobile Store theme. You will have to pay for a license, but it is worth the yearly payment to help your WordPress site go mobile effectively. Let's look at why.
Pros & Cons
| | | |
| --- | --- | --- |
| Pros | Cons | You Decide |
| Low-Memory Footprint | Can Be Expensive | You'll Have to Use WordPress Customizer |
| Easy Install | No Security Features | Supports Top 30 WordPress plugins. Possibly Limited in Plugin Compatibility. |
| Works with WordPress Features | | Limited Themes |
| Supports 23 Different Languages | | |
| Pick and Choose Which Plugins to Run on WPtouch | | |
| Access to Cloud Services | | |
| Excellent Support | | |
| Faster Than Desktop Themes | | |
| Google Mobile Friendly = Better SEO | | |
You can either purchase a WPtouch License or shop a la carte. Bundles begin at $79 a year and go up to $359 a year.
Overview
As mentioned before, WPtouch is like the Jetpack for mobile devices. If you know that your site will be viewed more on a smartphone than on a desktop, this is probably how you'll want to go.
It's exciting to read about the extensions offered and that you can pick and choose your bundle—on this level, you only install what you need. Again, you'll have to pay, but sometimes spending the money for a quality product is worth it.
3. Toolbelt – Free and Privacy First
Why A Good Alternative: Free collection of addons
Plugin Focus: Privacy and speed

Toolbelt is a billed as a privacy first alternative to Jetpack. Its a free collection of addons focussed on privacy, speed and being friendly for developers.
It comes with a large amount features:
Admin Tweaks
Breadcrumbs
Contact Form
Cookie Banner
Disable Comment Urls
Fast 404
Featured Attachments
Footnotes
Heading Anchors
Infinite Scroll
Lazy Loading
Markdown
Monetization
Optimization
Portfolio
Random Redirection
Related Posts
Responsive Videos
Search Redirect
Social Menu
Spam Blocker
Static Social Sharing
Stats
Testimonials
Typographic Widows
Widget Display
As well as having support for the Block Editor (Gutenberg), with17 blocks at the time of writing.
Conclusion
This article being written, Jetpack is not the enemy. It's just not everyone's cup of tea. So if you're a frustrated Jetpack user, or considering investing some time into it, we hope that these suggestions for paid and unpaid alternatives can help you in your journey to building a solid WordPress site.
Have you used any of these plugins or still prefer Jetpack? Let us know in the comments below.
What to hear about our latest deals and new posts? Subscribe below 👍