We love WordPress — a lot. It allows you to do so much for free and offers incredible premium themes so your website and/or blog can stand out from the crowd. Unfortunately, not all of us out there know how to code, which can make customizing your WordPress a bit difficult.
This post contains some affiliate links. We may receive a commission for purchases made through these links. See the
disclosure
for more details.
So while language education catches up to the world of coding and web development, plugin developers offer us a simple solution: drag-and-drop page builder plugins.
Lucky for you, there are a ton of WordPress page builder plugins from which to choose. We believe that when it comes to page builders you shouldn't have to choose between ranked plugins, but between plugins that are equally as great, whether you're looking for something with a little more pizzazz or something that just has the basics.
Why You Need These Plugins
User Friendly Interface – Instructions are understandable and drag-and-drop components are clear. A minimal amount of new learning has to go into operating the page builder.
Bonus Features Included – You'll find lots of widgets, add-ons, modules, and compatibility with other plugins.
Customizable Features – You'll find a variety of style options and templates.
Best WordPress Page Builder Plugins
Let's get down to hit, the following are what we believe are the best WordPress page builder plugins.
Beaver Builder


Price: $99-$399/yr. (Free Version Available)
Beaver Builder may not include a million features, but at the same time, it's not weighed down by a million features. It is an efficient page builder with front-end editing, and will save you from yelling at the computer screen. Before you even navigate to pricing, you can test out their live demo for free.
Beaver Builder's demo tour showcases pre-made templates (you can also start from scratch), modules that will be familiar to the WordPress user—including media and contact forms—and how simple it is to publish your page.
Templates are mobile responsive and the page builder itself works across multiple browsers, including Safari and Firefox. The website includes a list of known plugins it is not compatible with, but the list is not long.
And don't worry, just because it's mainly drag-and-drop doesn't mean you cannot add custom CSS—it's totally doable—making it as customizable as the user's knowledge allows.
Their Agency package offers white labeling, which means you can remove their branding from the page's code and add your own, but even the simple upgrade will allow you to use this plugin on unlimited pages.
Why Download: Well-Balanced; Familiar Interface; Economical.
Visual Composer

Price: $59-$349/yr. (Free Version Available)
Visual Composer can help you not only design a page, but an entire website, as well. Easy to use with front-end editing, the plugin works in conjunction with different WordPress themes so you won't lose any custom page designs should you change from a Visual Composer theme to a WordPress theme. The Visual Composer Hub also gives this plugin's users options to expand style and add-on options for their website.
Built-in integrations and modules include Soundcloud, Vimeo, different button styles, video tutorial features; it is also compatible with Ninja Forms, WPForms, Mailchimp, WooCommerce, and the new WordPress Block Editor, just to name a few. If you're looking for a plugin that can give you a built-in variety of anything you may need, this one does so in an organized fashion.
This plugin offers a lot, but is not overwhelming in any way. Along with endless templates, mobile responsiveness, and more advanced integrations, Visual Composer is for the beginner looking to go intermediate and the pro looking to stay pro. The number of websites are limited in the package deals, but remember, this is not just a page builder, it is a website builder.
Why Download: Flexible Themes; Beginner to Advanced Content and Design Features; Front-End Editing.
Elementor


Price: $49-$199/yr. (Free Version Available)
Elementor is quickly becoming a popular WordPress page builder plugin, and it's not difficult to see why. You will have to work on a separate interface, but it is known for its efficiency. A neat feature of Elementor is its open source collaboration. Users can design and upload their own themes for other users to enjoy, making Elementor not just a plugin, but a community.
Don't forget that this is still a drag-and-drop editor, so even though the possibilities are endless for those with knowledge in code, it is still accessible to the beginner. A definite pro to the plugin, Elementor keeps track of your revision history so you can always backtrack and restore changes. There's also an option to work in draft mode, so nothing goes live until you're ready. It includes a great pop-up editor, as well. This means increased visibility for things you want to be seen: mailing list sign-ups, videos, etc.
Elementor offers all the things you need to give your website a modern, 2020 feel. The number of sites are limited according to package deals. However, the top package will give you up to 1,000 sites.
Why Download: Modern Themes and Interface; Pop-Up Editor; Work Progress Protection.
Divi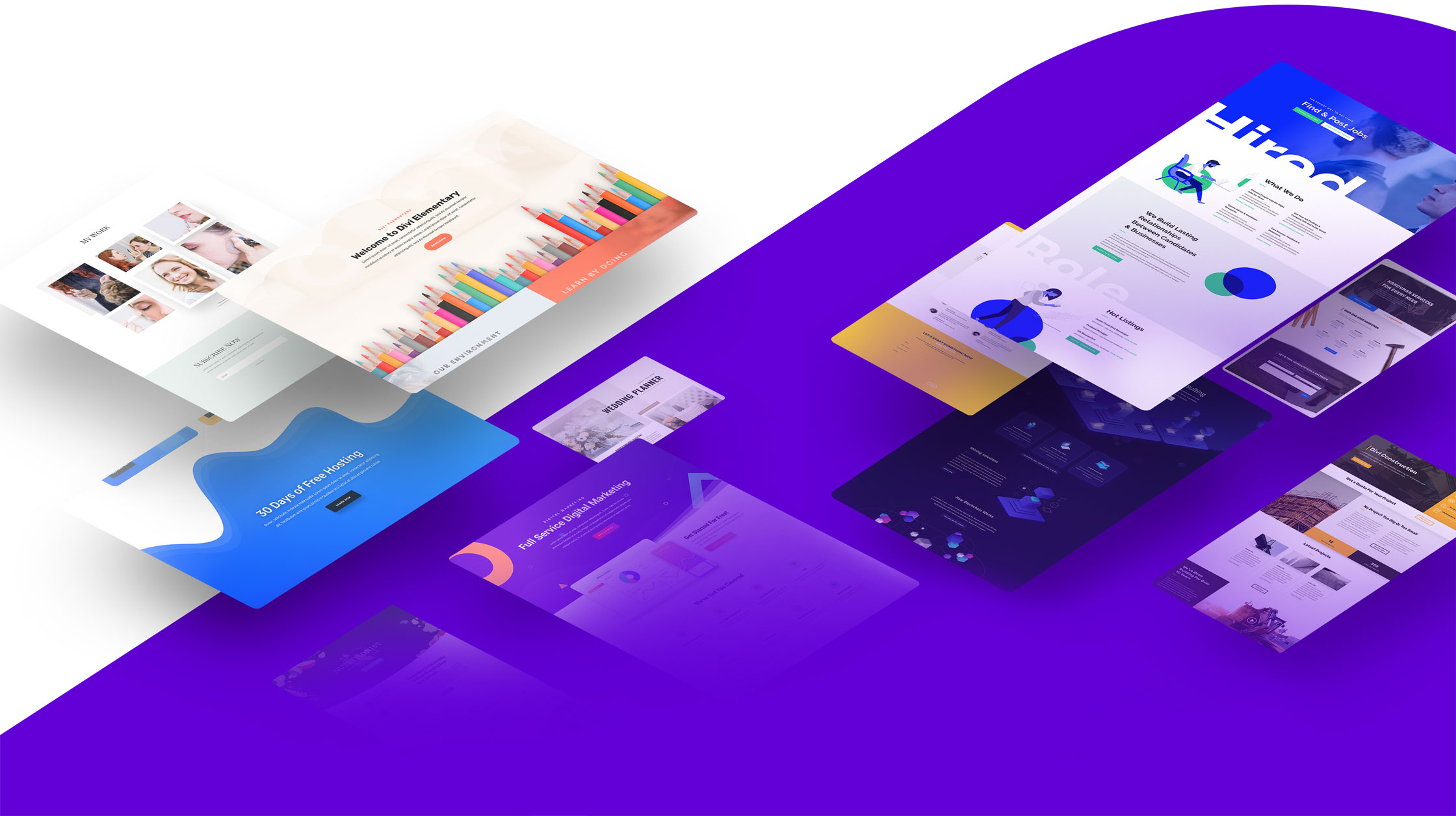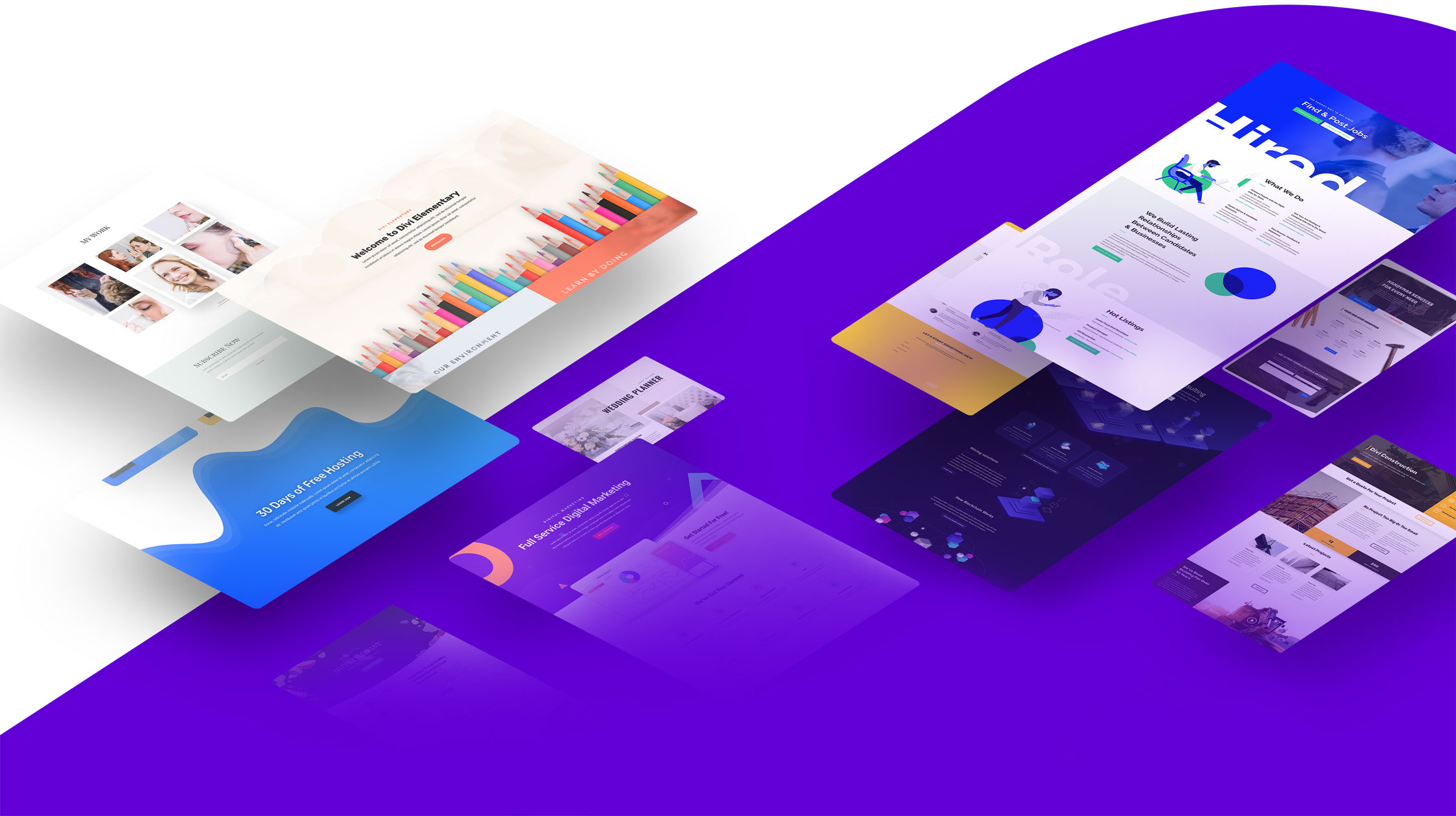 Price: $89/yr or $249 (one-time payment)
Divi is perfect for those who want diverse design and style options and clutter-free editing. They have a variety of plugins, including the free Divi Supreme, which work really well alongside WordPress themes. It definitely takes a different approach to the style editor, but you can try a demo for free on their website to see how you like the flow of their page building. You can also save Divi themes for future use on other sites. It also offers 46 different content modules and over 100 templates.
Also, because it is an offshoot of Elegant Themes, you get the benefit of their plugins and products. A really cool design feature Divi offers is shape dividers, background flourishes with different geometrical patterns that give your page a dimensional look. Other style options include photo overlays, dimensional transformations for content blocks, hover states, and a find and replace feature.
The basic package gets you unlimited websites, but the next step up is a one-time lifetime payment. Both have a 30-day money back guarantee.
It's important to mention that if you deactivate this plugin, it leaves behind shortcode. The content will be there, but you'll have to reformat everything.
Why Download: Unique Style/Design Features; 30-Day Money Back Guarantee; Module Variety.
Wrapping Up
No matter which page builder you choose, these drag-and-drop options are a fantastic choice. Their straightforward and creative options will give you the results you're looking for. You'll save time while creating a stunning and eye-catching site your users will love.
What's your favorite WordPress page builder plugin and why? We'd love to hear from you in the comments.
What to hear about our latest deals and new posts? Subscribe below 👍