Excellent customer support is everything, and a great WordPress helpdesk plugin can mean the difference between success and utter failure.
Today's post is a small list of the best WordPress helpdesk plugins but think of it as a study of how to provide better support.
This post contains some affiliate links. We may receive a commission for purchases made through these links. See the
disclosure
for more details.
Think for a moment. What's the use of having the best support system if you won't be available in the first place? Still, one study says 62% of companies do not respond to customer support emails.
Anyway, that isn't the point. We are all here for the crème de la crème of WordPress helpdesk plugins, so let's roll.
Best WordPress Helpdesk Plugins
In this section, we cover both free and premium helpdesk plugins, but no matter the route you take, always go for a support solution that works for your business.
Let's begin.
Catchers Helpdesk & Ticket System Plugin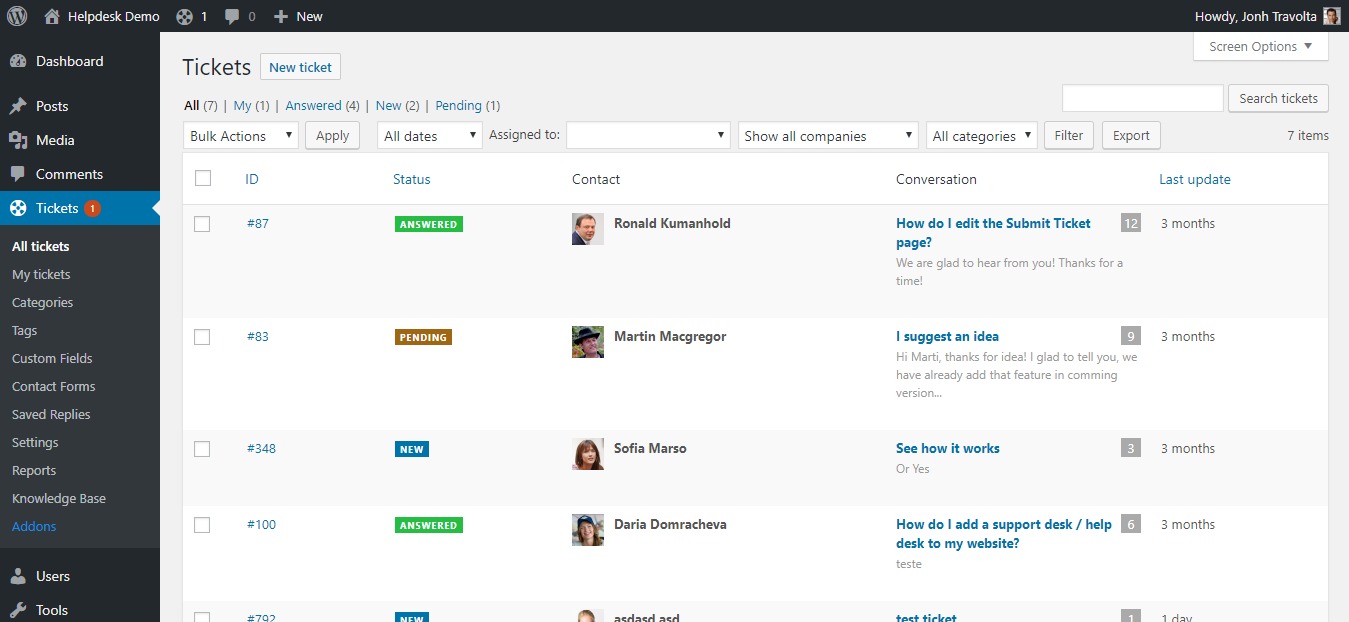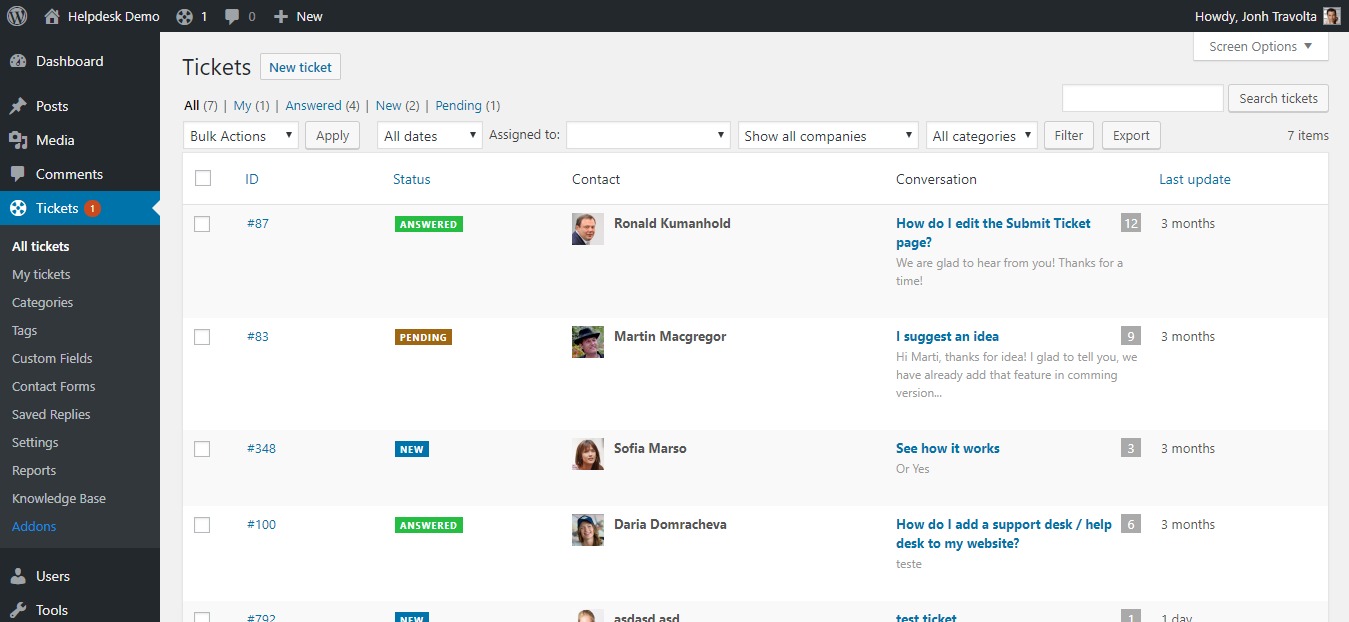 Catchers by the cool guys over at MyCatchers is probably the best WordPress support plugin on the internet. I had the opportunity of testing Catchers, and boy was I impressed or what.
For starters, Catchers is incredibly easy to set up and use you'll be up and running in no time. That, plus you get a ton of features that make providing customer support pure bliss.
What features am I talking about? The Catchers plugin ships with ticket statuses, e.g., New, Pending and Answered, which help you to keep track of all tickets. Additionally, you can see the history of each ticket, so you know where you stand with each support request.
Catchers WordPress helpdesk plugin comes with saved replies, which help you to save a lot of time. Instead of answering the same question all over again, you can send the customer a saved response.
Additionally, the plugin offers you full customer profiles directly on the ticket pages, meaning you have a better picture of your customer when replying.
Other exciting features include email fetching so that customers can send you support tickets via email, private notes for your team, auto-reply, custom email footers, and support for multiple languages among others.
To boot, Catchers offers you top-notch add-ons to extend your support system significantly. You can expect add-ons for WooCommerce, custom form fields, reports and a knowledge base. Additionally, there is a free version.
Awesome Support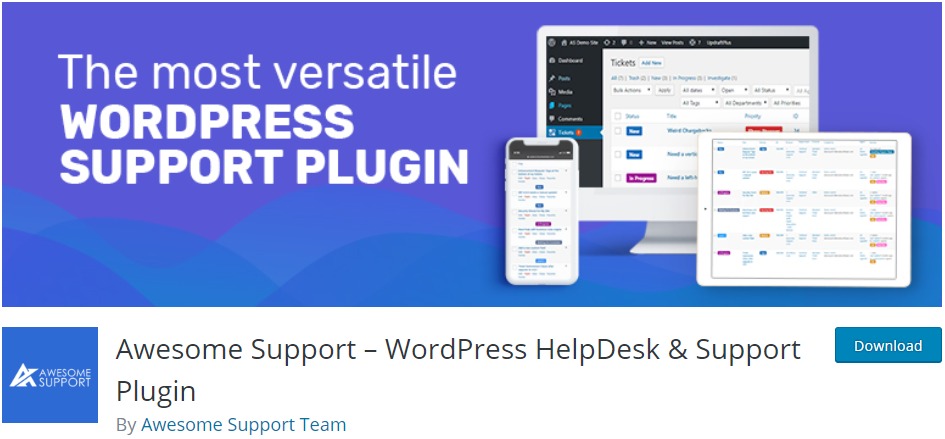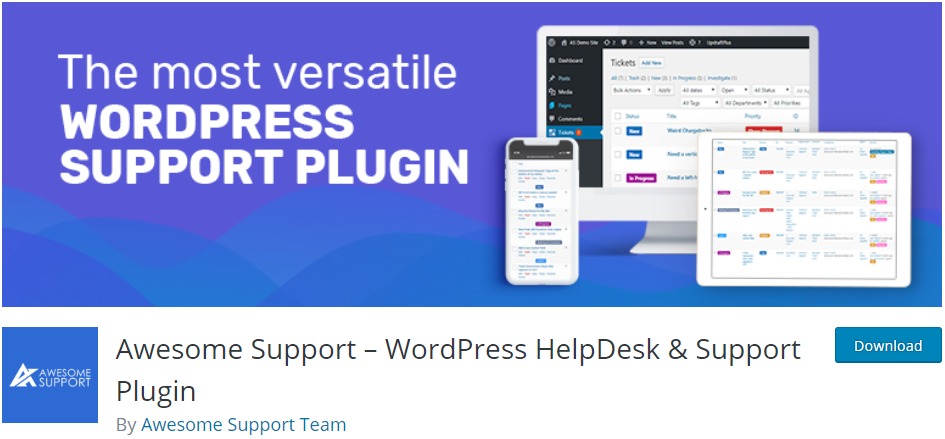 You will have a difficult time trying to understand why a plugin of this nature is free. Awesome Support packs quite a punch among free WordPress helpdesk plugins, and with frequent updates, you can expect the feature list to grow.
What can you expect to find inside the goodies bag? For starters, users can submit tickets from the front-end, and your agents can respond to them from the back-end. Secondly, you have email notifications and the ability to import tickets from Zendesk, Help Scout, and Ticksy.
On top of that, all tickets are private unless you install and configure the public tickets add-on. Additionally, you can quickly provide support for multiple products, add custom form fields and activate file uploads.
Awesome Support ships with a range of nifty admin features such as ticket tracking, sorting, ticket status, agent collaboration, seamless WooCommerce integration, GDPR-ready and compatibility with Gutenberg and the REST API among others.
Other than that, Awesome Support offers you a good number of premium add-ons that help you to extend your customer support system in ways unimaginable. Overall, WordPress helpdesk plugin developers need to borrow a leaf from Awesome Support.
SupportEzzy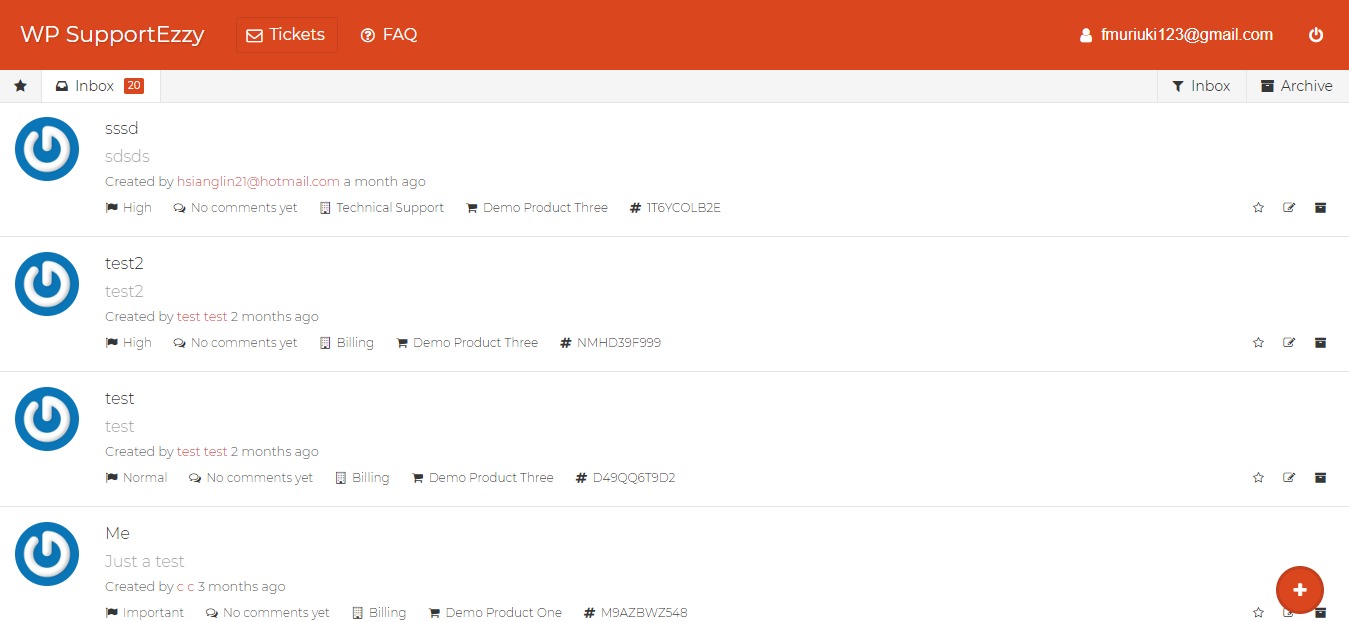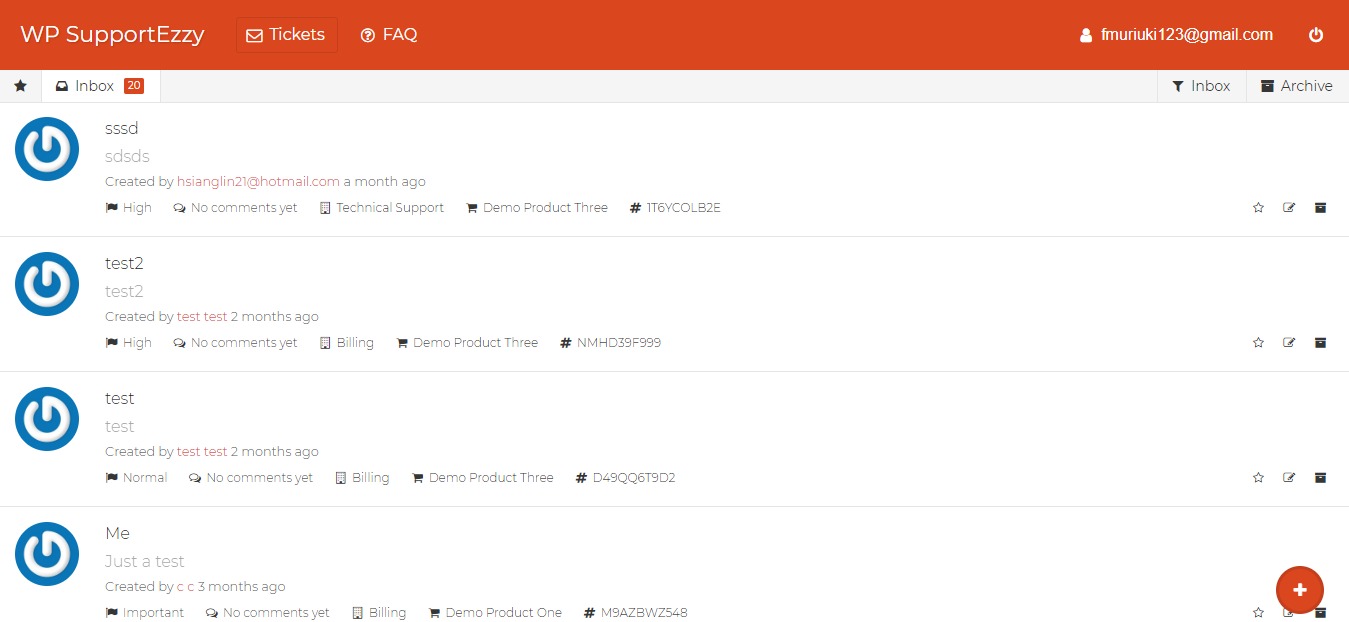 You've probably heard a thing or two about the REST API, but have you seen the technology in action? Well, here is your chance. SupportEzzy is a Vue.js app that runs on WordPress using the REST API.
The plugin runs on a separate page on your WordPress site. All the same, it doesn't mess up your overall design since it works with any theme. Additionally, you can install the plugin on a separate domain (or sub-domain) to run a fully-fledged support system.
That aside, what can you expect after installing and activating SupportEzzy? To begin with, you'll be glad to know that SupportEzzy runs on the latest web technologies, which means it's future-proof and responsive.
On top of that, you can customize your support app extensively seeing as SupportEzzy runs on the Bulma CSS Framework. Consequently, you can change elements such as brand colors, image logo, and text among other things to match your site.
Additionally, SupportEzzy allows you to add one email address for all departments or separate emails for each department. After that, each email received to a particular email address is treated as a new ticket, and each reply by the user as a comment.
You're so wrong if you think that's all; SupportEzzy ships with other impressive features such as the ability to create FAQs, Envato integration, filters, saved replies, and customizable email messages to mention a few.
Help Scout Desk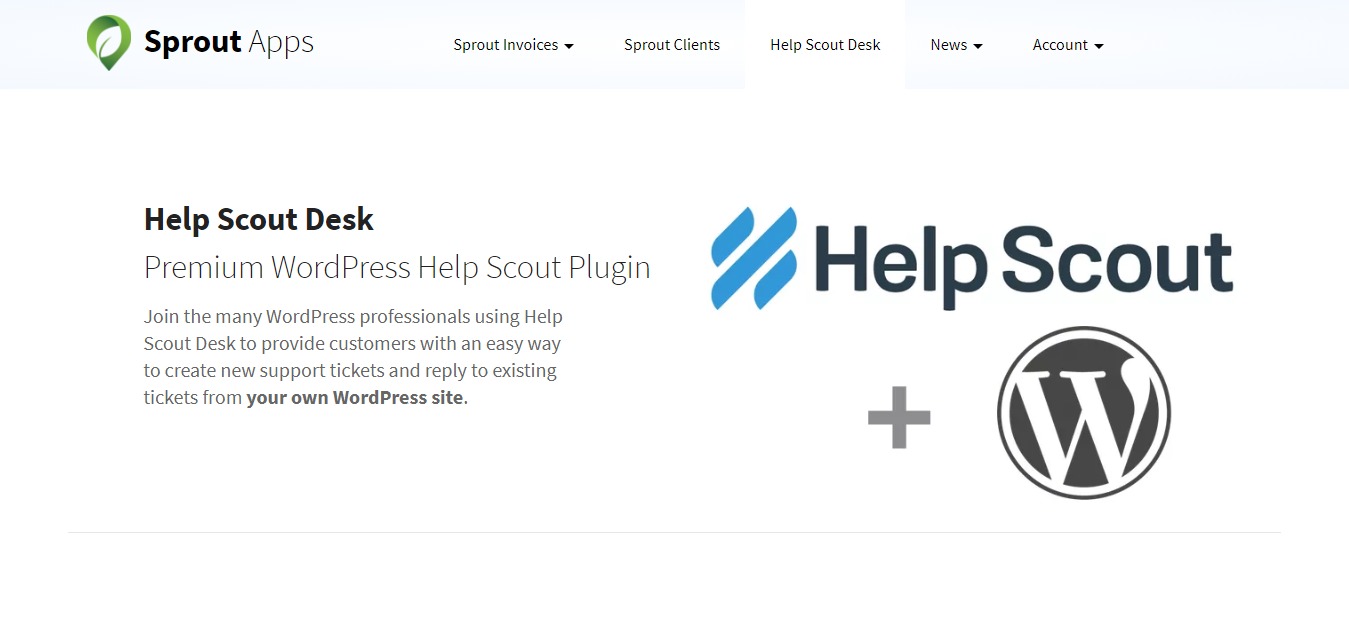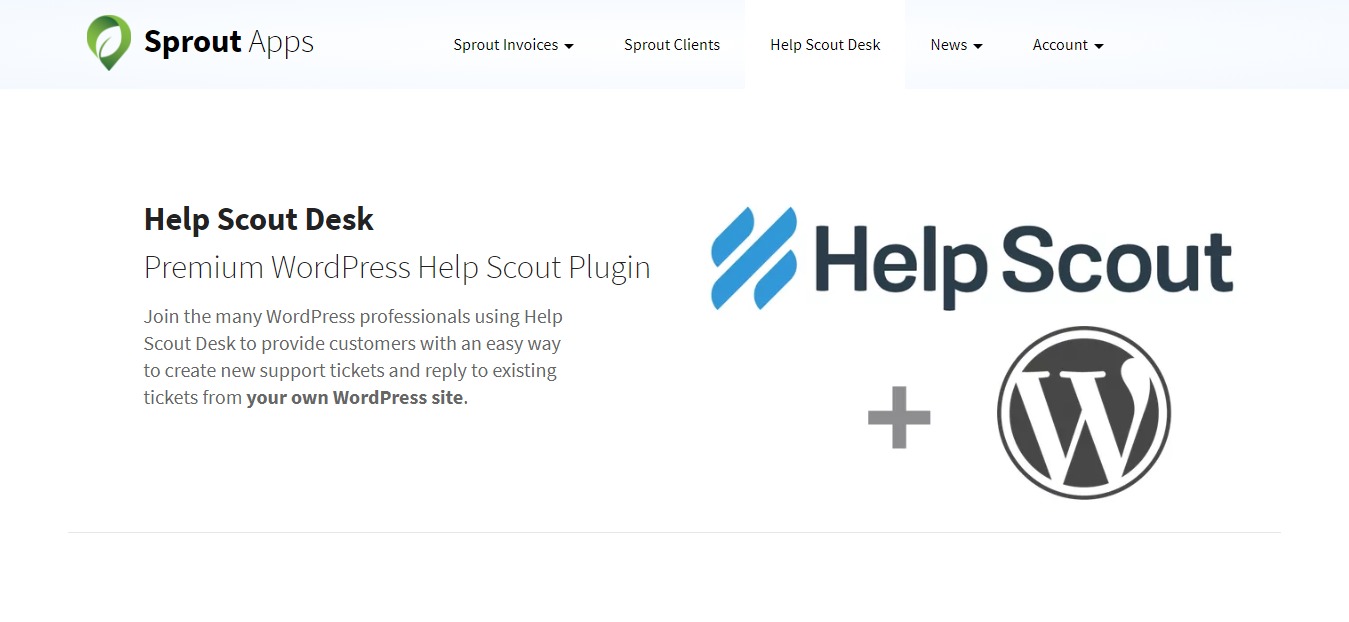 Help Scout Desk is a premium WordPress support plugin that helps you to provide stellar customer service without breaking a sweat. It integrates the email support service Help Scout into your WordPress site. The plugin comes with a million and one features but still remains extremely easy to customize.
Setting up Help Scout Desk is the stuff of fourth graders; you only need to install the plugin and activate an API key. After that, you get an intuitive admin interface that makes supporting your users as easy as A, B, C.
Additionally, Help Scout Desk goes beyond typical email support since users can create tickets and reply without requiring an email. Besides, you can allow multiple file attachments, which offers you a richer support experience.
On top of that, Help Scout Desk integrates seamlessly with WooCommerce, WP eCommerce, and Easy Digital Downloads among other WordPress plugins, allowing you to see customer info right from within Help Scout support pages.
Additionally, you can use shortcodes, action hooks and filters to embed support pages and conversations on any page of your WordPress site. On top of that, Help Scout Desk automatically converts gist URLs into gist embeds.
Help Scout Desk is built with the best WordPress standards, meaning even with all these features, it doesn't slow down your WordPress site.
Customers can tag their support tickets allowing you to create more workflows and offer a better user experience. To boot, your customers can close their support tickets at will.
Help Scout Desk comes with priority support and regular updates for a whole year.
SupportCandy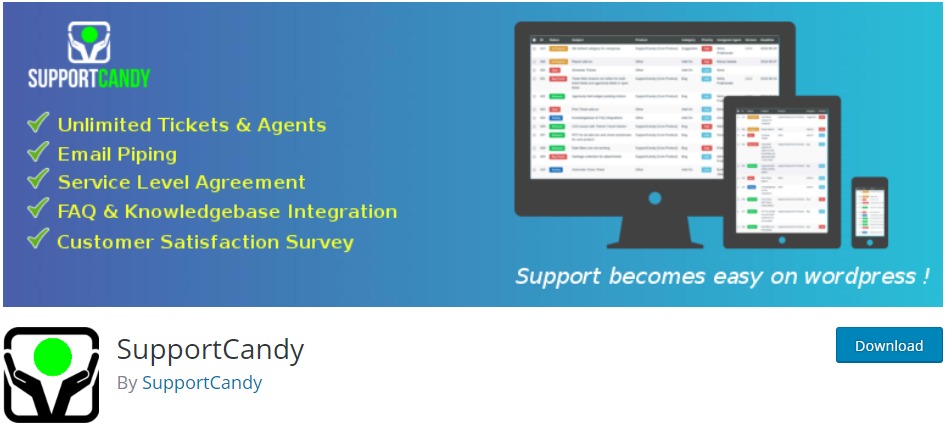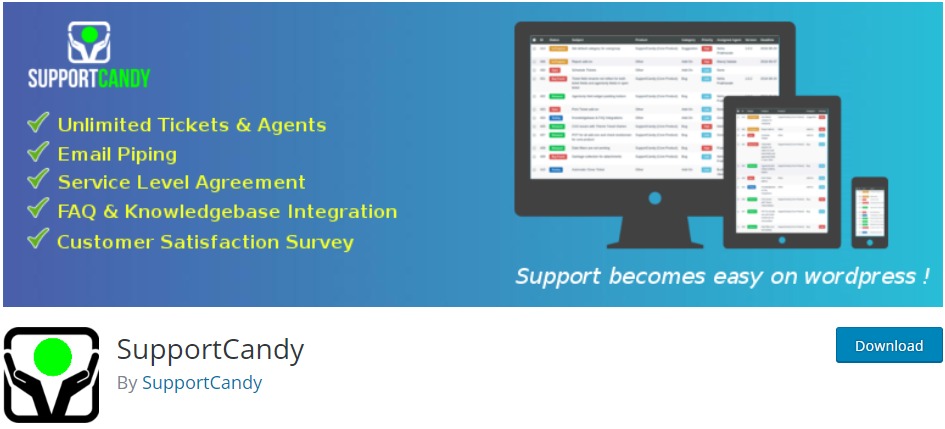 WordPress is indeed the gift that keeps on giving. Just when you think you've seen all the best helpdesk plugins, another one drops in. SupportCandy is the better version of a helpdesk plugin known as WP Support Plus.
It is a fantastic helpdesk plugin for a variety of uses including technical support, trouble ticket, customer relations, service request management and software release lifecycle management among other areas.
Thanks to a suite of impressive features, SupportCandy is giving the competition a run for their money left, right and center. That said, notable features include unlimited tickets and agents, Ajax for super-fast speeds, intuitive interfaces, guest tickets, file uploads, and responsive design.
Additionally, you get custom form fields, HTML editing of tickets, private notes, customizable ticket form, advanced ticket filtering and email notifications.
On top of that, SupportCandy ships with premium add-ons such as canned replies, email piping, satisfaction survey, knowledgebase and FAQ among others.
Conclusion
Having an excellent WordPress helpdesk plugin is one part of the equation; you must put in the effort to offer great support. Being available is one of the ways you can improve your customer service ten-fold.
Customers appreciate timely and knowledge support, no matter which of the WordPress helpdesk plugins you choose. I go with Catchers Helpdesk Plugin any day because it is an auspicious product that works as advertised.
Other than that, which is your favorite of the helpdesk plugins? Do you have a question or suggestion regarding my list of the best WordPress helpdesk plugins? Please do not hesitate to share in the comment section below.
What to hear about our latest deals and new posts? Subscribe below 👍