You will agree selling online is challenging, even for the pros. You need only the best of tools and nothing short of that. Ninja Shop, the subject of this review, is one such tool.
Before we go all out though, we know you're tired of ecommerce solutions that promise you heaven but deliver hell. Other WordPress ecommerce plugins slow down your site, but we won't mention names.
Point is, if you're in the market for a simple but powerful ecommerce plugin, Ninja Shop is flat-out the real deal. You can set up the plugin and start selling without pulling out your hair.
Plus you get a lot of ecommerce power without the code bloat and high costs that come with other WordPress ecommerce plugins. Again, we won't mention names.
Let's just say you're in for the ride of your lifetime. So, read all the way to the end to discover why Ninja Shop is the quickest way to start selling on your WordPress site.
Please don't hesitate to share your thoughts about Ninja Shop and the article in general in the comment section at the end.
This post contains some affiliate links. We may receive a commission for purchases made through these links. See the
disclosure
for more details.
That out of the way, get yourself a serving of your favorite beverage and let's roll.
What is Ninja Shop?


Before we install and test drive this plugin, it's only important if we knew what we are working with. What is Ninja Shop?
Formerly known as ExchangeWP, Ninja Shop is a lightweight WordPress plugin that helps you to set up an online store and start selling in five minutes. It's from the folks behind the popular WordPress forms plugin, Ninja Forms – so you know it's good
The plugin is easy to install, configure and use as you'll see in a minute. Really, you can build the store of your dreams point and click style – no coding skills needed.
Ninja Shop is full of all the features you need to start selling digital and physical products right this minute. Heck, you can even drop ship with Ninja Shop.
We have a features section coming right up, so I'll refrain from diving into the details here.
While Ninja Shop is filled with extremely powerful features, you won't be overwhelmed with complexity. Only enable what you need, and watch your products take center stage. – Get Ninja Shop Free at WP.org
Don't you like how that quote sounds, especially that last part where your products take the center stage? Of course, you do!
That being said, let us cover the features department since you can't be here all day.
Ninja Shop Features
An ecommerce plugin is only as good as the features it delivers, and Ninja Shop will have you reeling in amazement. Still, an abundance of features shouldn't get in your way, or as James McCluskey says…
Ecommerce isn't easy. Your ecommerce plugin should be helping you realize your dreams, not offering technical hurdles. Discover the easiest, quickest way to start selling online!
What features can you expect when you activate the plugin?
The plugin is simple, yes, but boasts of nice features such as:
A simple intuitive interface that makes managing your online store as easy as A, B, C
East to configure – Ninja Shop allows you to set up a fully functional online store in under five minutes.
Plenty of add-ons for extra features such as product inventories, download expirations, automatic taxes/shipping calculators, custom order notes, product categories/tags, membership etc.
Ability to sell single or grouped products
Guest checkout, so customers can complete orders without registering
Customer price, which allows customers to pick their own prices
Multiple payment gateways
Detailed performance reports
Customizable order notification and receipt emails
Seamless integration with MailChimp, GetResponse, and CampaignMonitor
Fully customizable to your specific style
Featured product videos
Custom URL tracking
Customer browser history
Coupons, free offers, and quantity discounts
Recurring payments
Awesome support
And basically every other feature you need to run an online store and then some!
Obviously, we cannot put all the features here because the list would be crazy long. At the same time, we can't hide all the nice little things that make Ninja Shop a wonderful WordPress ecommerce plugin.
For that, ladies and gents, we must dive under the hood and learn how to install, configure and use Ninja Shop to start selling.
How to Install Ninja Shop
Ninja Shop is a free ecommerce plugin available on the WordPress plugin repository. This means you can install the plugin directly within your WordPress admin dashboard.
Navigate to Plugins -> Add New as shown in the image below.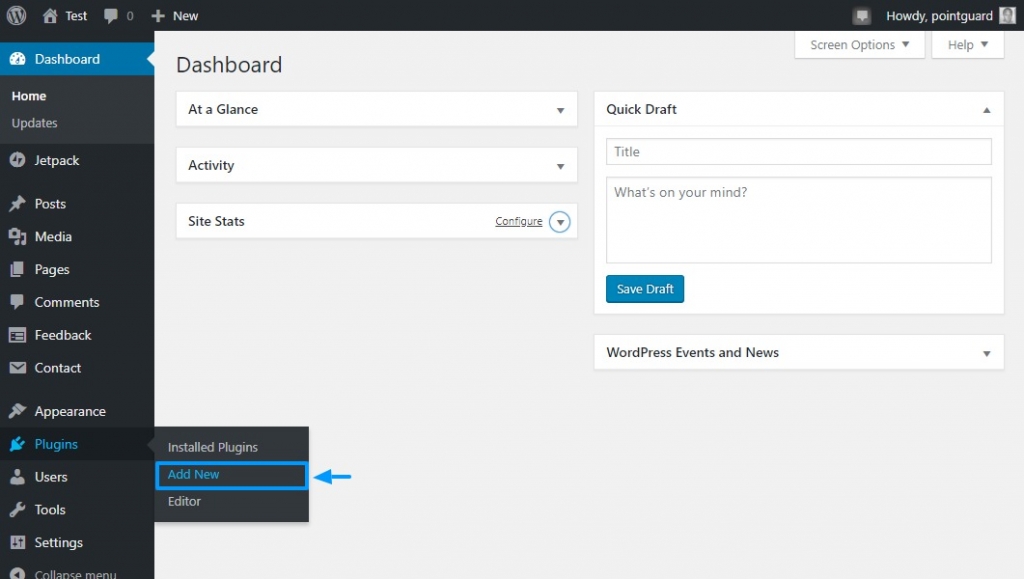 Next, type "Ninja Shop" in the search box, and once you find the plugin, hit the Install Now button as we highlight in the steps below.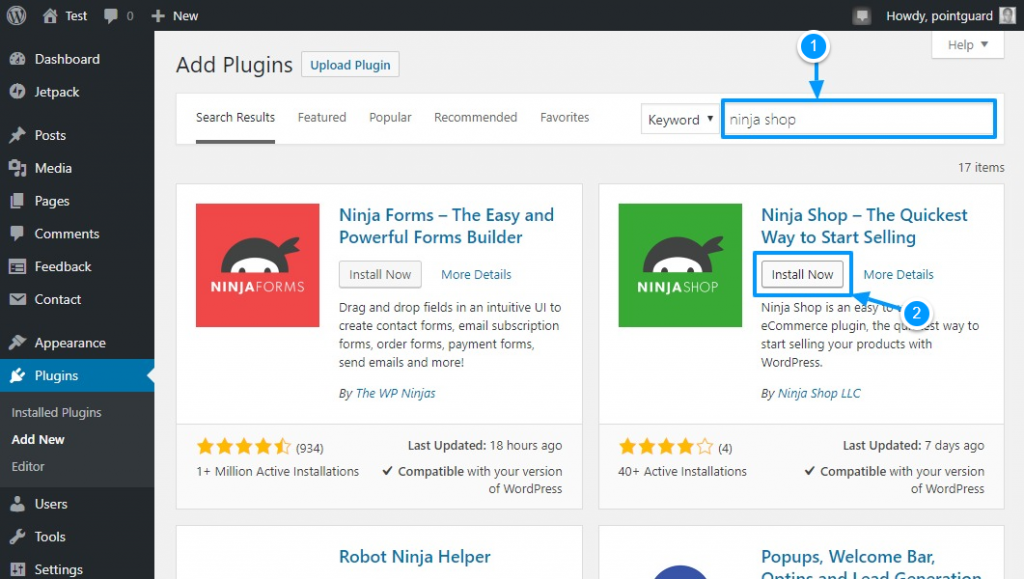 After that, hit the Activate button to get the ball rolling: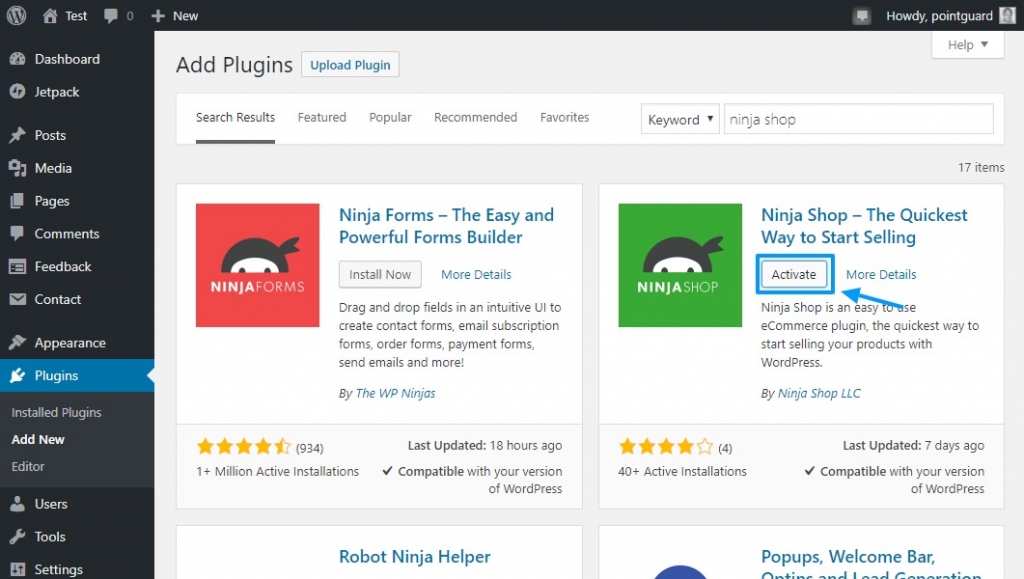 Activating the plugin redirects you to the quick setup wizard as we illustrate below.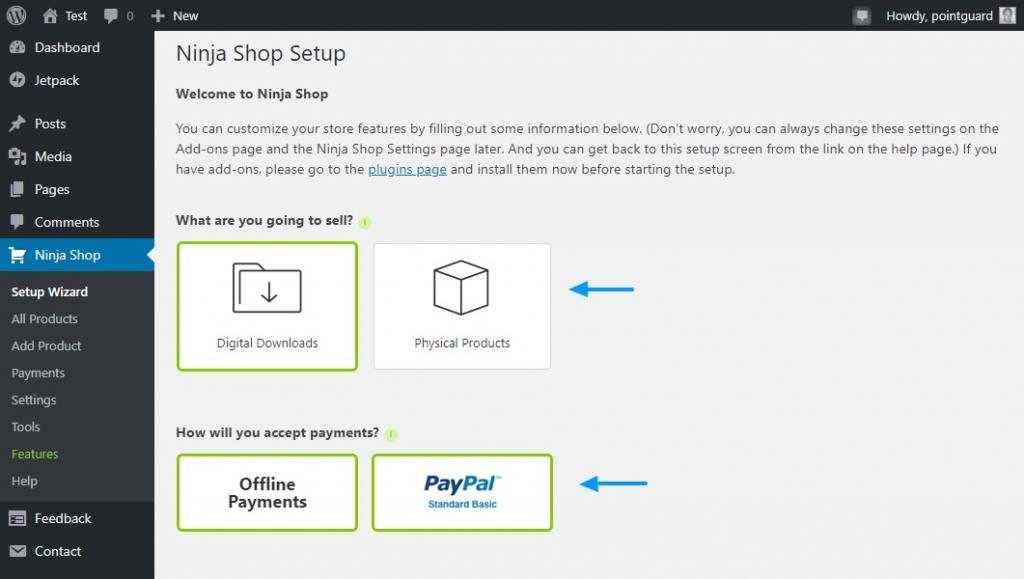 On the above page, you can easily configure your online store. You can:
Choose the type of products you are going to sell i.e., either digital or physical products
Configure your payment gateway. Note that you can configure PayPal Standard Basic and offline payments on the spot. For PayPal, you just need to provide your PayPal email address.
Set the email address where you'd like to receive notifications
For my testing purposes, I chose to sell digital products and accept payments via PayPal.
After defining the above options, scroll to the bottom of the page and hit the Save Settings button as shown below.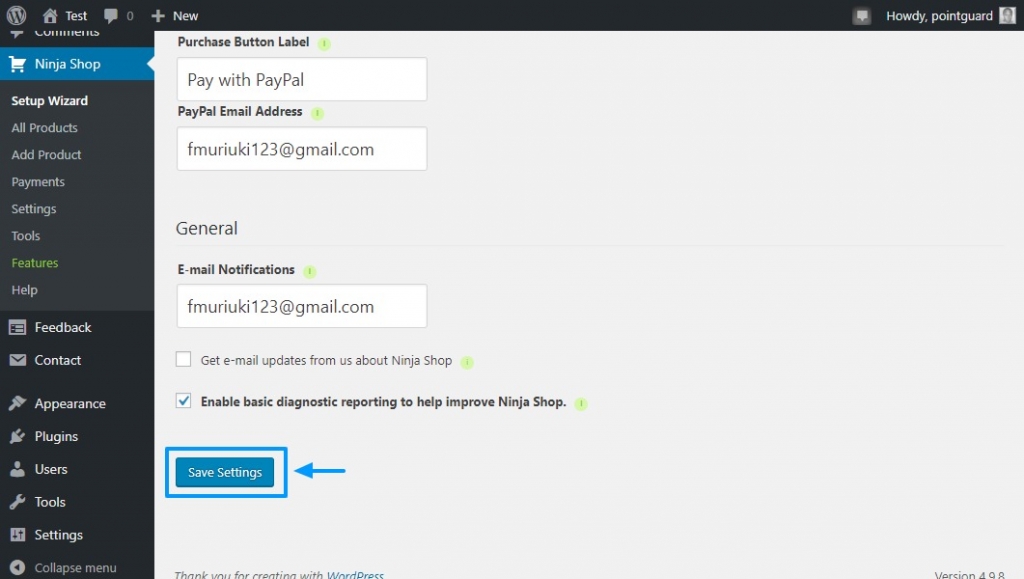 And that's it! Ninja Shop is ready to use. Now, you simply need to add your products and start selling.
Ninja Shop Menu Items
Notice that after saving your basic settings, the plugin shows you a quick menu with three items at the top of the setup page. See item number one (1) in the image below. Thanks to this quick menu, you can add a product, enable add-ons or view a sample product.
Also, notice the new Ninja Shop menu on your WordPress admin menu as we highlight with item number two (2) in the image below.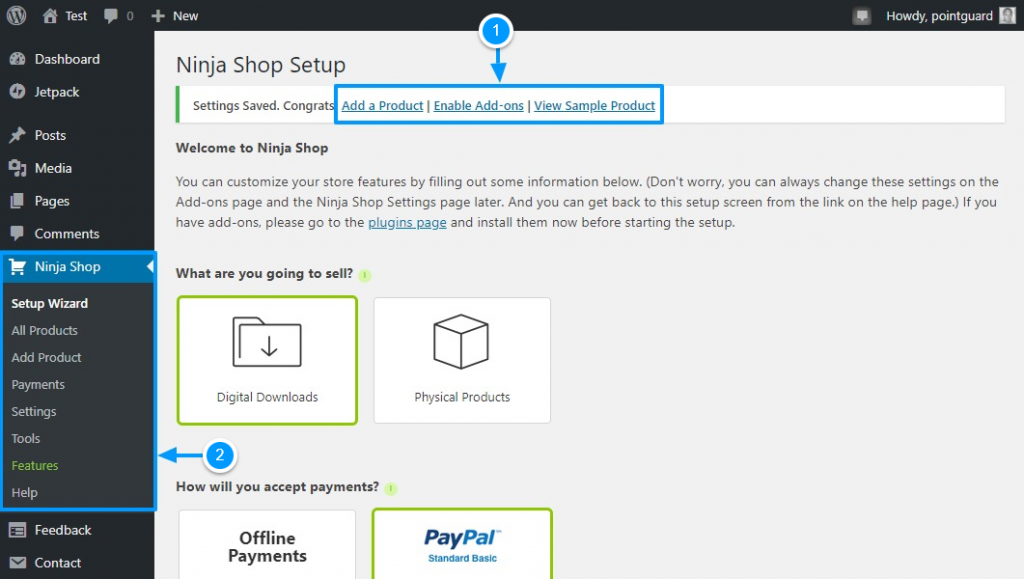 You will use the Ninja Shop menu (no. 2 above) to manage your online store. All the features you need are in one place i.e., products, payments, settings, tools etc.
Adding a New Product
To highlight other features hidden inside the auspicious Ninja Shop plugin, let us create a product.
Hit the Add Product item under the Ninja Shop menu item as shown in the image below.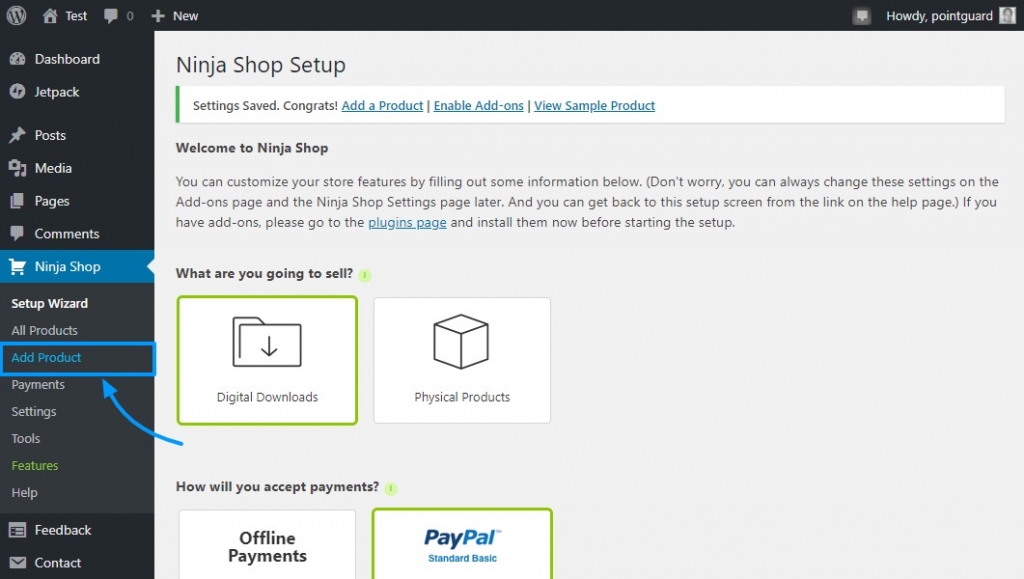 Clicking the Add Product menu item above launches the easy to use product editor shown below.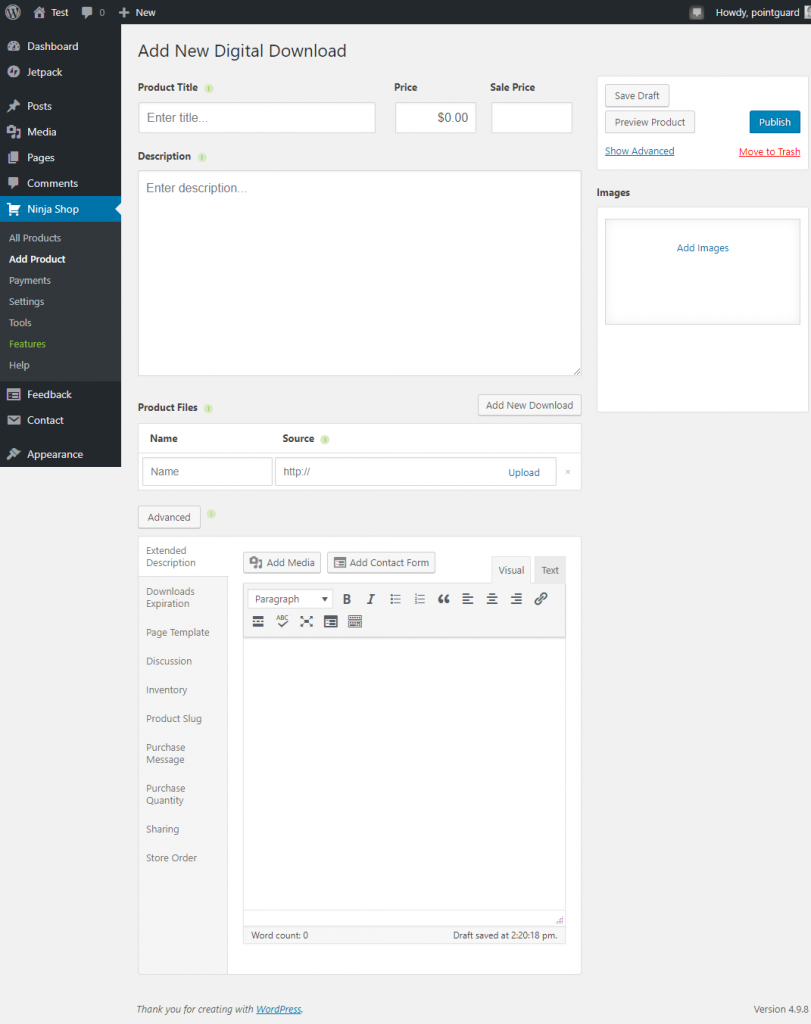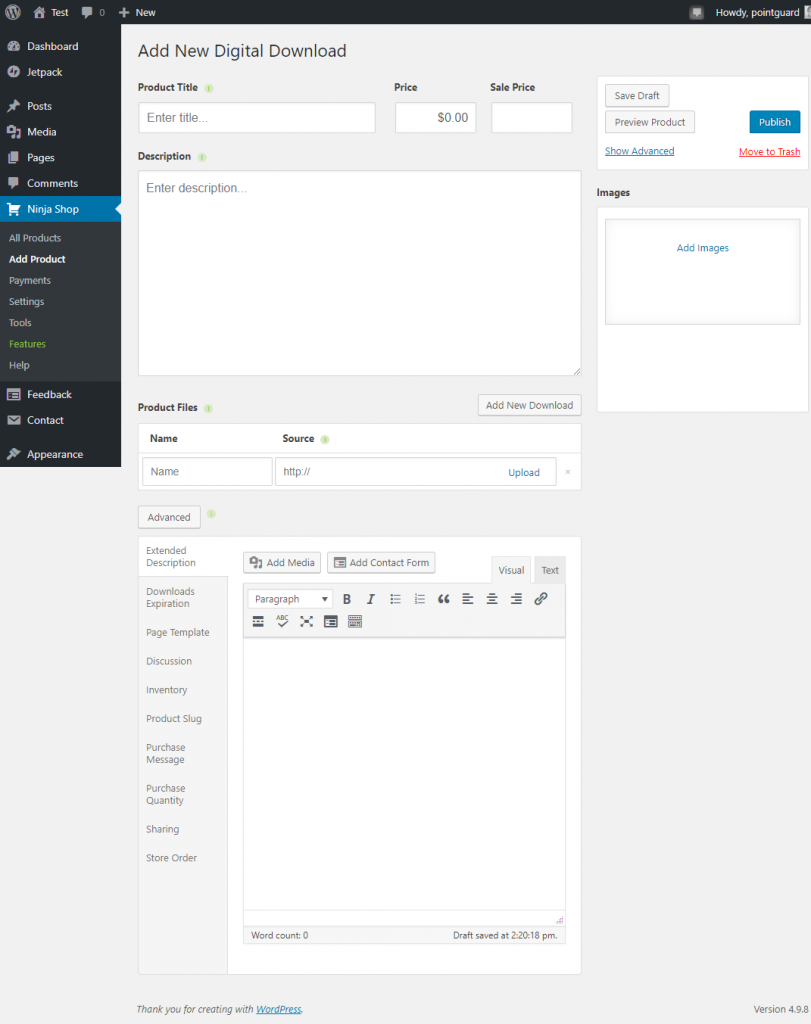 On the above screen, you can add many details about your product. Options you can define include:
Product name obviously duh
Short product description
An extended product description
Price including the sale price if you have an offer
The product source link in case you've saved the digital product you're selling on an external media storage service
Duration to expire the download links
Choose the page template you'd love to use for your product
Enable inventory tracking e.g., when you want to sell a fixed number of downloads
Change the product plug, which is great for SEO purposes
Add a special purchase message that is appended to the customer's receipt
Set the quantity of product the customer can buy at any given time
Show sharing buttons
Include images
Preview/ Save as Draft or Publish your product
I went ahead and created a dummy digital product. For our example, I'm selling an image of headphones for $1000 bucks, so yay! I have a huge sale too for the holidays, so I decided to throw in a $5 discount.
Added an extended description and multiple images too (just to show you that it's possible). If I was just selling one image, I would probably need this option for the various image resolutions I offer. If I was selling a physical product, the ability to add multiple images is a handy feature to have.
Here is how my product editor in Ninja Shop looks after adding dummy content.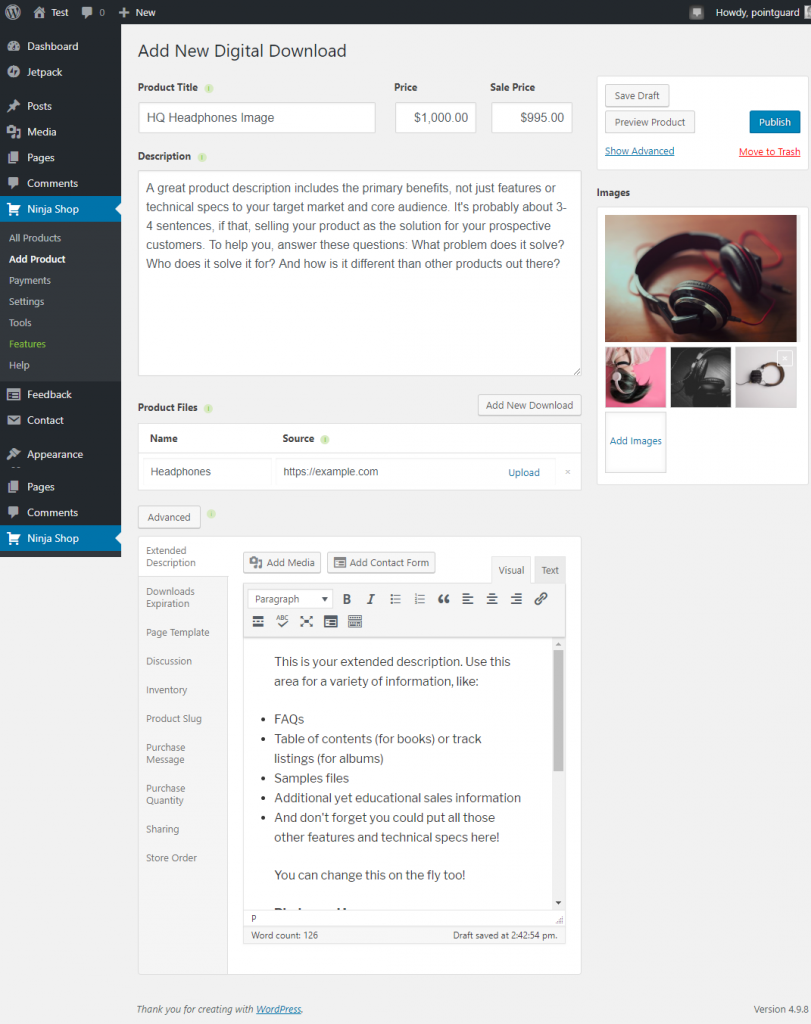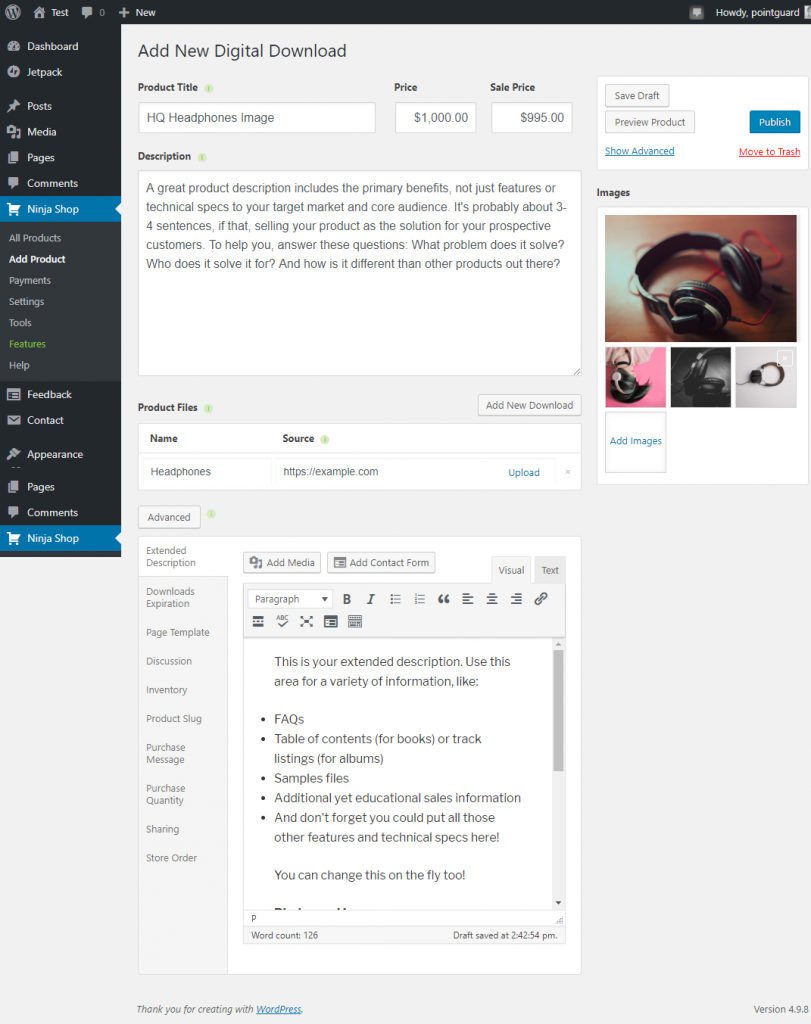 Did I mention Ninja Shop is mobile-friendly and responsive? To a fault buddy, to a fault.
Publishing A New Product in Ninja Shop
Once you're satisfied with your product details, simply hit the Publish button and your product is live. Just like that. Wasn't that easy?
Let us see how our dummy product looks on the front-end. I'm using the default Twenty Seventeen theme.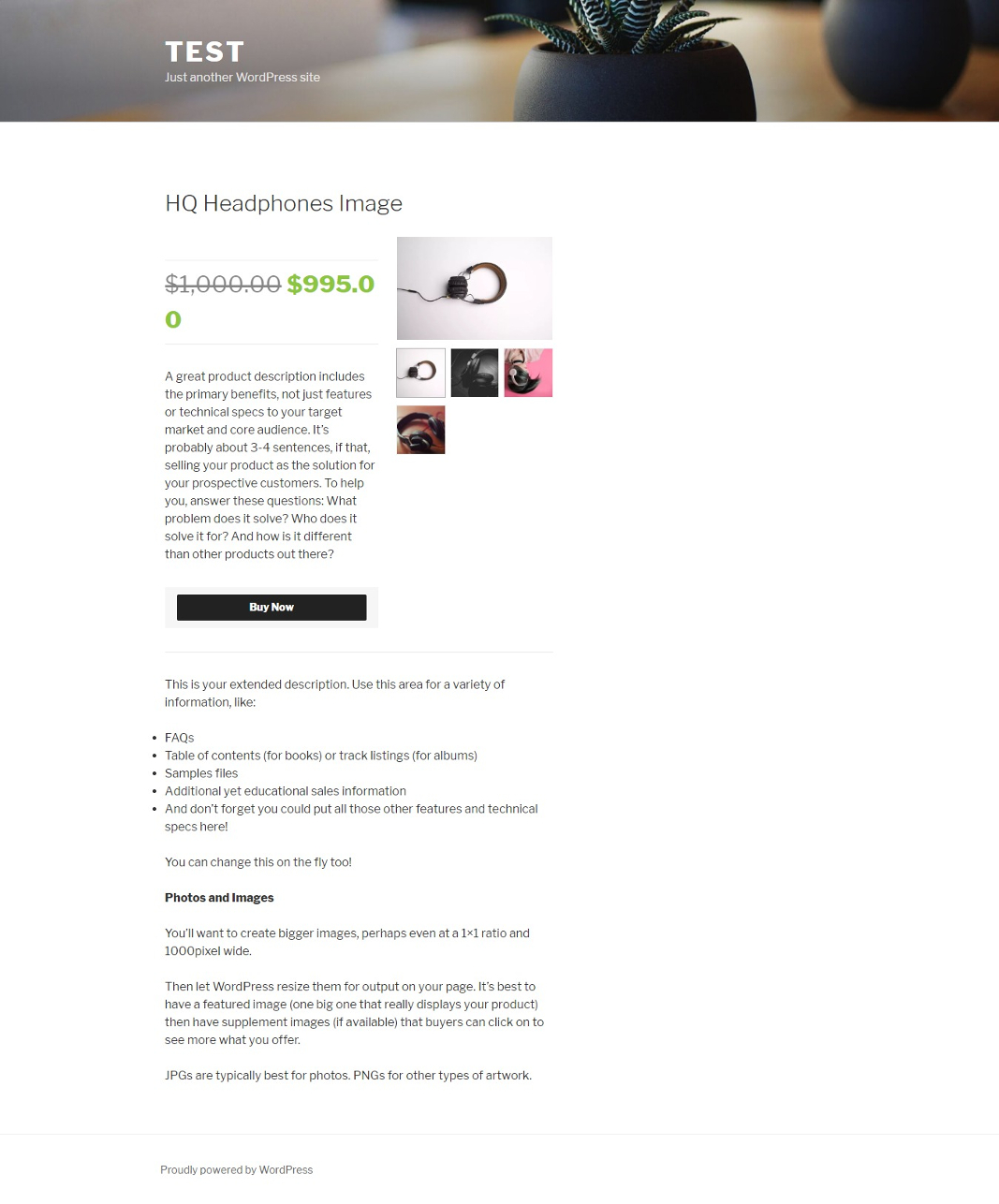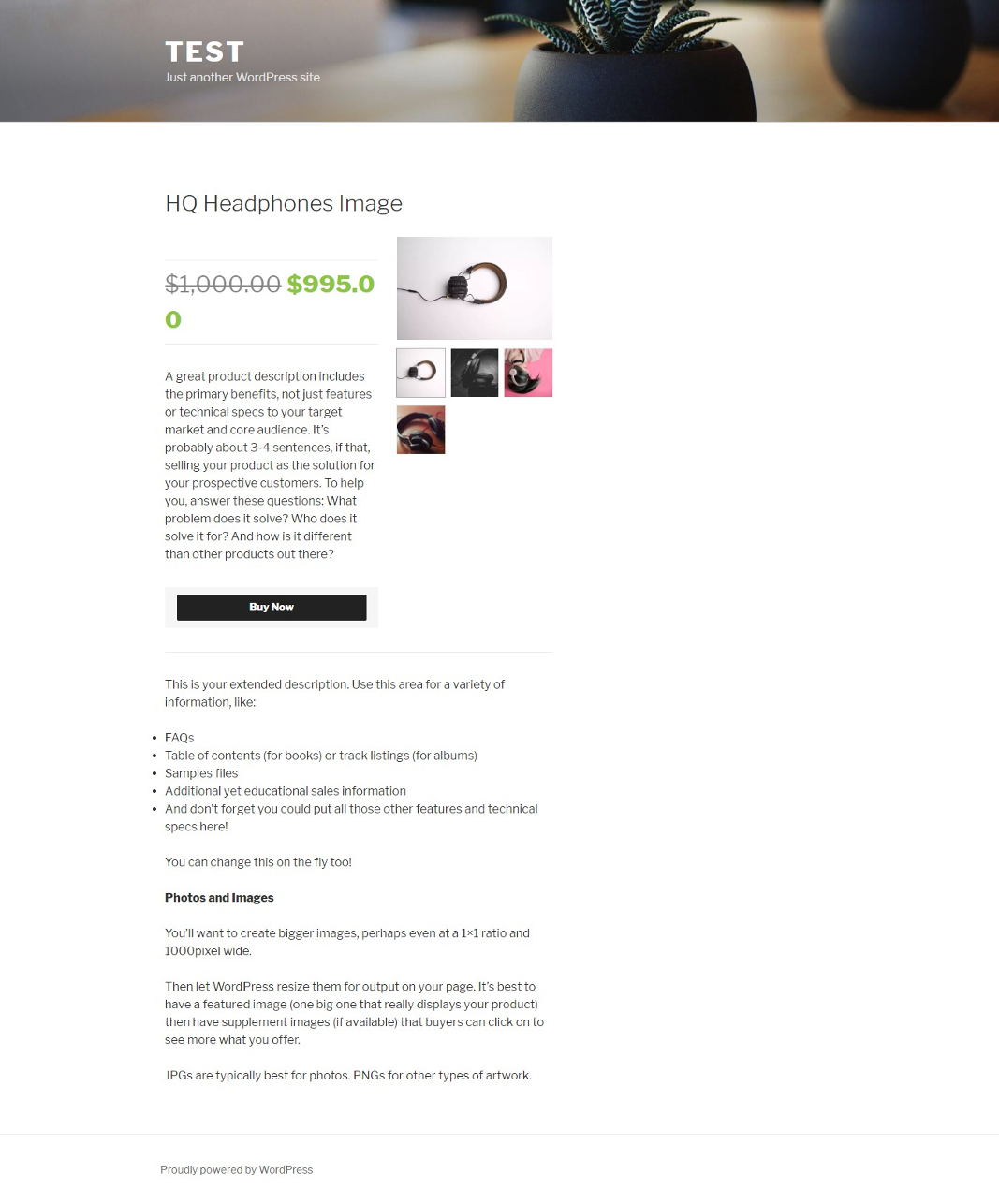 Not bad, huh? By the way, if you click on any of the product images, they launch in a beautiful lightbox that comes complete with navigation arrows.
Exploring Ninja Shop Other Features
Ninja Shop comes with many other features, not just the ability to easily create products. Here is how to find a specific feature within the admin area.
View All Products
To view all products available in your inventory, simply navigate to Ninja Shop -> All Products on your WordPress admin menu as shown below.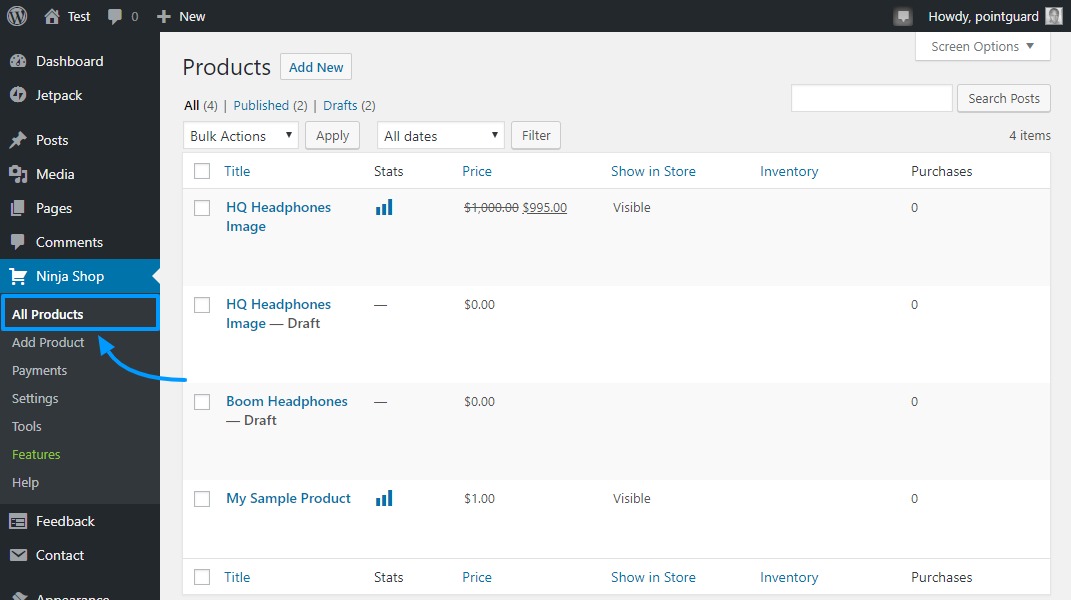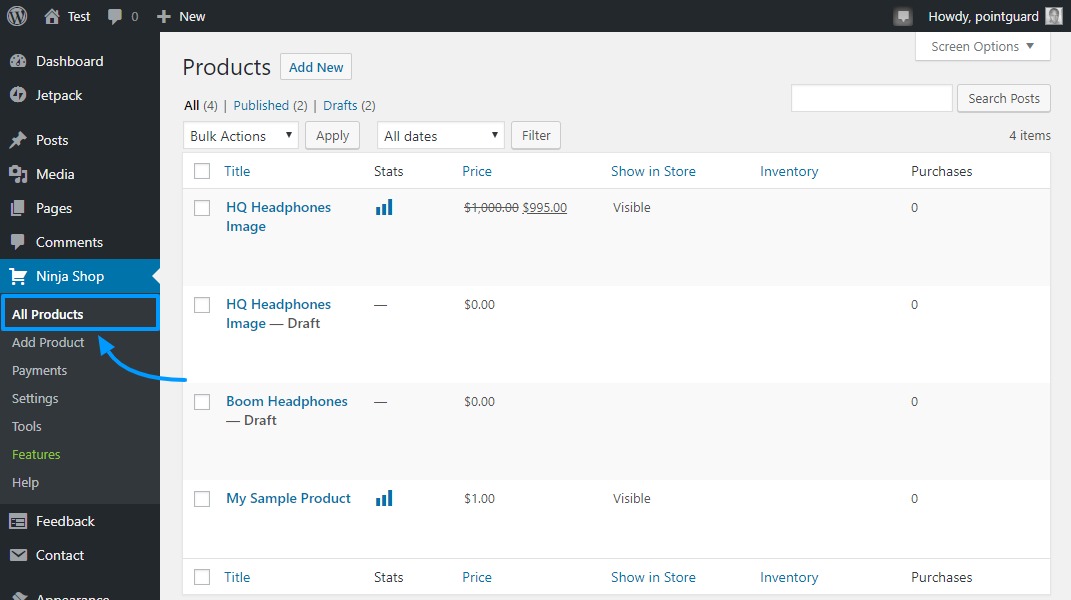 From the above page, you can edit any of your product easily, view stats for that product and so much more.
Checking Order Status in Ninja Shop
Well, adding products is fun and all that, but how will you view the orders you get. While you'll get email notifications, you can see all orders by navigating to Ninja Shop -> Payments.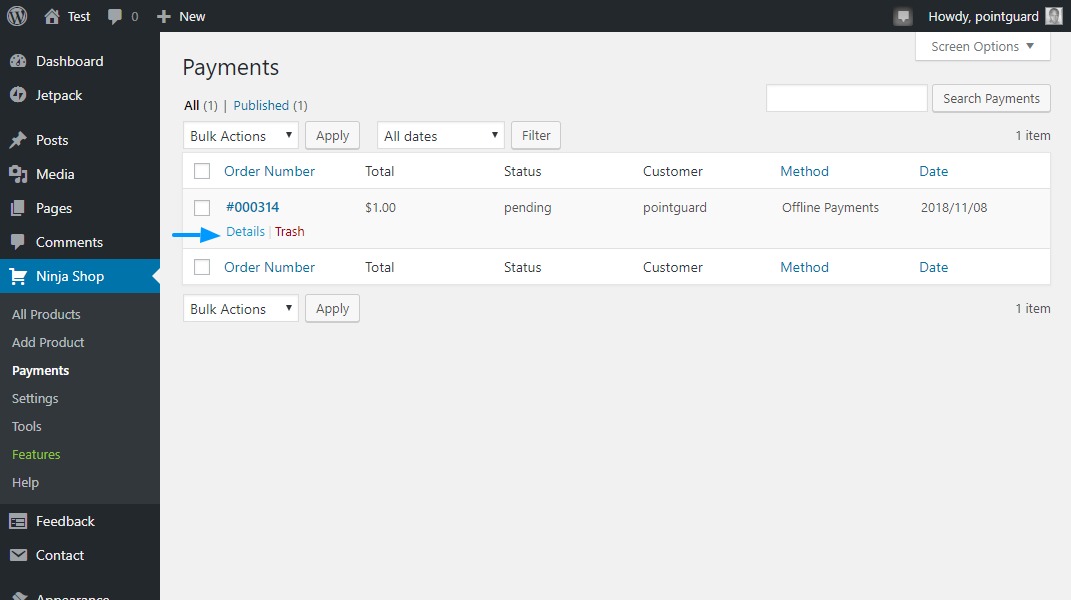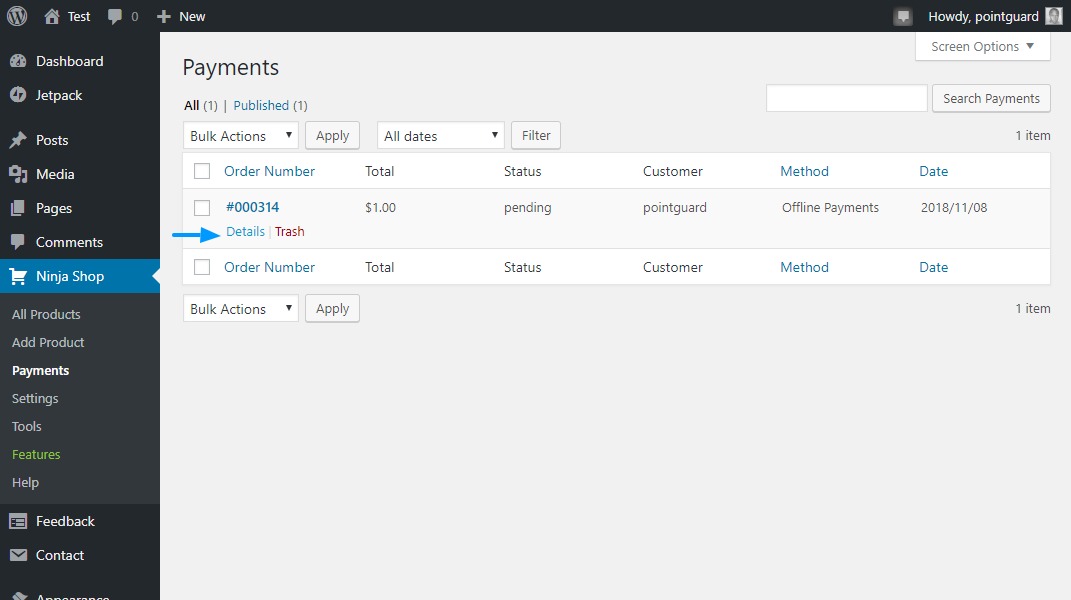 To view details about the order, simply click the Details link as we highlight in the image above. If you click on this link, you'll see a Payment Details page such as: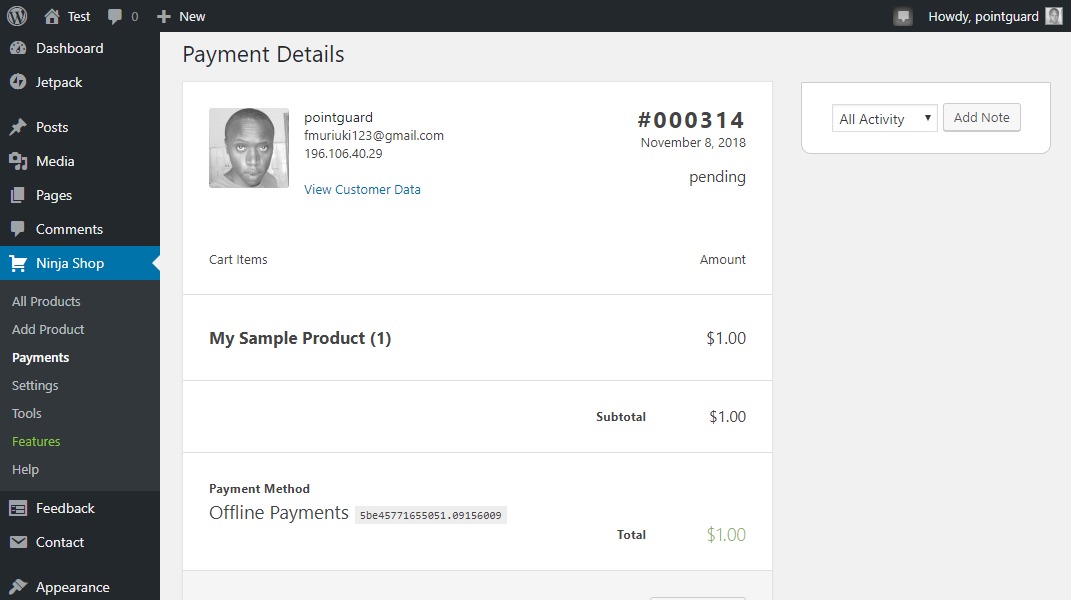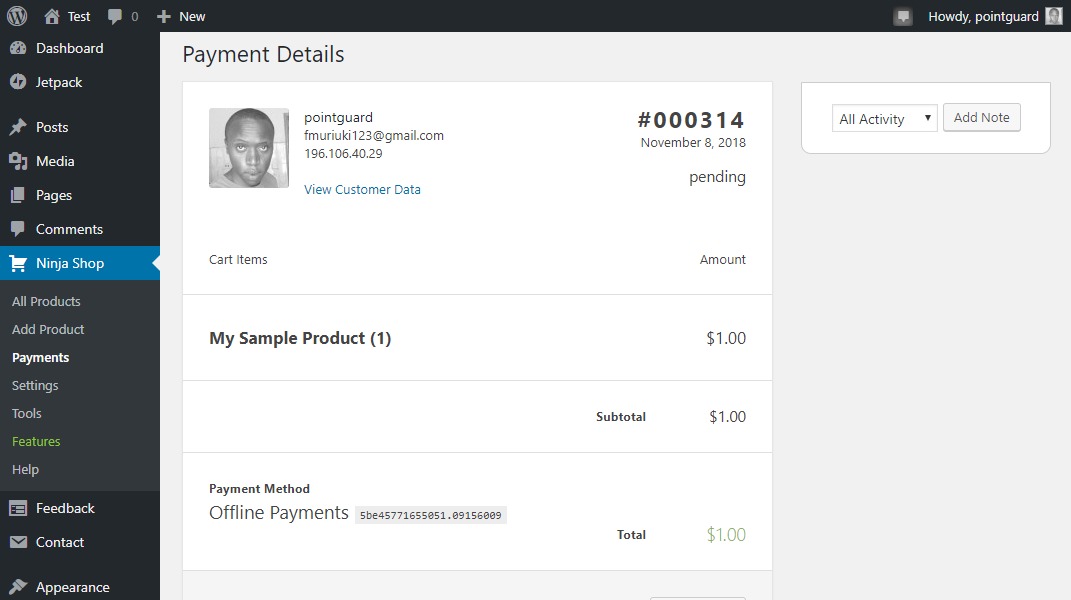 Ninja Shop Settings
Do you need to activate/deactivate a payment gateway instantly? Change your admin email or the type of emails sent to the customer? Perhaps you need to change your default currency or update your company profile.
Ninja Shop has your back covered what with a settings panel that is chockful of all the options you need to turn your online store whichever way you desire. Just navigate to Ninja Shop – > Settings.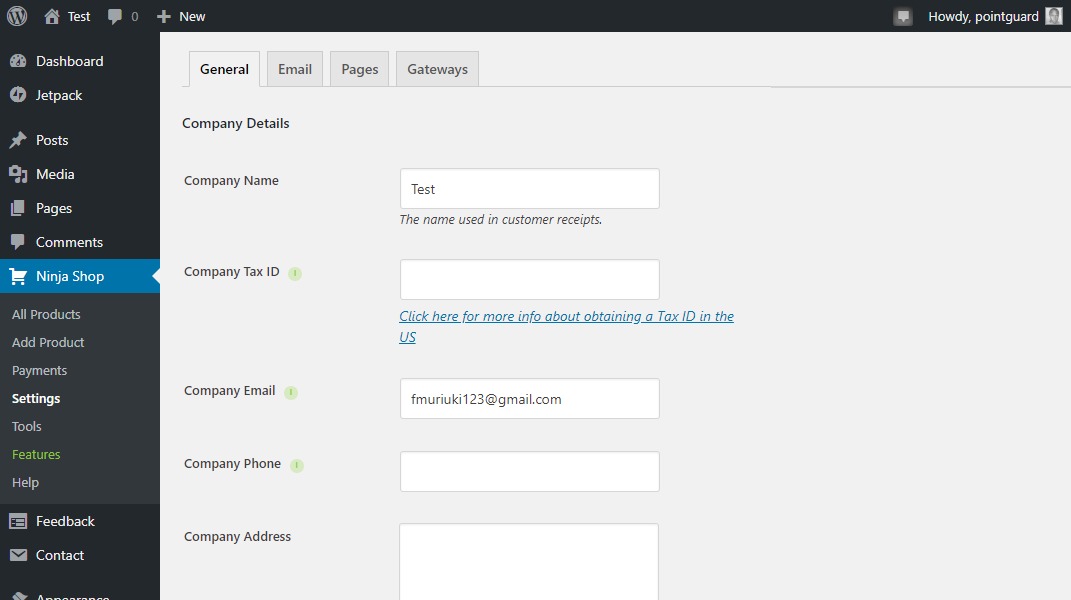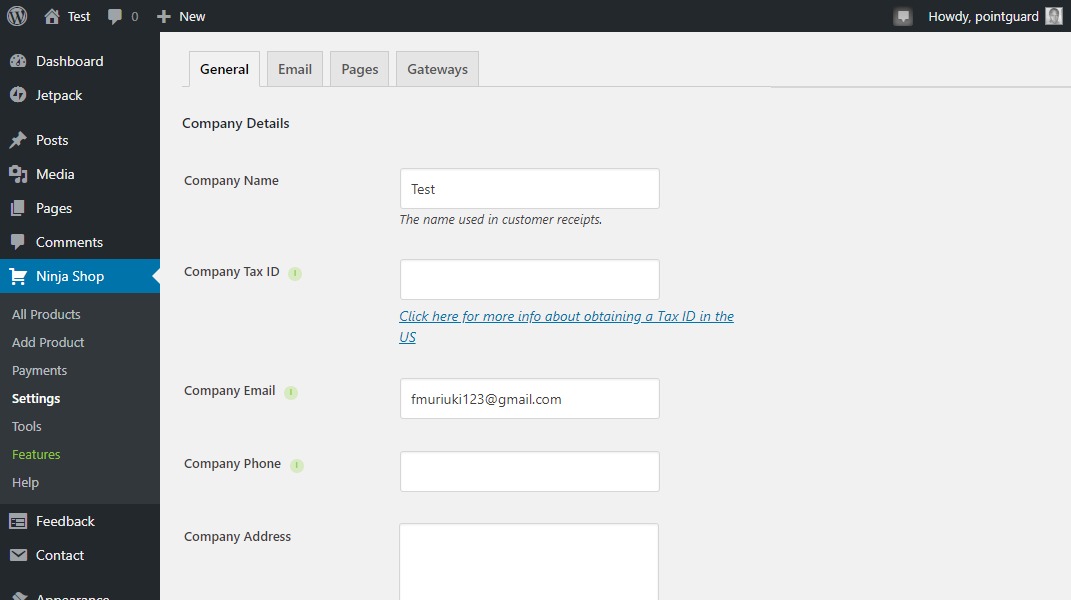 You can change so much on the above page, including your shop, product, custom account, cart and checkout pages among other things. Always remember to hit the Save Settings button at the bottom of the page when you make changes.
Ninja Shop Add-Ons
If you need to enable or disable any Ninja Shop add-on, navigate to Ninja Shop -> Features on your WordPress admin menu as shown below.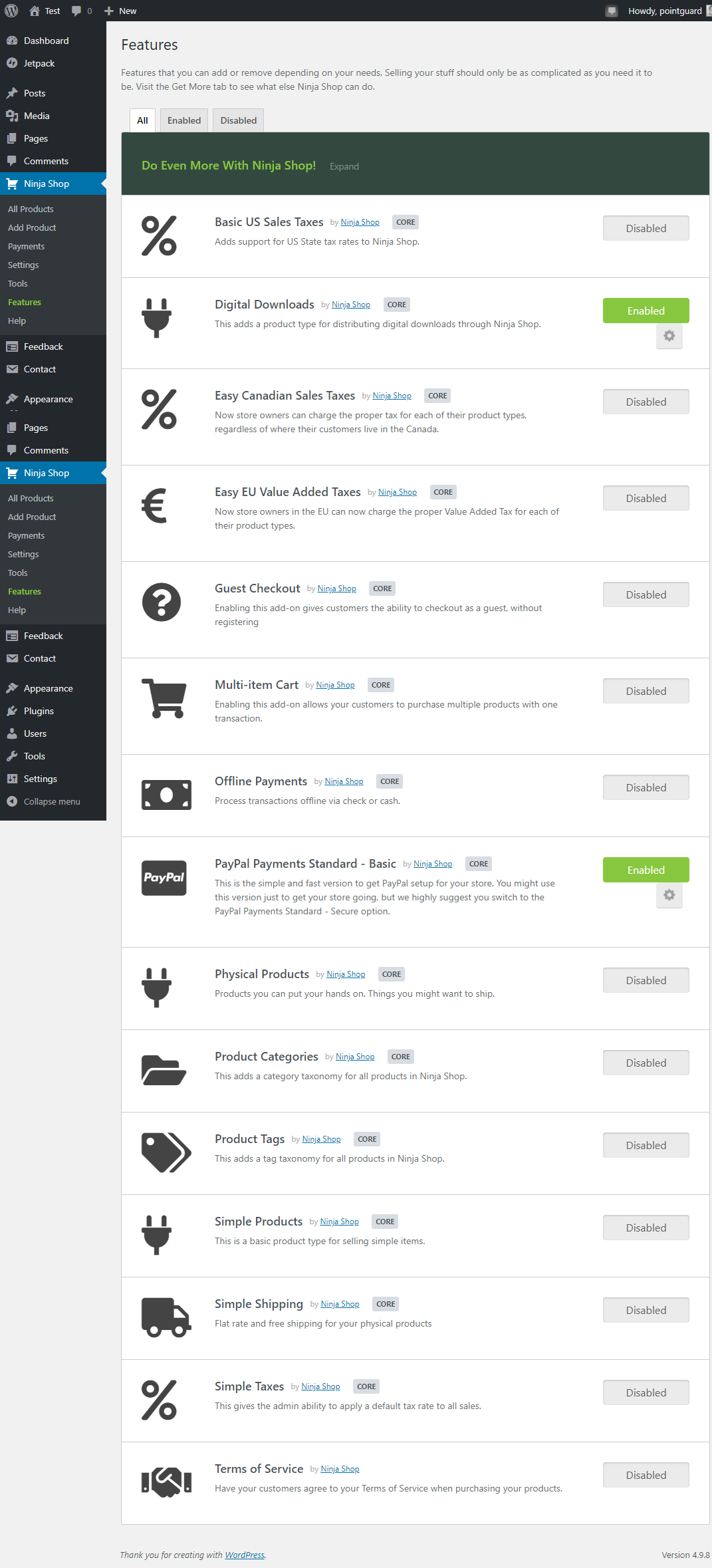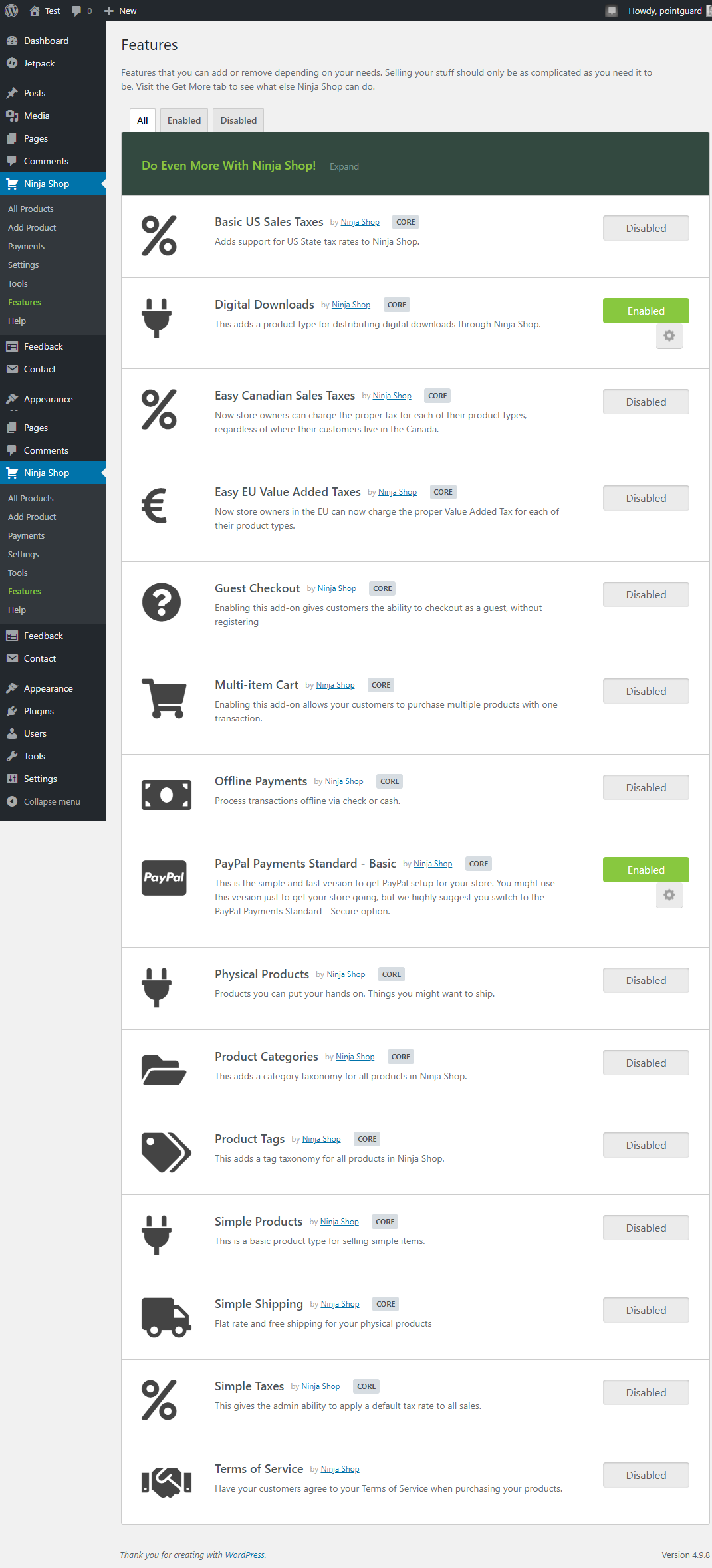 As you can see in the screengrab above, many of the amazing add-ons are disabled by default. This allows you to enable only the features you need. Activating any of the add-ons is a matter of point and click.
Extra Tools
That's not the end of it, Ninja Shop further ships with extra tools such as error logs, a feature to clear active/expired sessions, system info (useful during troubleshooting), and upgrades. Navigate to Ninja Shop -> Tools as shown below.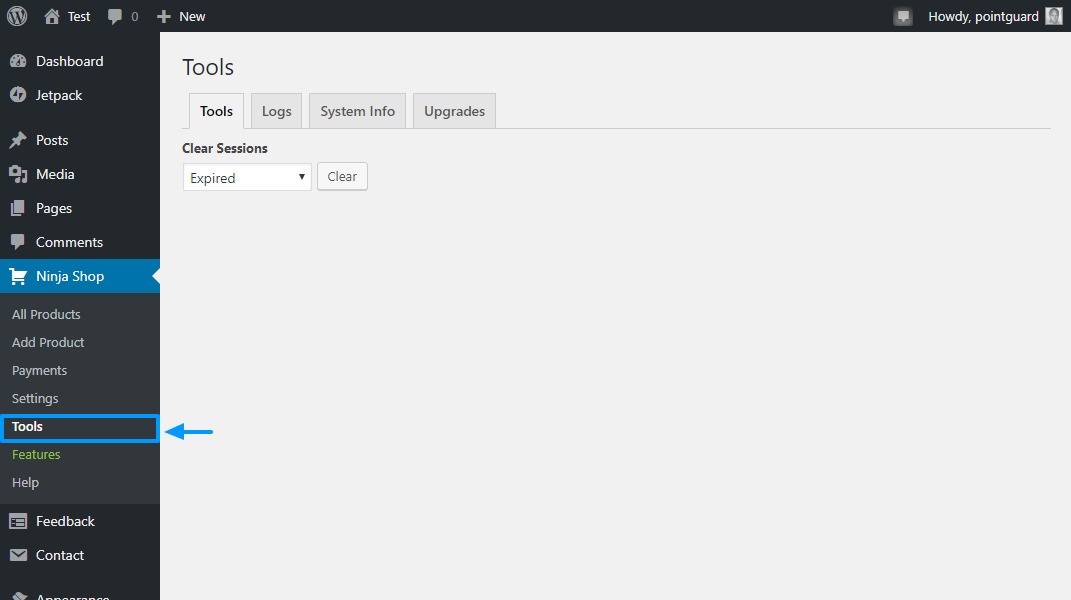 Ninja Shop Help and Support
Finally, if you ever get stuck, you can always reach out to Ninja Shop support without leaving your WordPress admin. Navigate to Ninja Shop -> Help as we illustrate in the image below.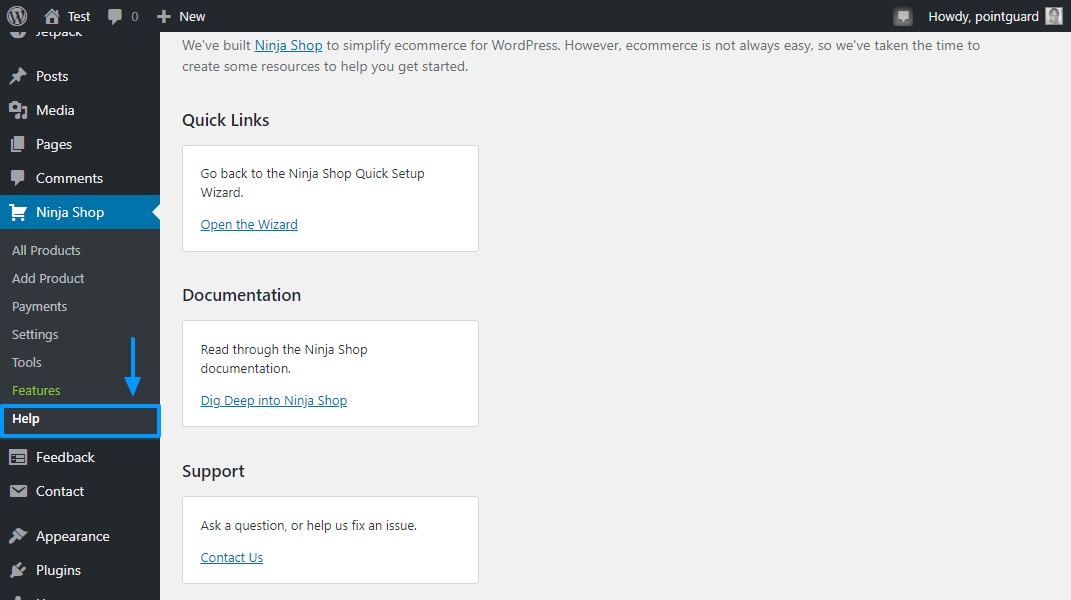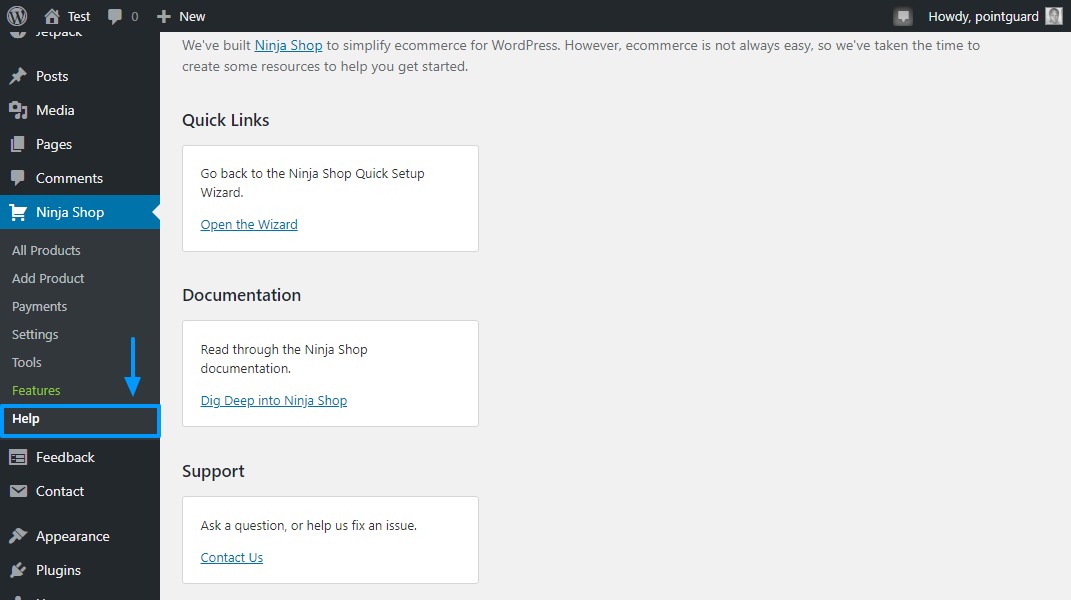 You can start the quick setup wizard, read the extensive documentation or contact the developers directly.
Conclusion
Starting and running an online store is serious business and not for the faint at heart. It is especially more challenging if you don't have the right tools in your toolbox, beginning with the ecommerce plugin you choose.
Ninja Shop takes away the technical hurdles of starting an online store, by keeping the challenging stuff under the hood while allowing you to enable only the features you need. It is an incredible ecommerce plugin with the potential to grow, especially with the lightweight design.
Have you used Ninja Shop before? If so, what are your recommendations? Have any questions or thoughts? Please don't hesitate to share in the comment section below.
What to hear about our latest deals and new posts? Subscribe below 👍