There are actually quite a lot of WordPress plugins that can help you publish and manage Amazon Associates affiliate links on your website into order to monetize your blog or another type of site.
However, while testing out the different Amazon affiliate link plugins for this article, it soon became clear that many of these tools aren't adequately supported or updated frequently enough, while others aren't being sufficiently installed to get a good idea of how reliable and trustworthy they are from their users.
This post contains some affiliate links. We may receive a commission for purchases made through these links. See the
disclosure
for more details.
As these affiliate links can help you generate a sizeable revenue from your website – depending on your traffic levels of course — it's vital that you choose a reliable and trustworthy plugin. This means selecting one that won't tamper with your links or unexpectedly stop working and disrupt your income.
So with that in mind, here are two tried and tested options, including a free plugin and an affordable paid option to help you monetize your WordPress website with Amazon affiliate links.
Let's begin…
About the Amazon Associates Program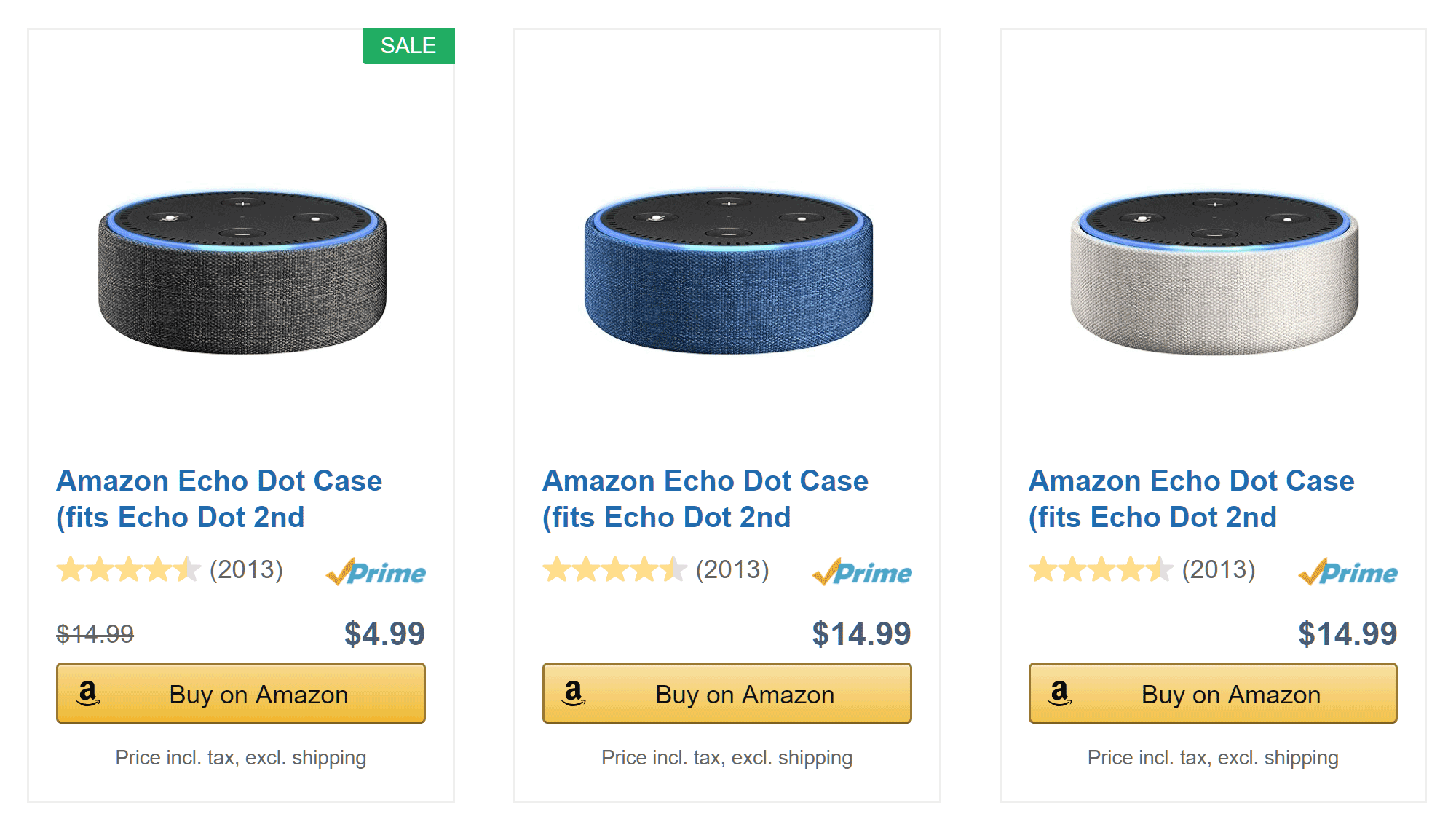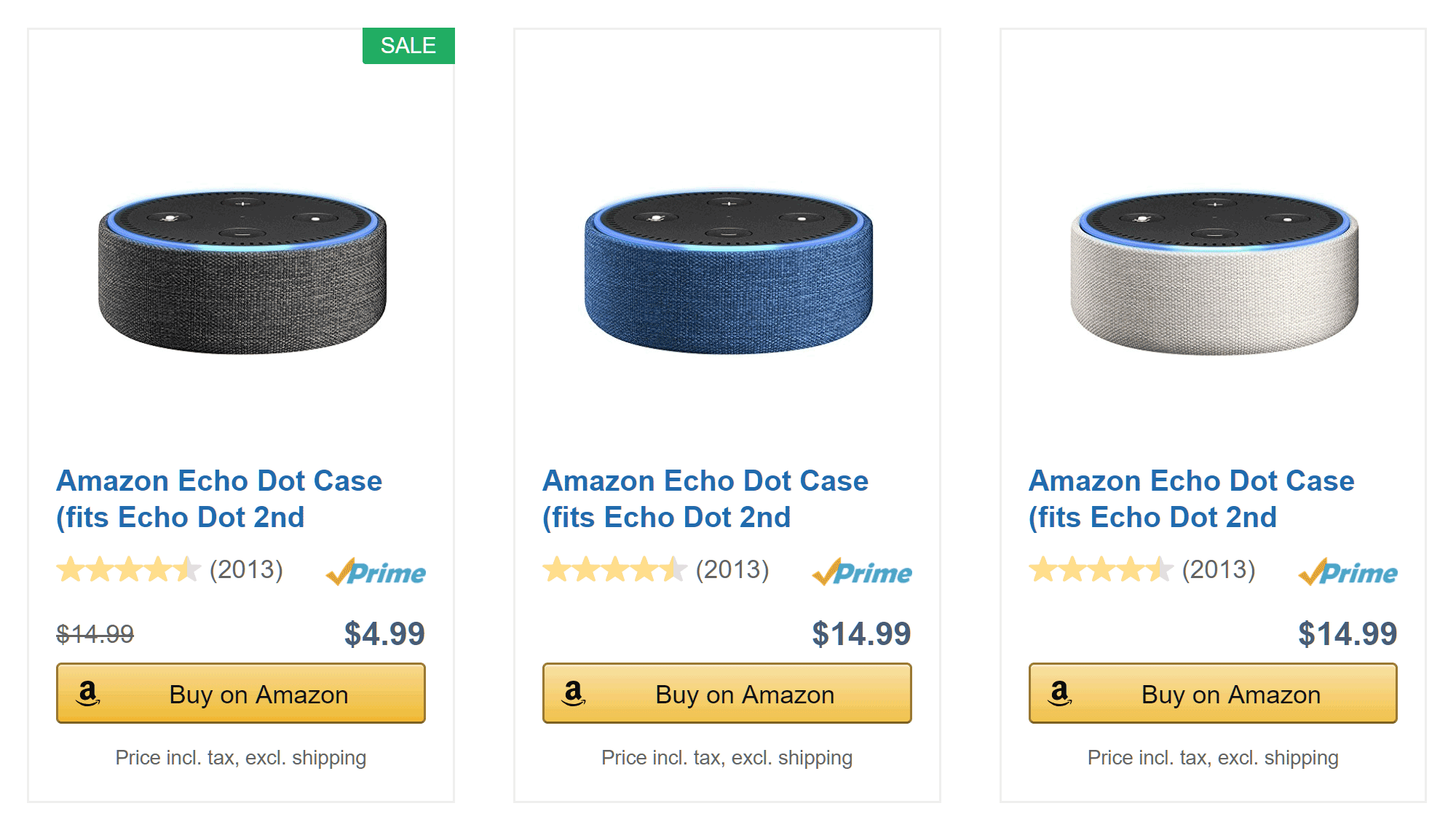 Before we get to the plugins, it's worth quickly explaining what the Amazon Associates program is and how it can help you monetize your website. However, if you're already family with this affiliate program, feel free to skip ahead to our recommended Amazon affiliate link plugins for WordPress.
In short, after signing up with the Amazon Associates program, you can publish referral links on your website that when clicked, take your visitors to the Amazon store. Then, if one of the visitors who clicked on your link buys something, you'll get paid a small commission, based on what they purchase.
The amount of money you'll receive depends on what type of products they buy. For example, if they purchase something from the luxury beauty product category, you'll get 10% of what they spend, while physical book purchases will earn you 4.5 percent commission of what's spent.
Although these amounts are quite low compared to some affiliate programs, there are a number of benefits of promoting products at Amazon. Firstly, lots of people have an Amazon account and are already used to shopping from them. Secondly, there are so many products available from Amazon, you're sure to find something relevant you can promote on your website.
Then there's the fact that consumers often purchase multiple items at once from Amazon, and as you earn commission on everything they purchase – not just the item you were promoting — your referral fees can quickly compound. Also, the Amazon one-click checkout process makes it very easy for shoppers to place an order.
Finally, as there are now Amazon stores serving customers in the US, Canada, UK, Europe, Australia, and beyond, there's a good chance your visitors can shop at Amazon regardless of where they're based.
It's true that you can create and publish these income-generating Amazon affiliate links yourself. However, as we're about to see, there are many benefits to using a dedicated WordPress plugin to manage this for you, and hopefully, increase your chances of making money from your website.
Amazon Affiliate Link WordPress Plugins
So here are our two recommended Amazon Affiliate link management plugins. There's one free option that covers all the essentials as well as an impressive paid tool that has lots more useful features and functions.
Amazon Link by Paul Stuttard
The free Amazon Link plugin reliably – according to users – takes care of automatically turning any links on your website into profitable affiliate links. Instead of having to generate an affiliate link on the Amazon website for each product you want to recommend, simply enter your Amazon Associates ID into the plugin dashboard on your website once and then your ID will be applied to any links to Amazon you publish. It really is as simple as that.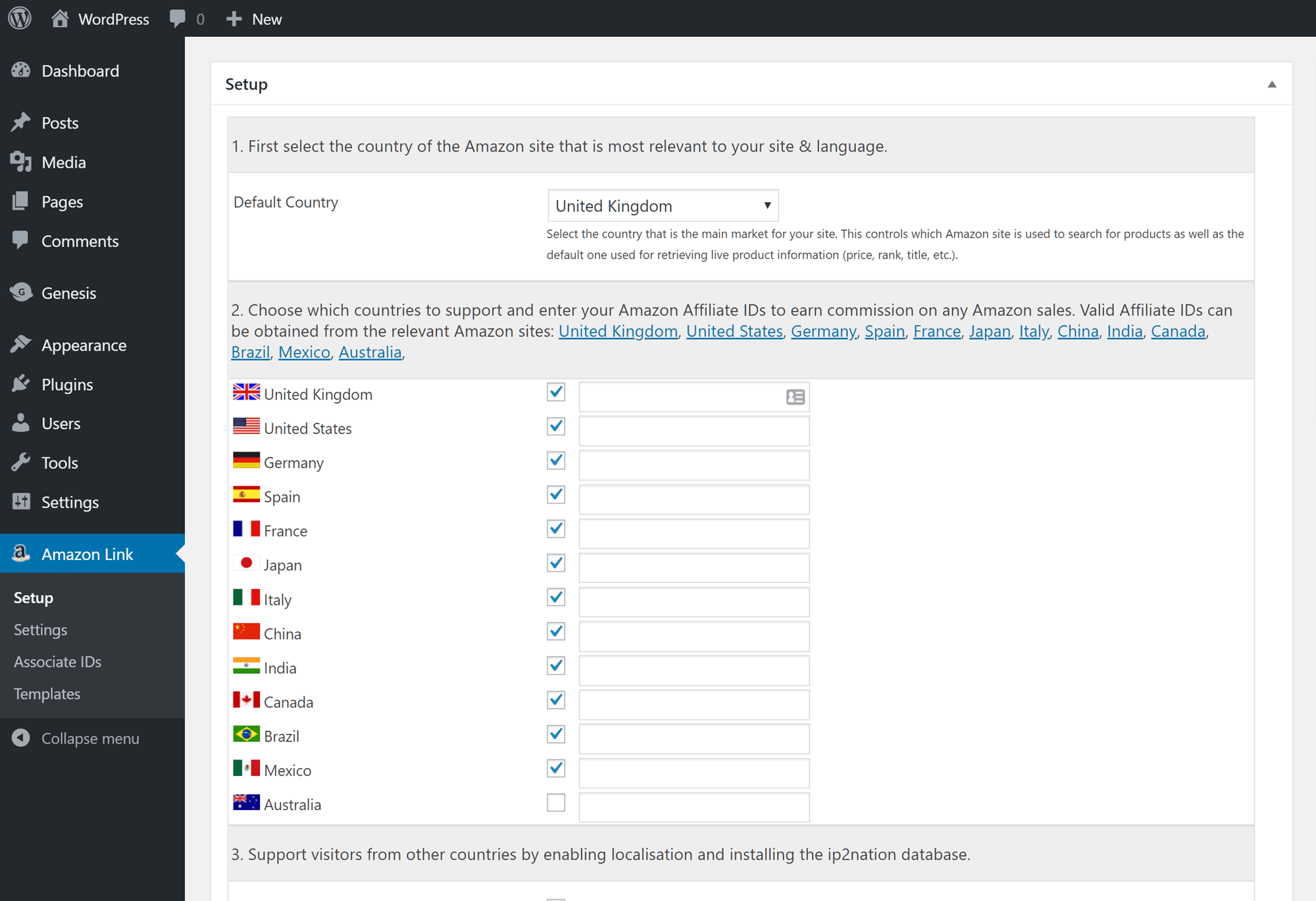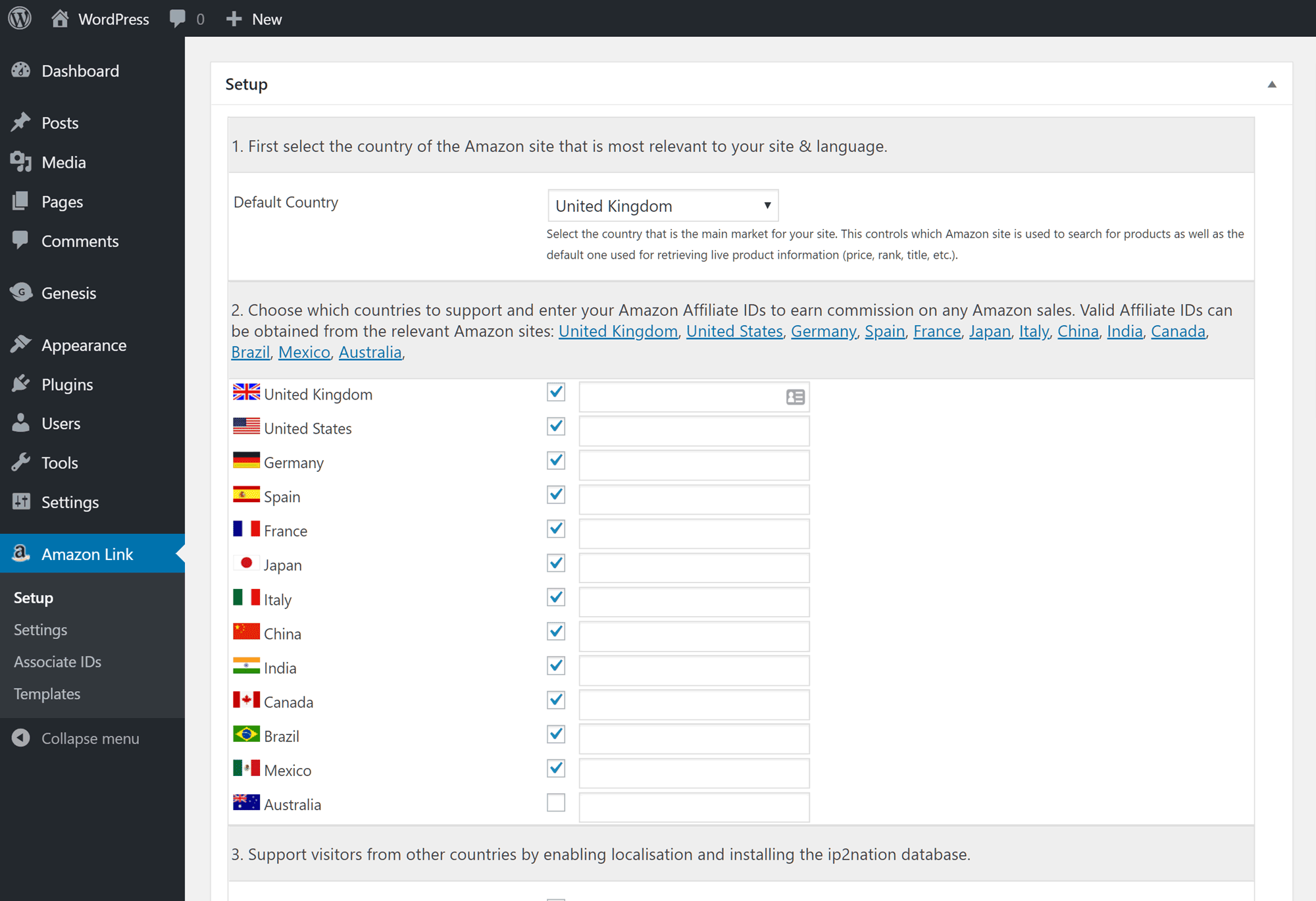 However, the Amazon Link plugin also lets you enter your IDs for local Amazon Associates programs, such as those running in Brazil, Canada, China, and other countries. The plugin will then detect the location of visitors – based on their IP address — and then seamlessly direct them to the relevant store, increasing your chances of earning a valuable referral commission.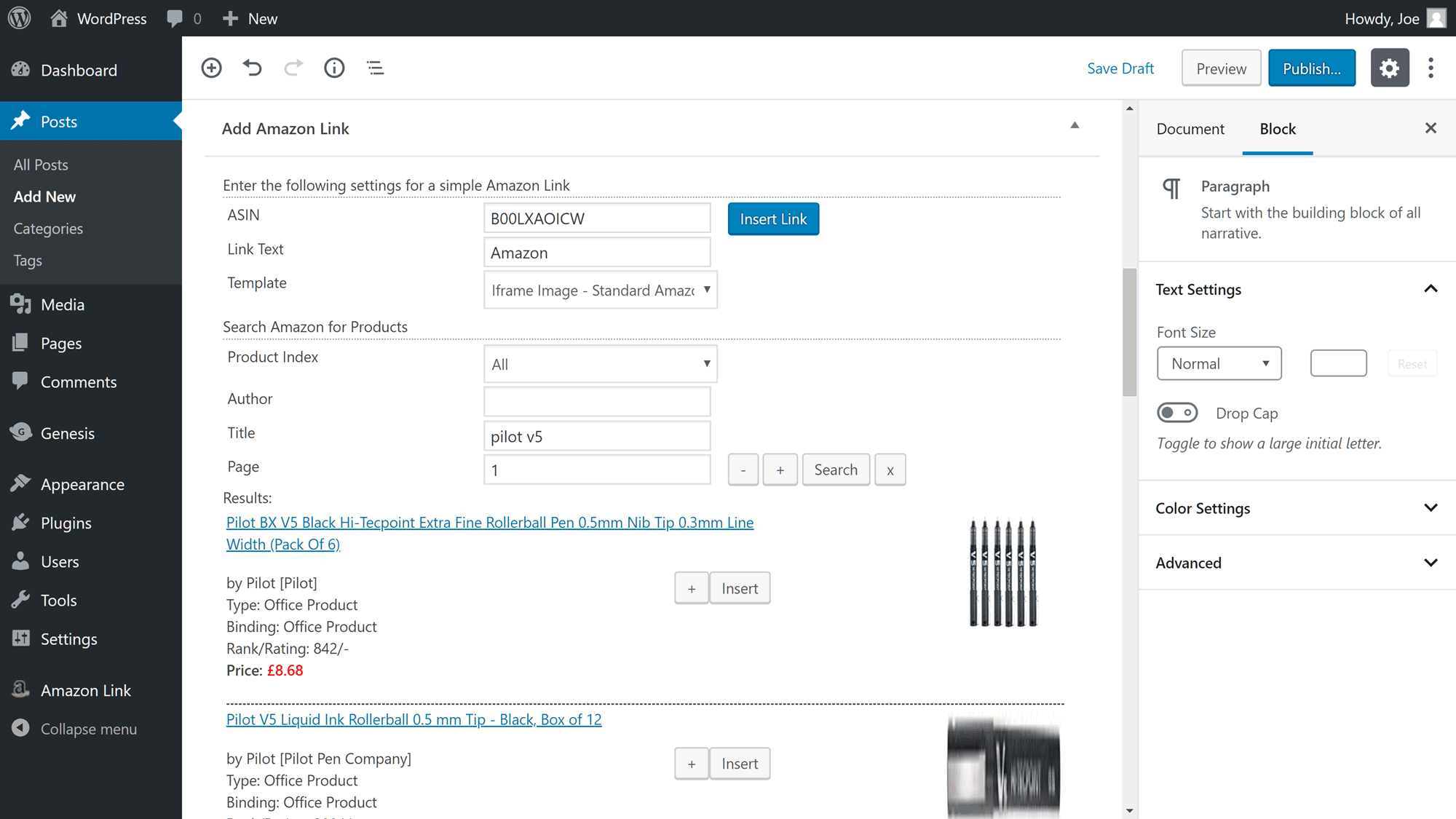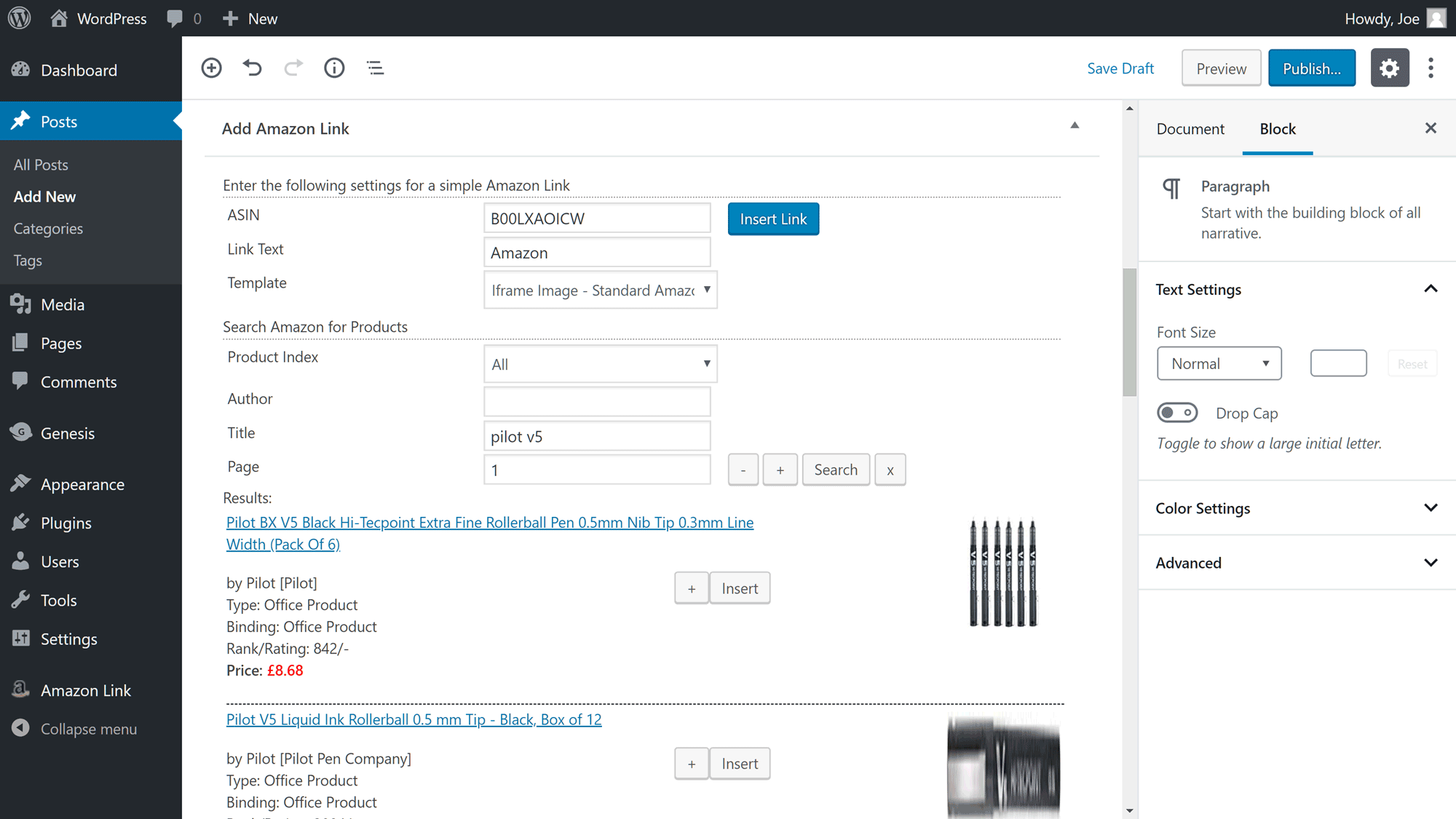 As well as covering the basics just mentioned, Amazon Link also makes it easier to find the products you want to list on your site. When creating a new post or page in WordPress, you can use the plugin features to search the Amazon inventory and then select which links to insert into your content, right from the WordPress Editor. The Amazon Link plugin also includes some templates to help you improve the presentation of your affiliate links, hopefully leading to more clicks and sales.
If you're looking for a free way to improve how you work with Amazon affiliate links on your WordPress website, Amazon Link is a great option.
AAWP – Amazon Affiliate WordPress Plugin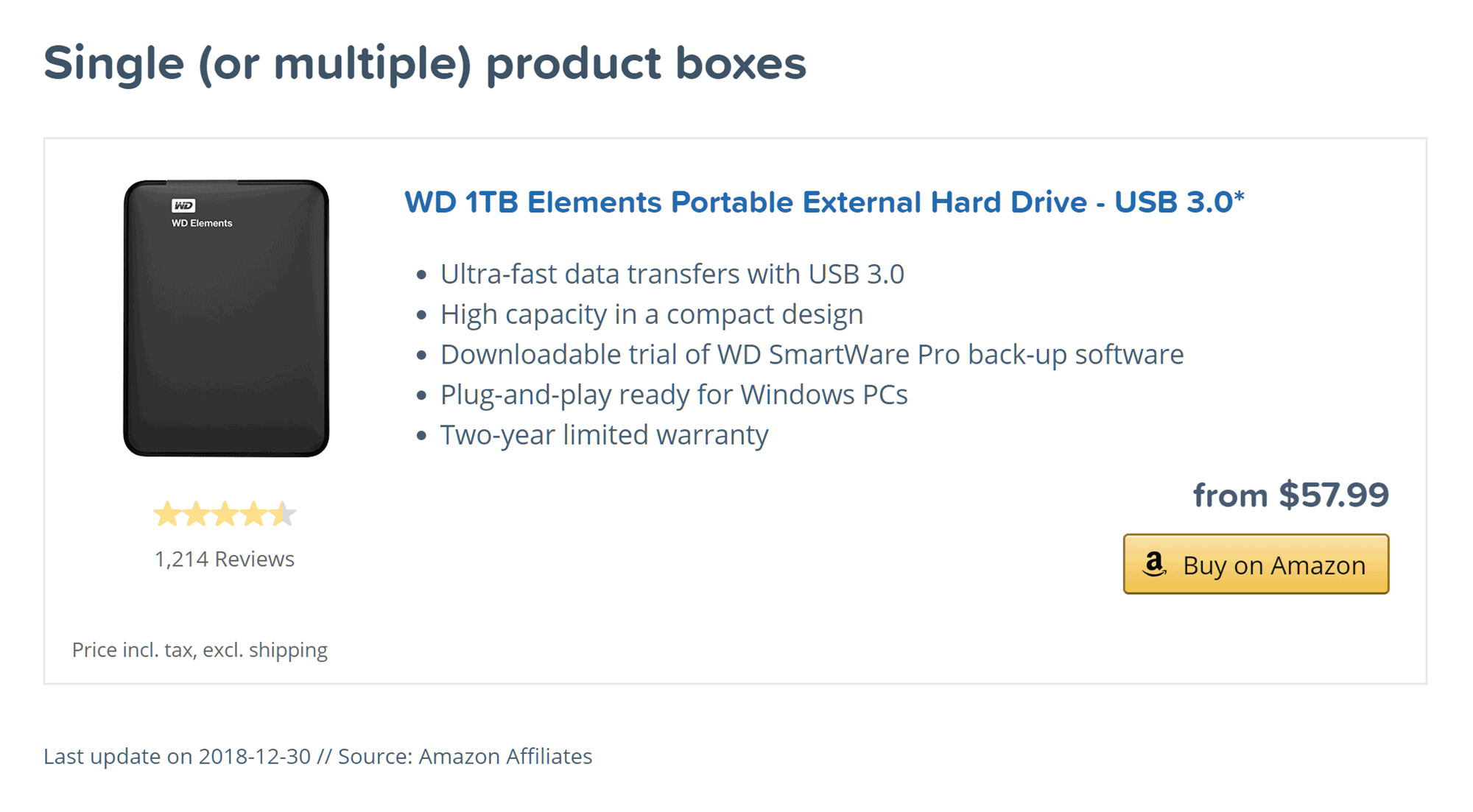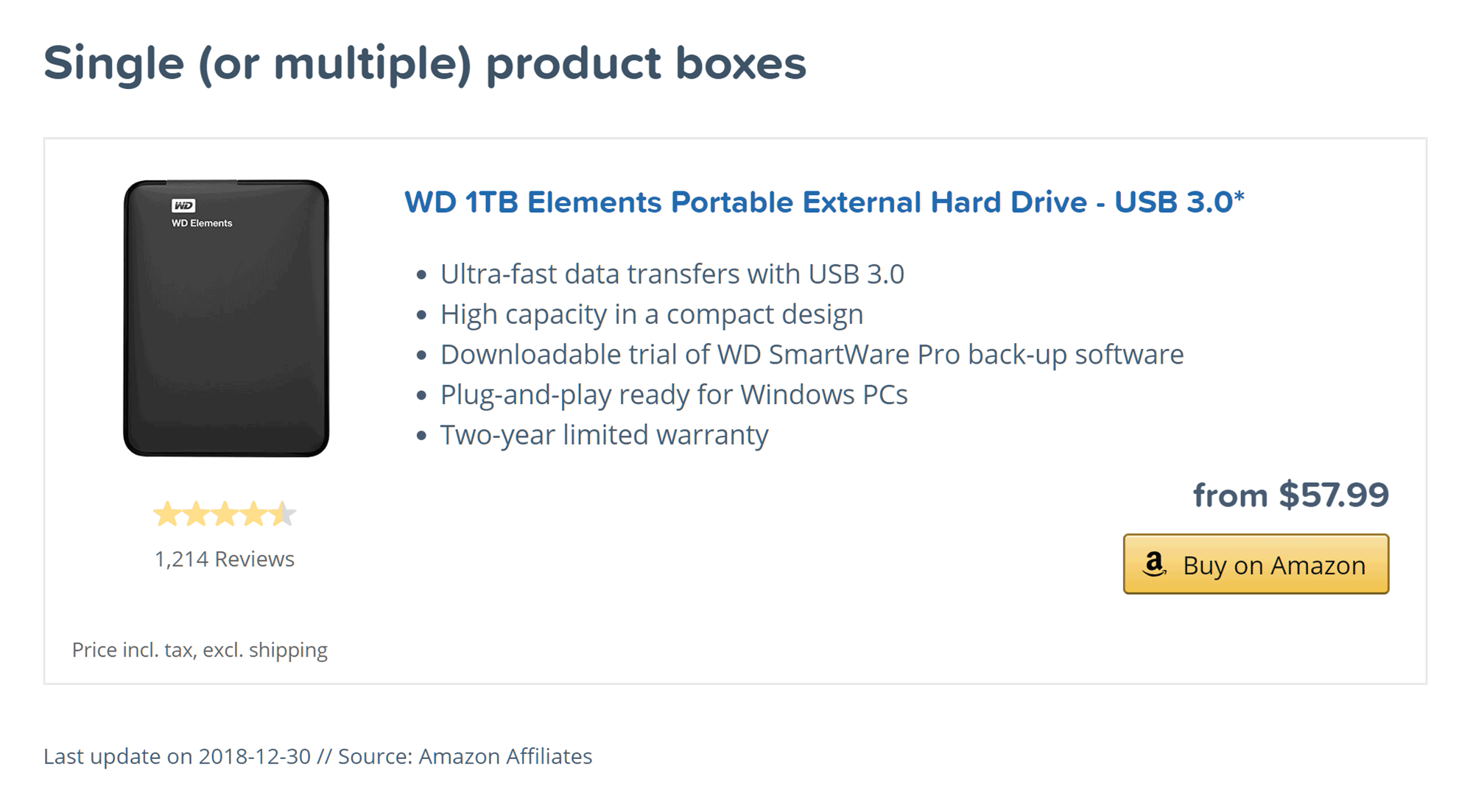 AAWP, or Amazon Affiliate WordPress Plugin, aims to take care of everything to do with monetizing your WordPress website with the Amazon Associates affiliate program. Although not a free plugin – starting at $39 – it's fair to say that AAWP has enough useful website-monetization features to make this price tag justifiable.
For example, thanks to the product comparison table generator, you can easily display multiple items side by side to help your visitors decide which product to buy. To create the table, simply enter the product ID or ASIN number of the items you wish to display and the plugin will do the rest. Thanks to the inclusion of the key product details, such as the price and rating, your visitors can easily see which item is the best option for them without ever having to leave your site to do further research.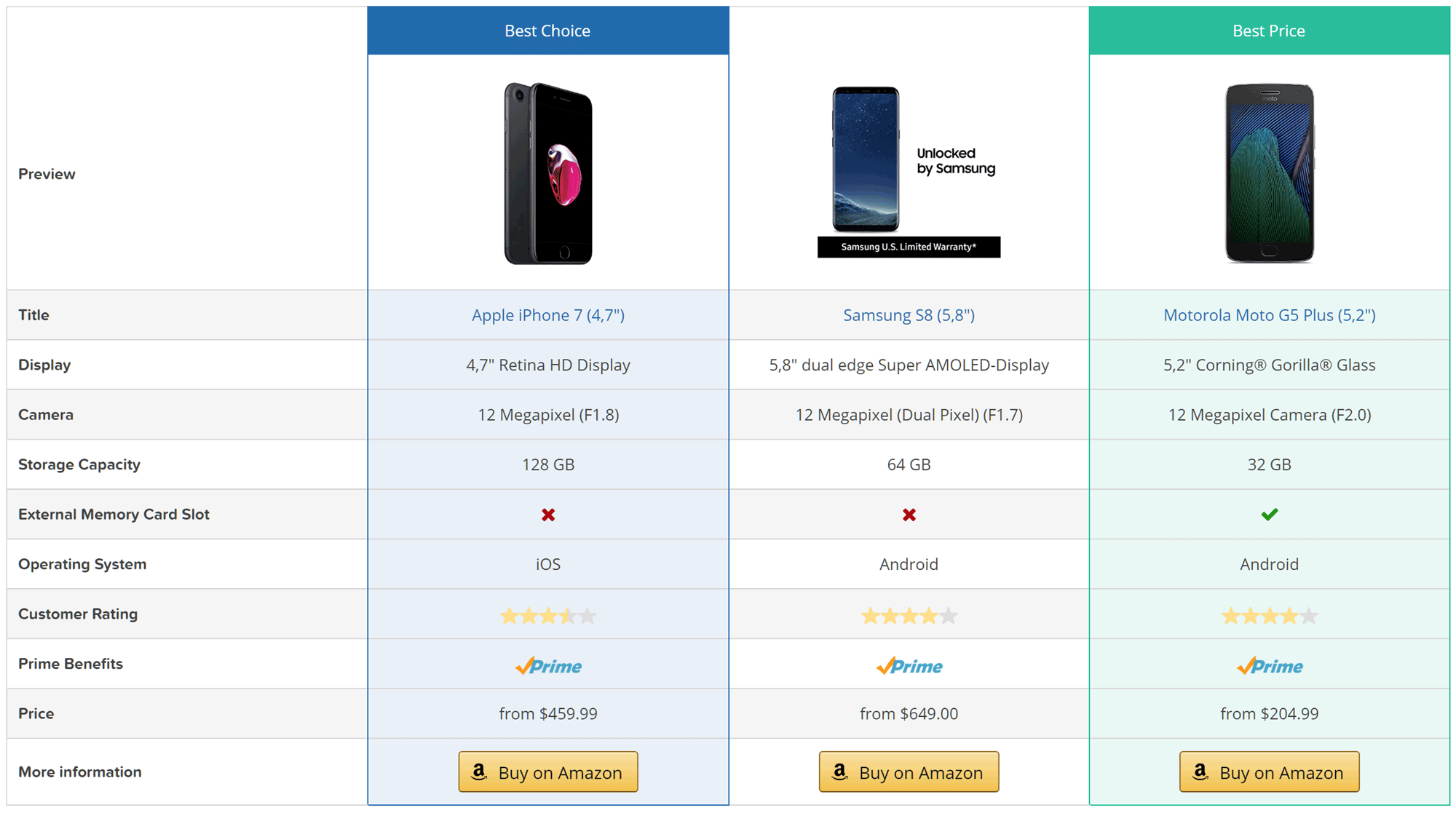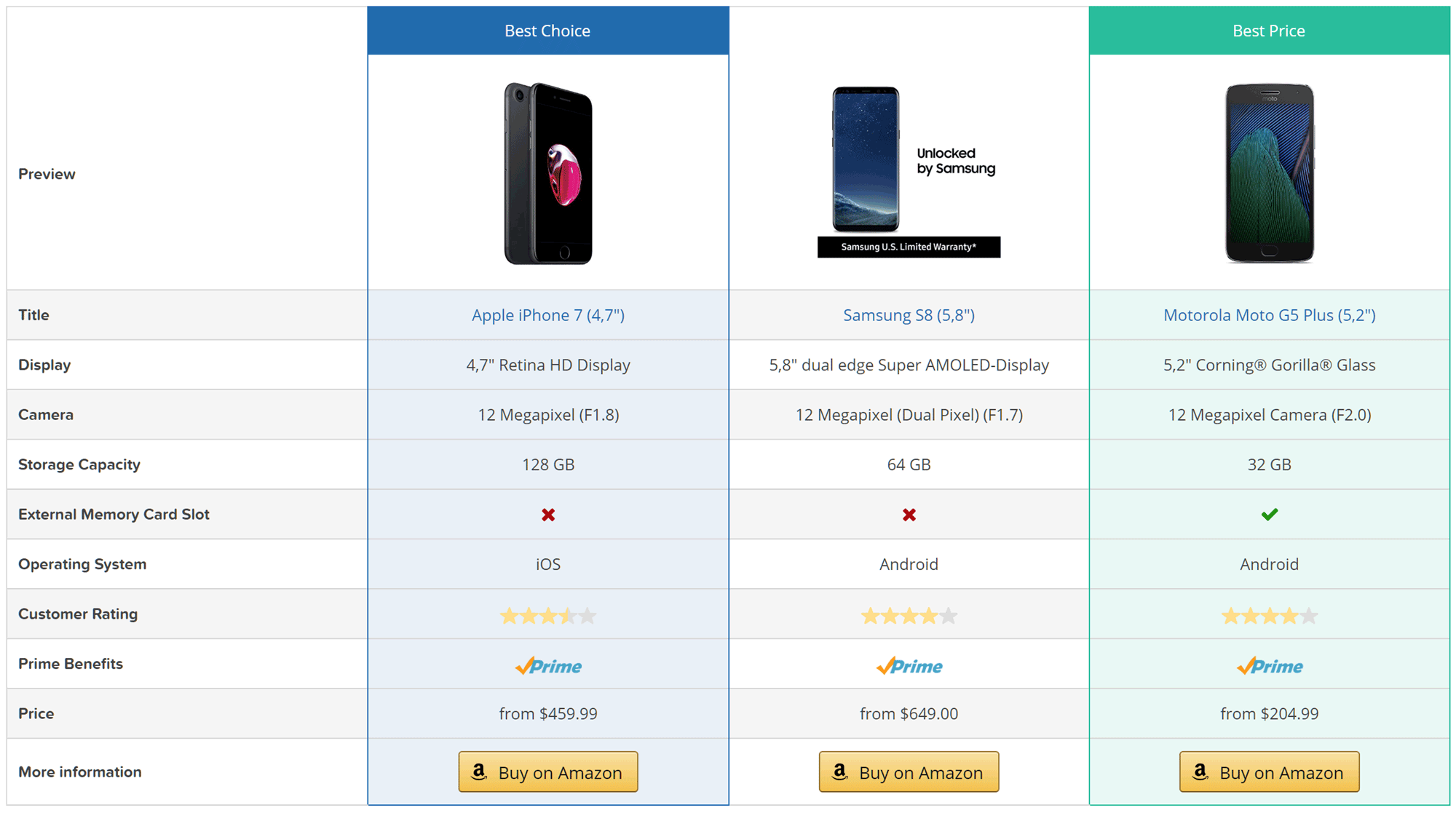 As well as the time-saving features of AAWP, like the comparison table generator and ability to automatically tag all links to Amazon with your referral ID, this plugin should also be able to increase the amount of income your site generates thanks to the geotargeting functionality. Now with geotargeting, it doesn't matter which country a visitor is accessing your site from, when they click on an Amazon link, they'll be taken to their local Amazon store, such as Amazon.co.uk or Amazon.in, for example.
Other reasons to consider AAWP include the ability to quickly generate bestseller lists for a particular type of product, tools for creating eye-catching product promotion boxes, and click tracking to provide you with insights into how your audience is interacting with your affiliate links.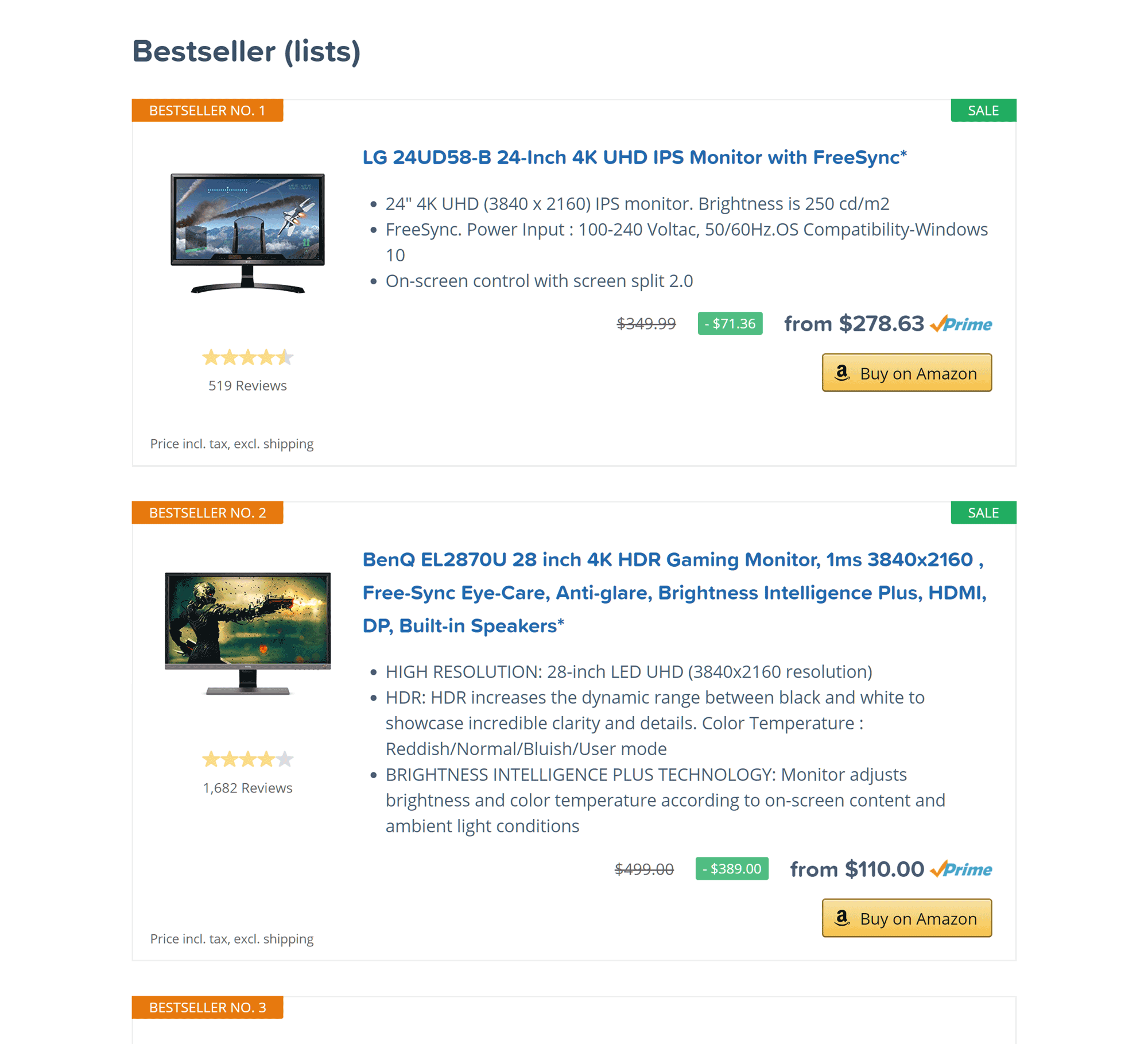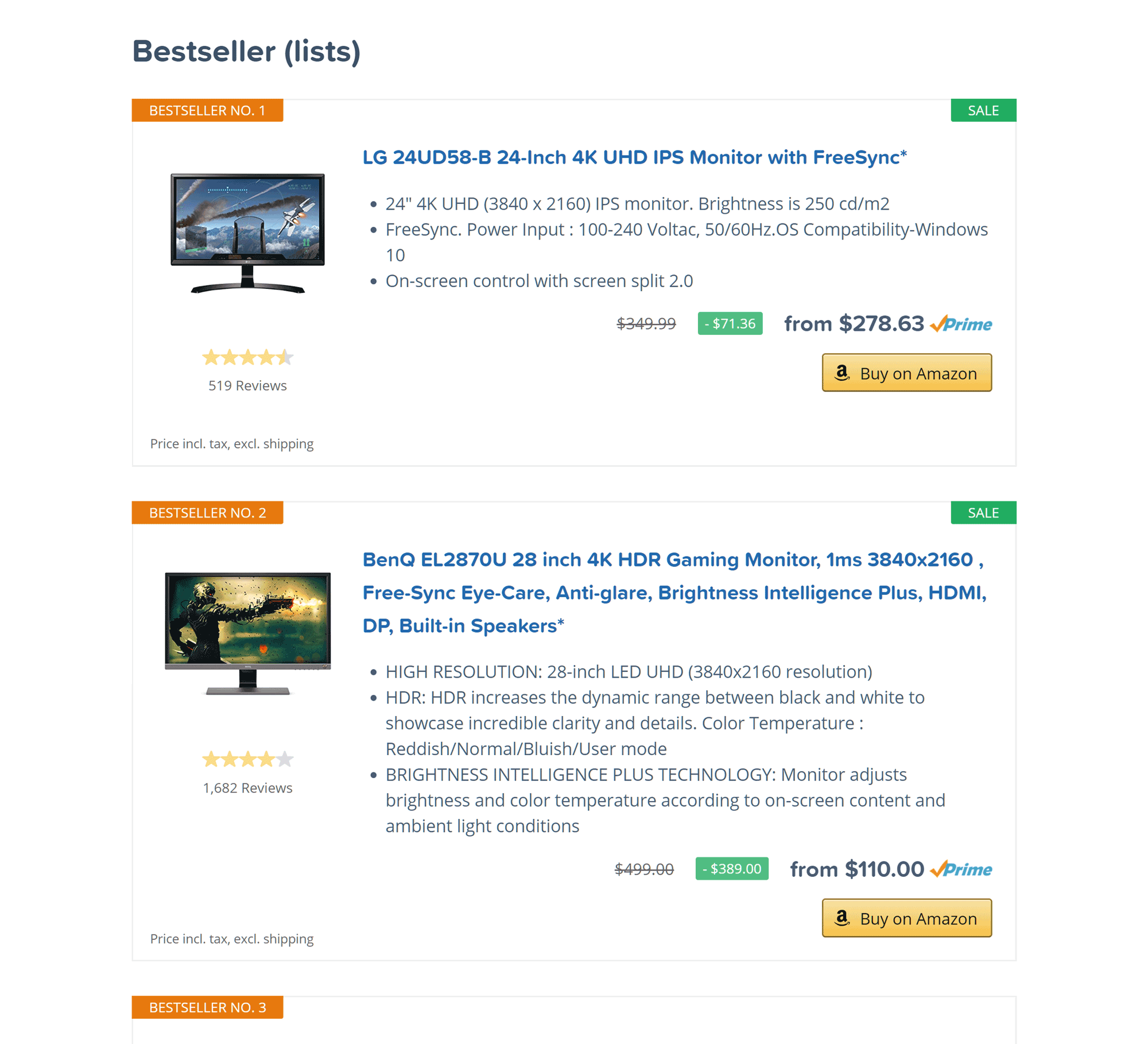 If you'd like to know more, you can view demos of the plugin's templates on the AAWP website as well as take advantage of the 30-day money-back guarantee that lets you try AAWP without risk.
Final Thoughts
As well as the options featured in this guide, it's also worth mentioning the official affiliate plugin from Amazon. It's true that at the time of writing, it has received some pretty poor feedback from users. However, it's currently in beta so there's a chance it could improve as it develops. Being both free and official, it's definitely one to watch for the future.
If you're just starting out with affiliate marketing and your blog or website isn't getting many visitors, creating the links manually for now, or using a general link management plugin like Pretty Links is perfectly acceptable. However, as your traffic increases and your site grows, using a purpose-built Amazon affiliate plugin makes managing your income-generating links more efficient.
Which plugin will you use to monetize your WordPress website with the Amazon Associates affiliate program? Let us know in the comments below.
What to hear about our latest deals and new posts? Subscribe below 👍