WP User Manager is a plugin that can significantly upgrade the user handling functionality of WordPress. It's a complete WordPress user profile management plugin that can be used on various types of sites.
If you'd like to improve the way visitors can register on your website and have greater options covering what data their profiles can contain, how those profiles are displayed on your site, and more, WP User Manager could be the WordPress user management plugin you've been looking for.
This post contains some affiliate links. We may receive a commission for purchases made through these links. See the
disclosure
for more details.
In this guide to WP User Manager, we cover the core features of the free version of this plugin and look at some of the paid add-ons. As well as learning what this user management plugin can do, you'll also get an insight into how easy it is to use and what type of projects it's suitable for.
Introducing WP User Manager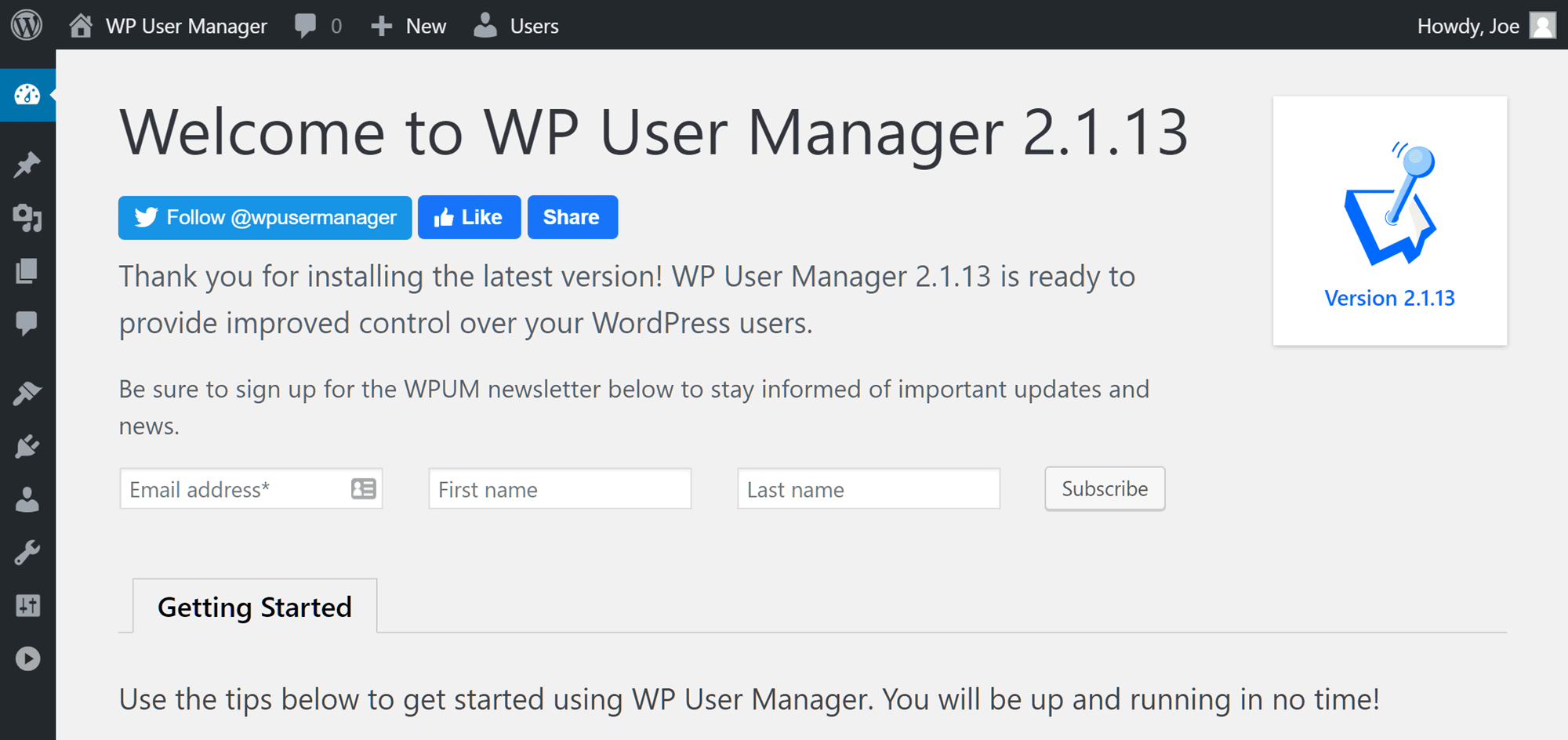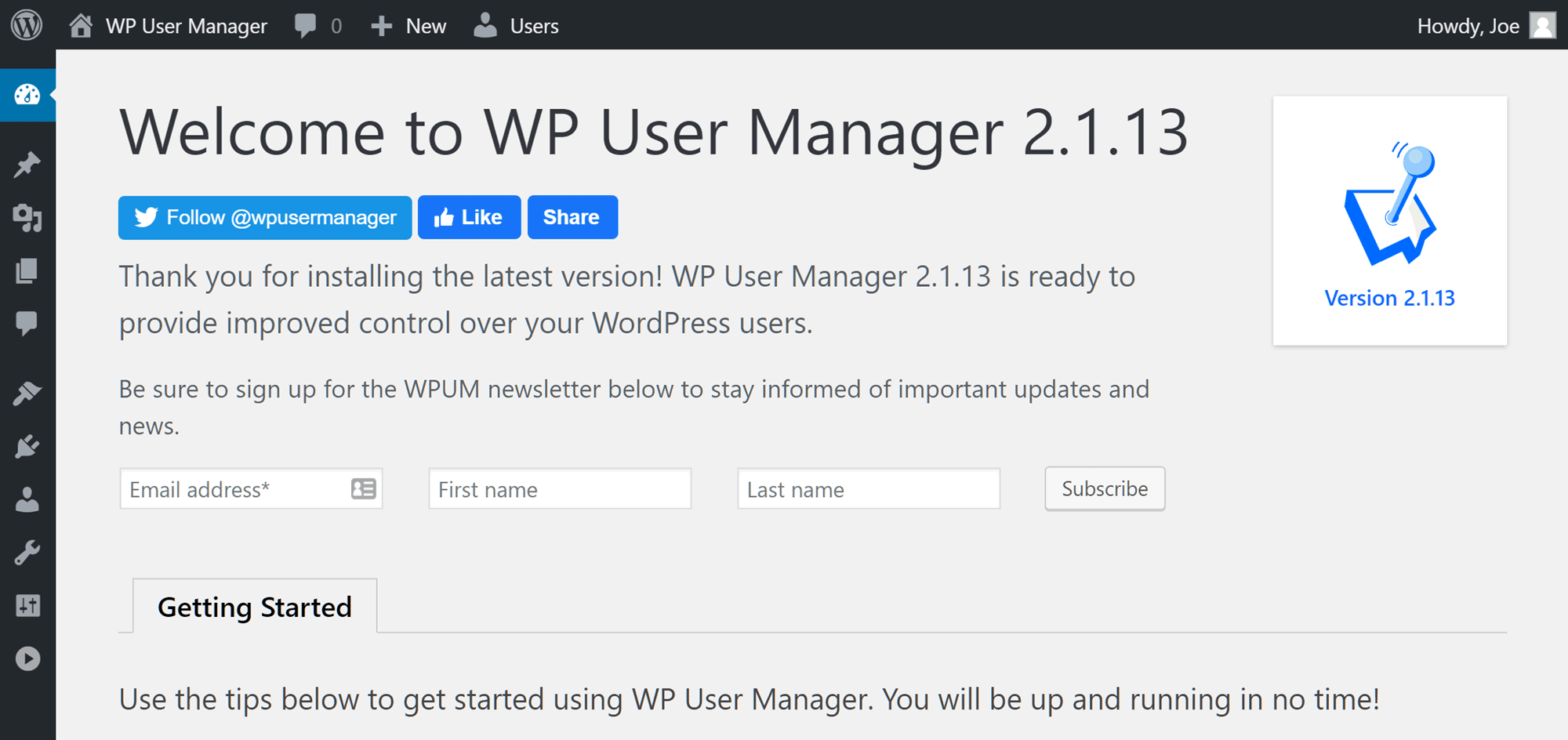 As mentioned, the core WP User Manager is free to use and can be upgraded by installing one or more of its add-ons. Some of these add-ons are paid extensions, but there's enough functionality in the free version of WP User Manager to enable you to upgrade the default WordPress user profile feature as well as create custom user registration, login, and account management forms for your website.
Some of the features and things you can do with WP User Manager include:
Publish custom front-end registration and login forms on your website.
Allow users to create and manage their own profiles.
Add custom fields to store additional data in user profiles.
Display user profiles on the front-end of your WordPress website.
Restrict access to content according to the role of a user (great for creating an educational or learning site).
Use widgets to display forms and other user-related content on your site.
Send out automatic notification emails.
And much more.
In the rest of this guide to WP User Manager, we'll explore some of those features in more depth to demonstrate how this plugin works and what it's capable of.
Features of WP User Manager
Here's an overview of some of the main features of WP User Manager to help you decide if this is the right plugin for your website.
WordPress Website Login Management
As WP User Manager is a plugin that enhances the WordPress user login experience, once installed, it makes it easy to deny access to the default WordPress login page and automatically redirect visitors to the new login page that's created by the plugin.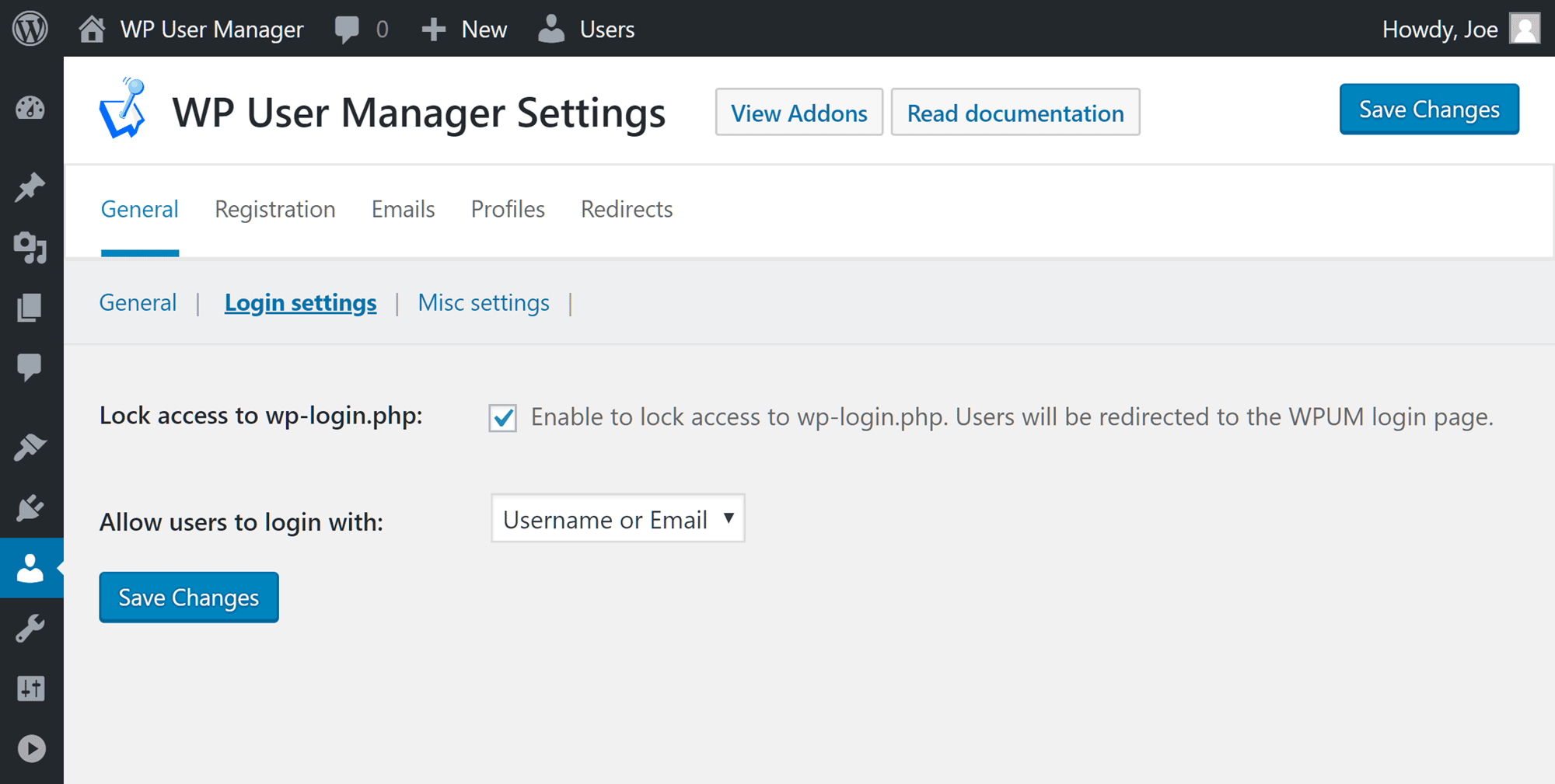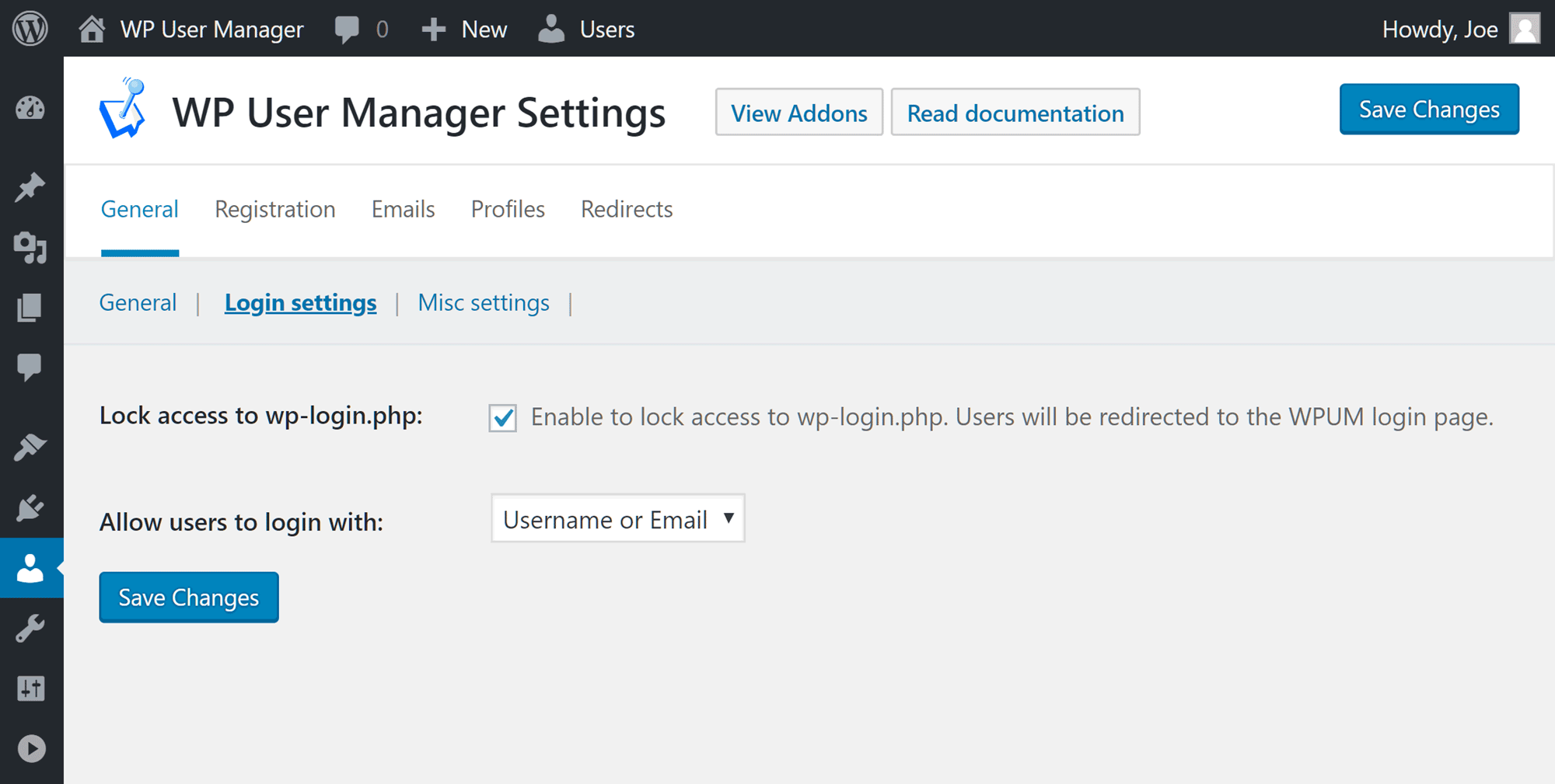 The free version of the plugin also gives you the option of defining whether users can log in using their username, their email, or both. However, if you enable the paid Social Login add-on, you can quickly simplify the process of gaining access to your content by allowing your visitors to register and log in using their existing Facebook, Google, Instagram, Twitter, and LinkedIn accounts.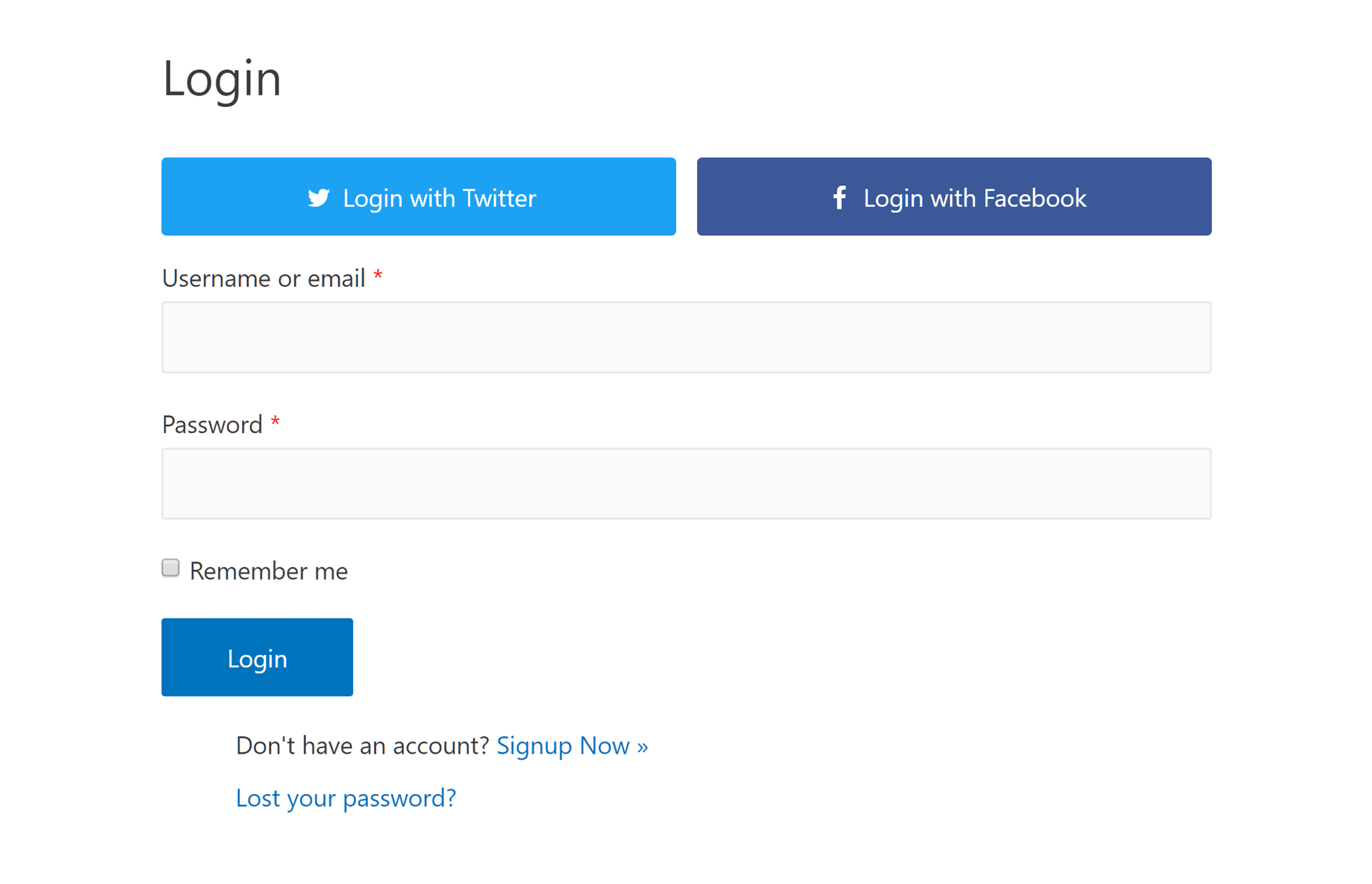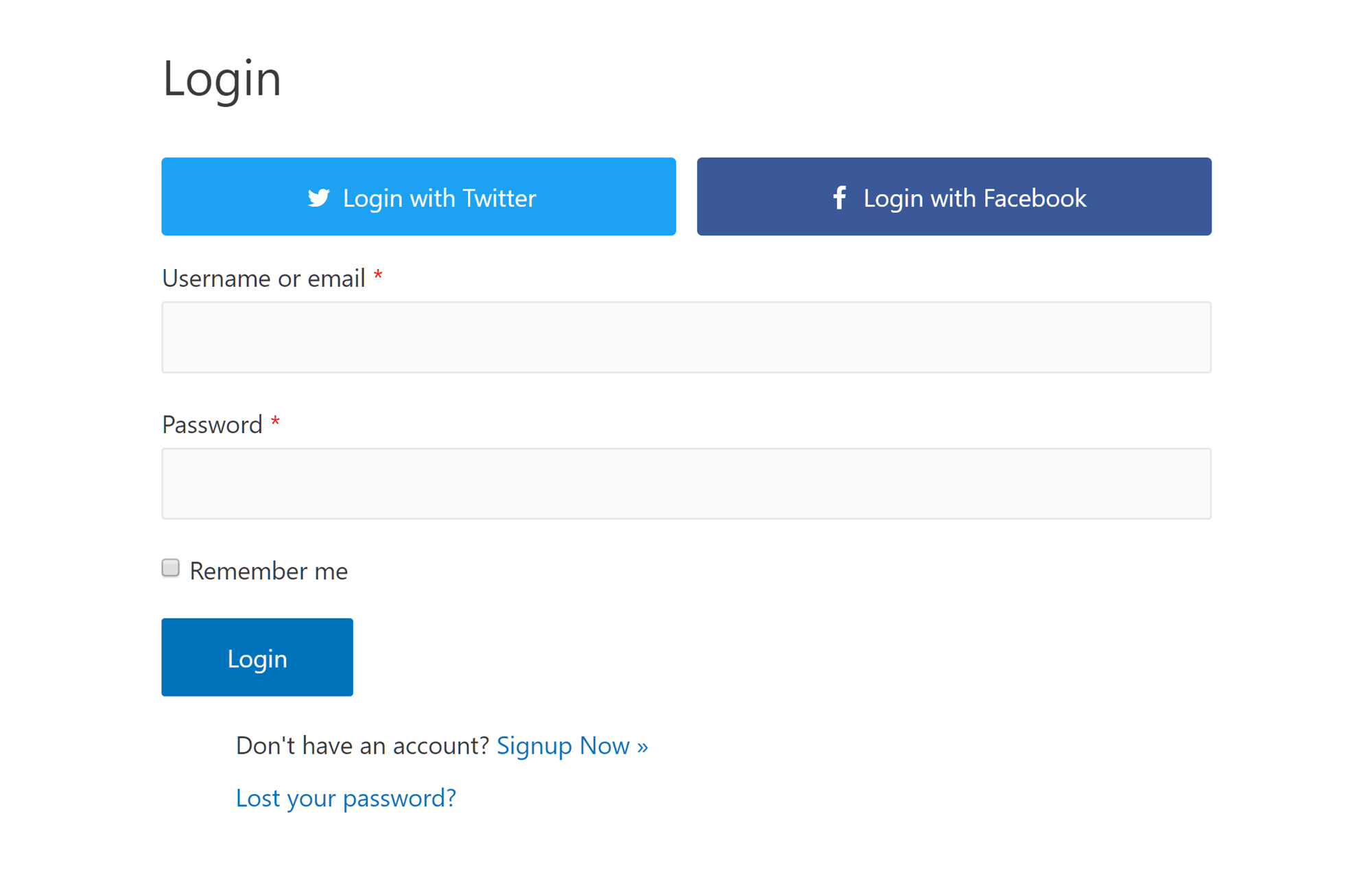 Adding social login buttons to your registration page reduces the time and effort it takes to sign up, hopefully encouraging more visitors to become users or members.
Customizable User Profile Fields and Forms
As there are many types of websites where visitors might want or need to sign up and become users, WP User Manager gives you lots of control over this aspect of your site works. For example, you can easily change the titles of the fields related to the user profiles, such as the username, email, and display name fields.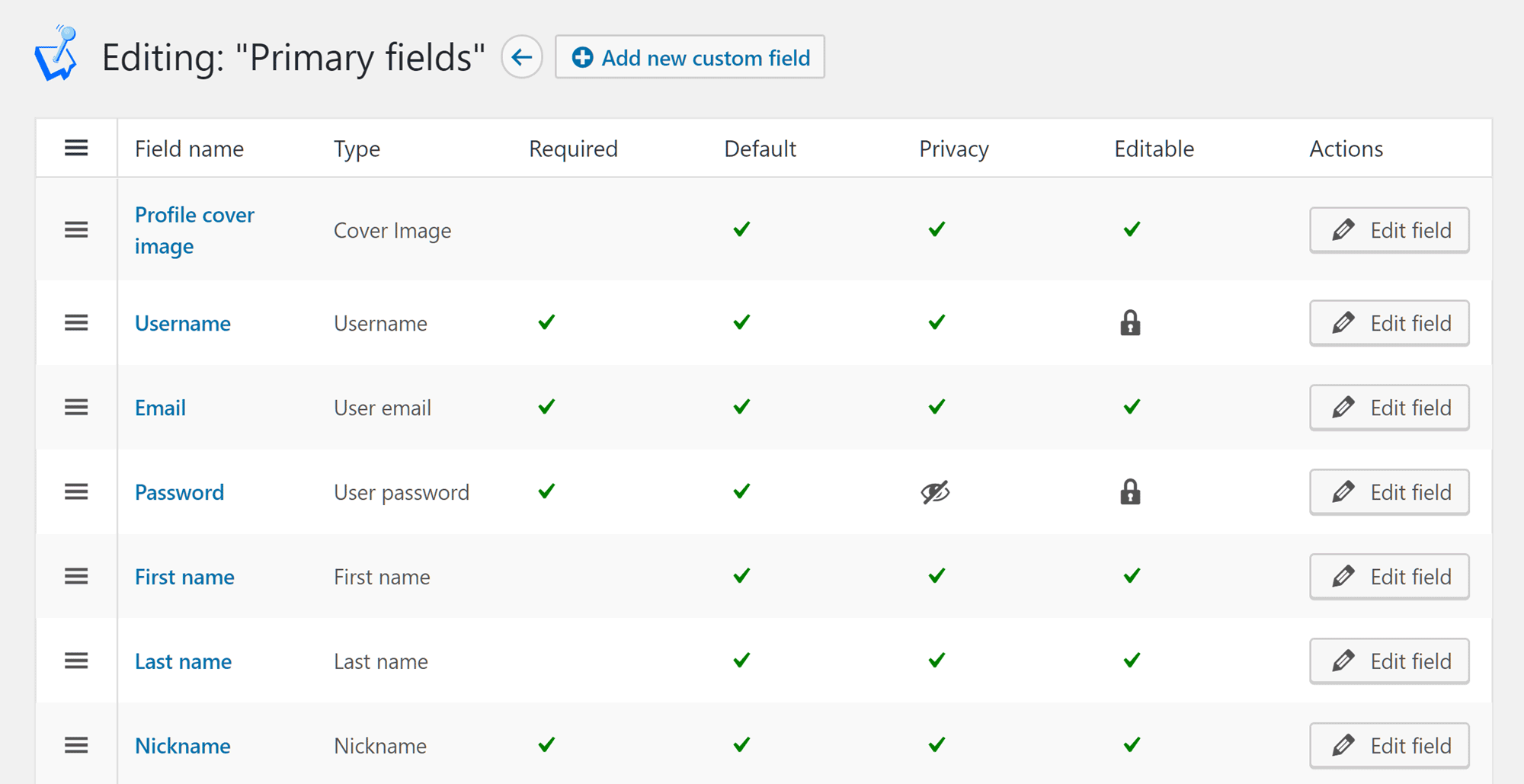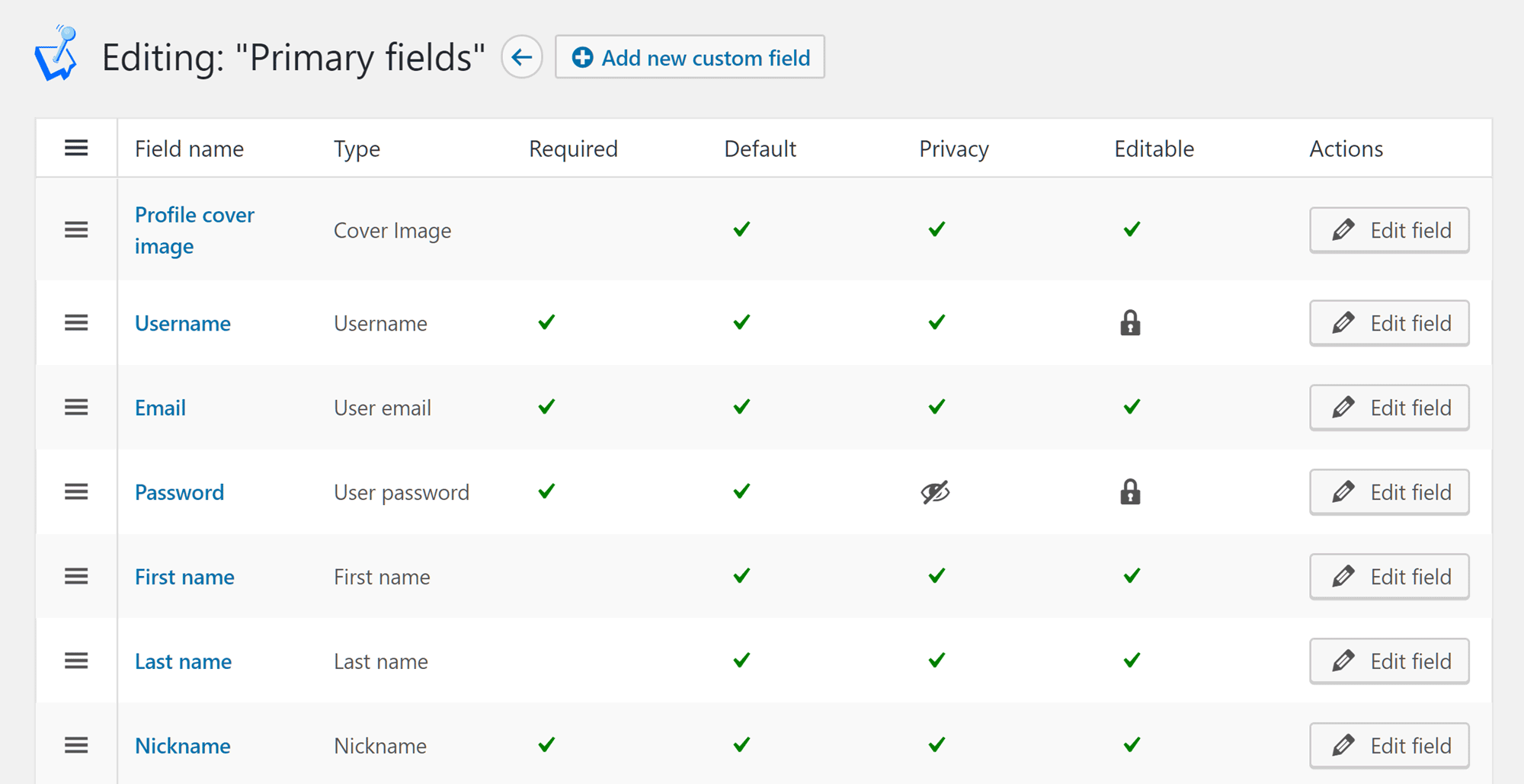 While the free-to-use plugin has lots of fields that you can include on the forms and user profiles, installing the Custom Fields add-on for WP User Manager gives you even more options for collecting and storing data about your users.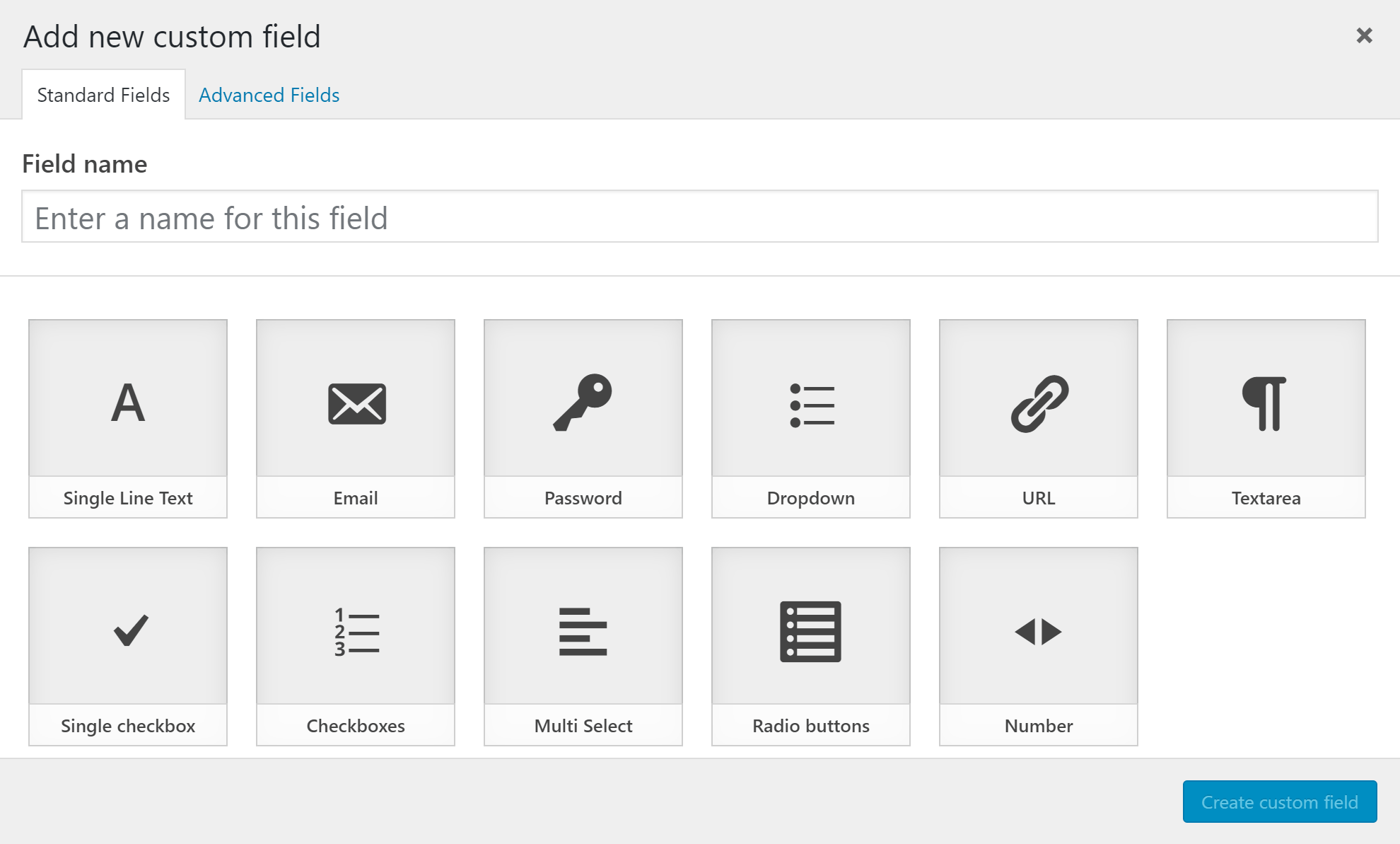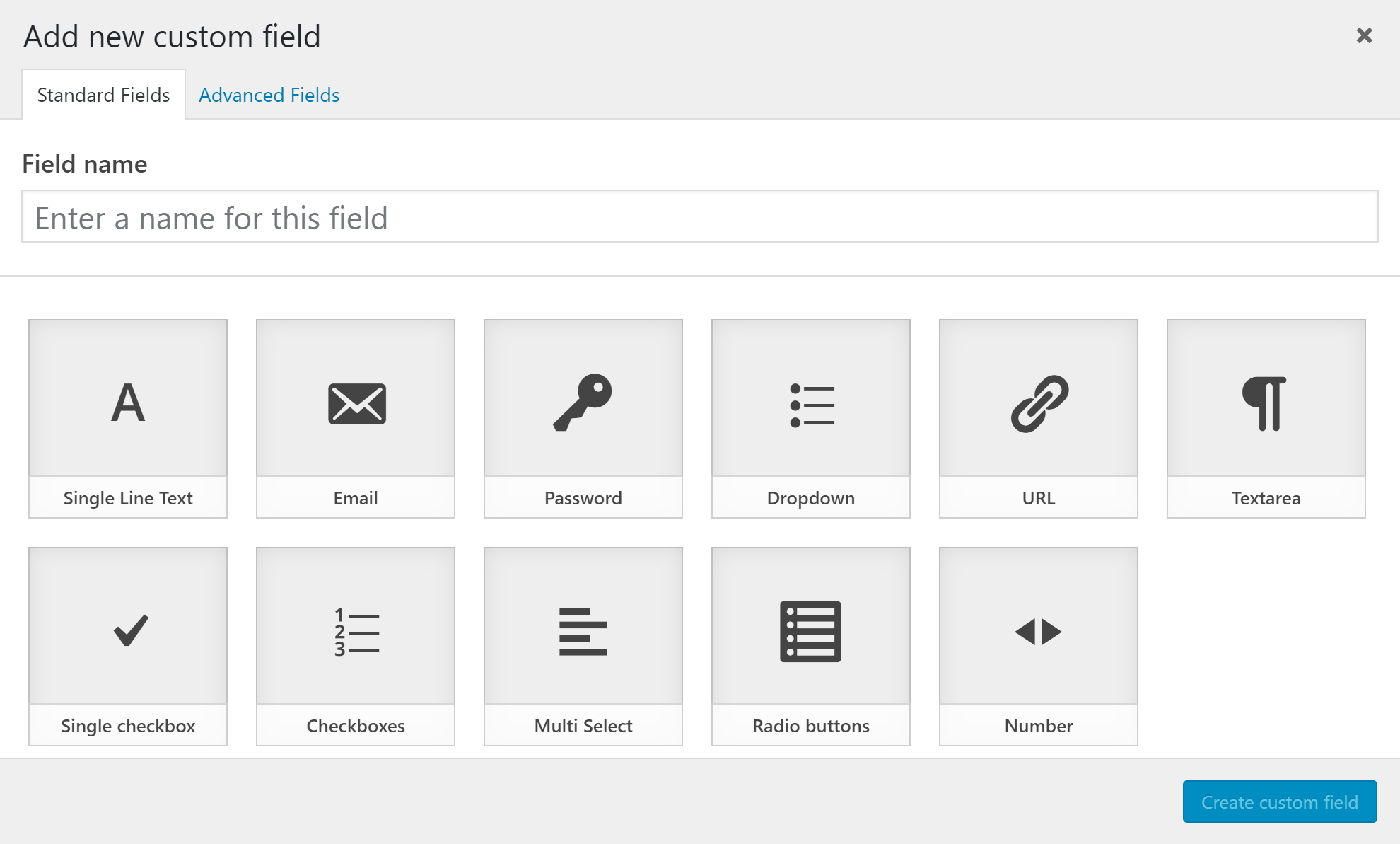 With this add-on running on your site, you can add fields that use dropdown lists, checkboxes, and other types of inputs, as well as add date pickers and file upload fields. These fields are used for storing data in the user profile area of your website and in the forms that you publish on the front-end of your site.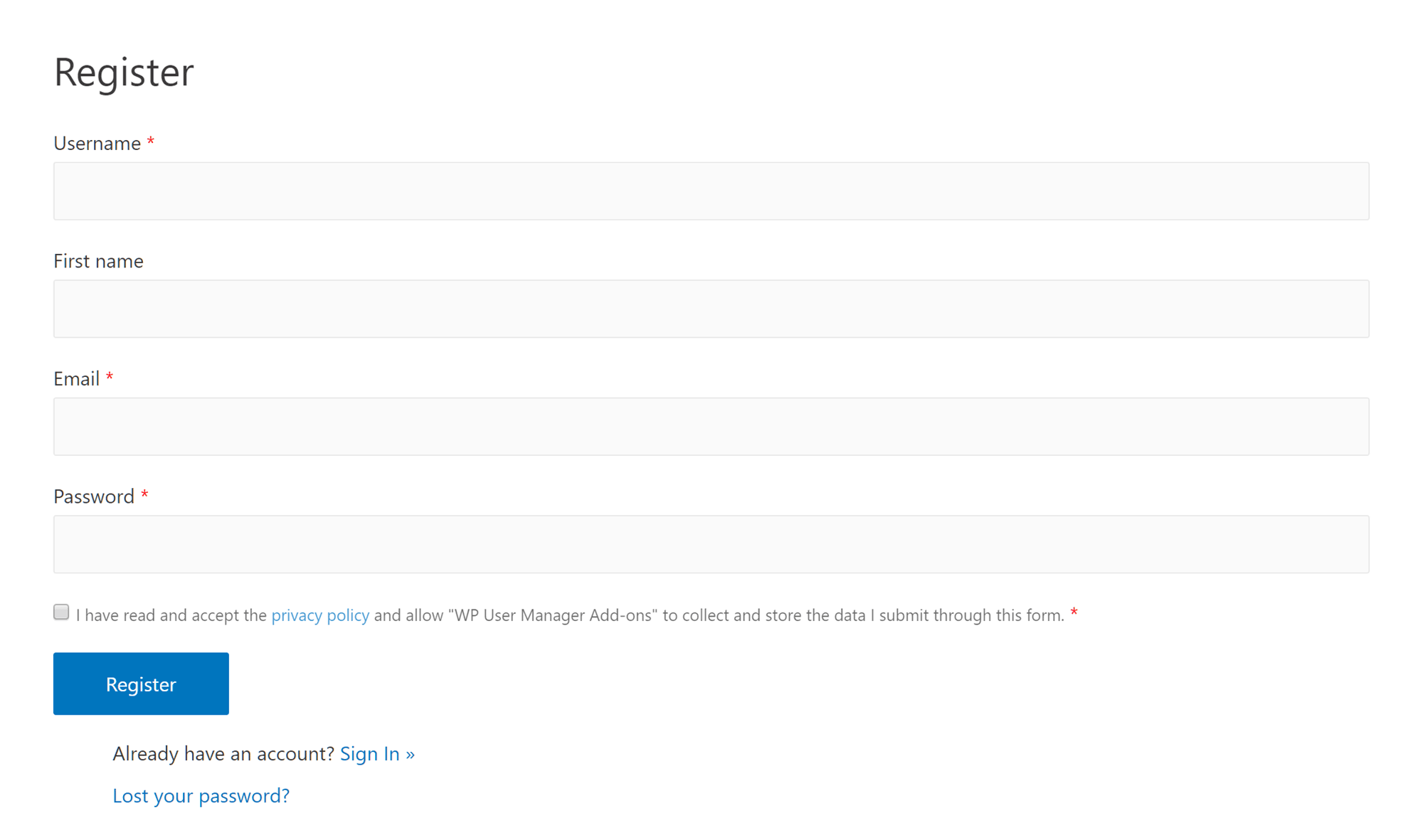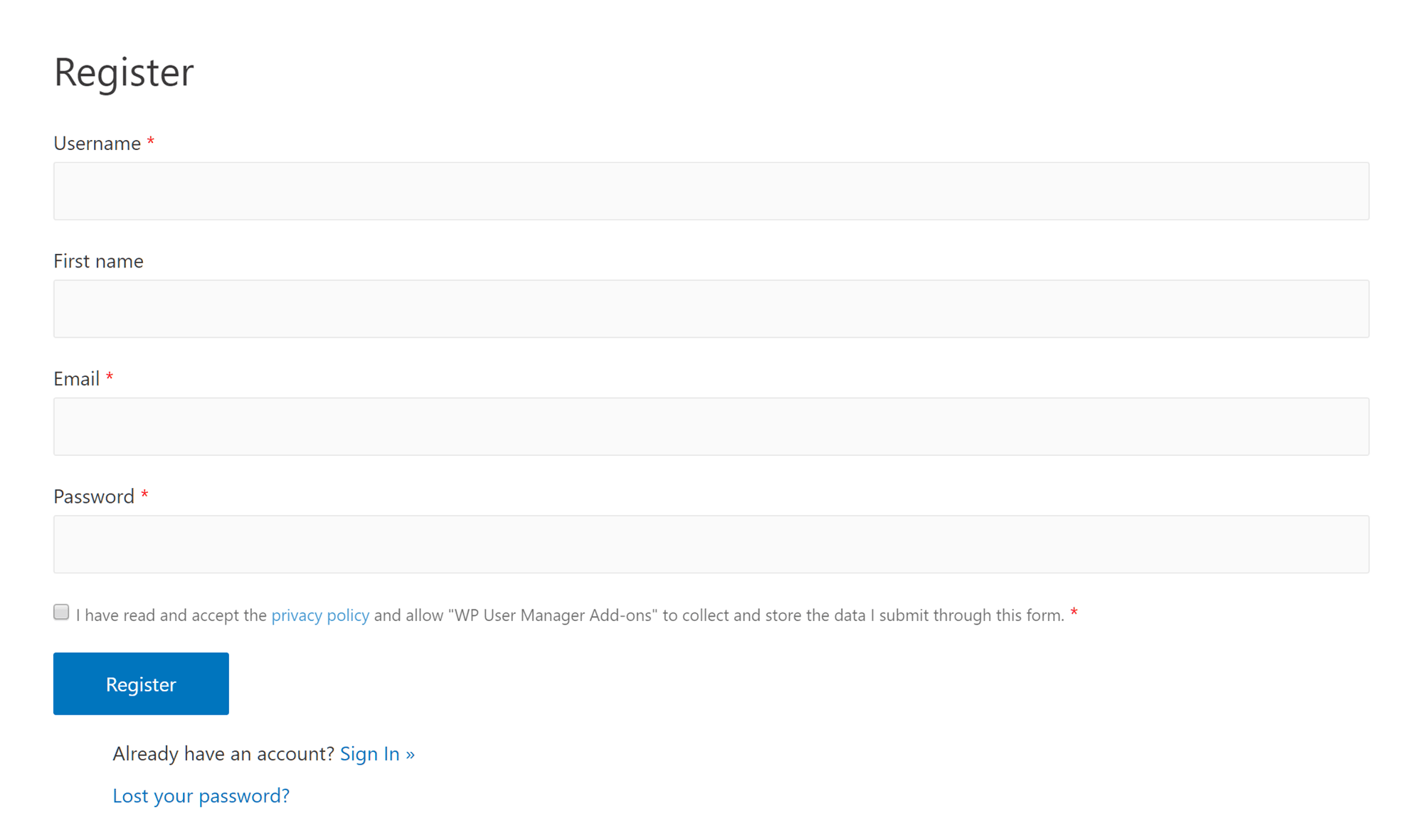 When it comes to the front-end forms, to save time, WP User Manager comes with pre-built registration and login forms for your website.
However, the plugin also makes it very easy to control what fields are included in these forms. Thanks to this, if you'd like to keep your forms as simple as possible, you can just ask for the essentials, such as the email address and username on the registration form, or collect more data by including the website, description, and profile cover images fields. You can also control which WordPress user role is assigned to visitors who register through your forms.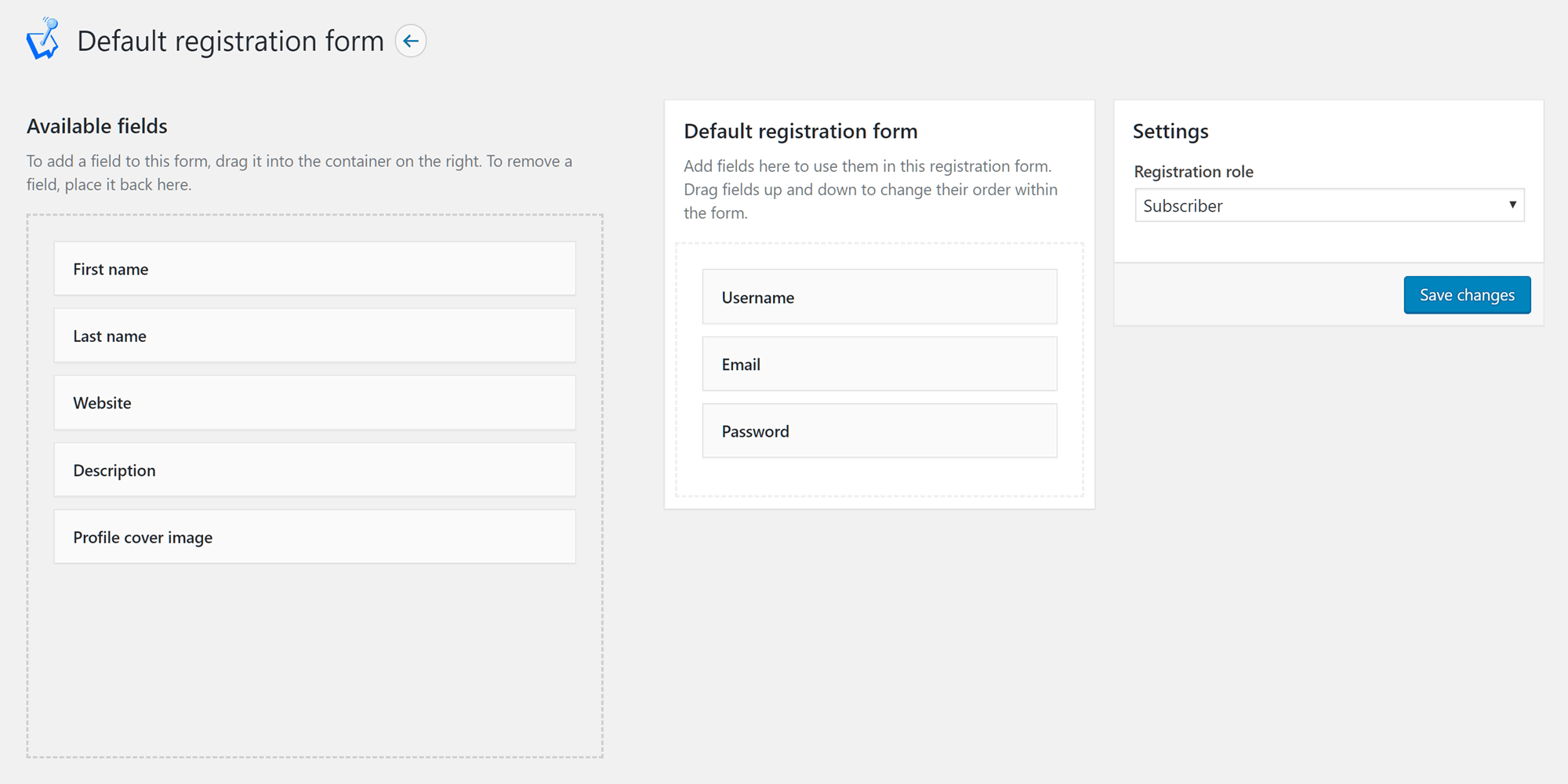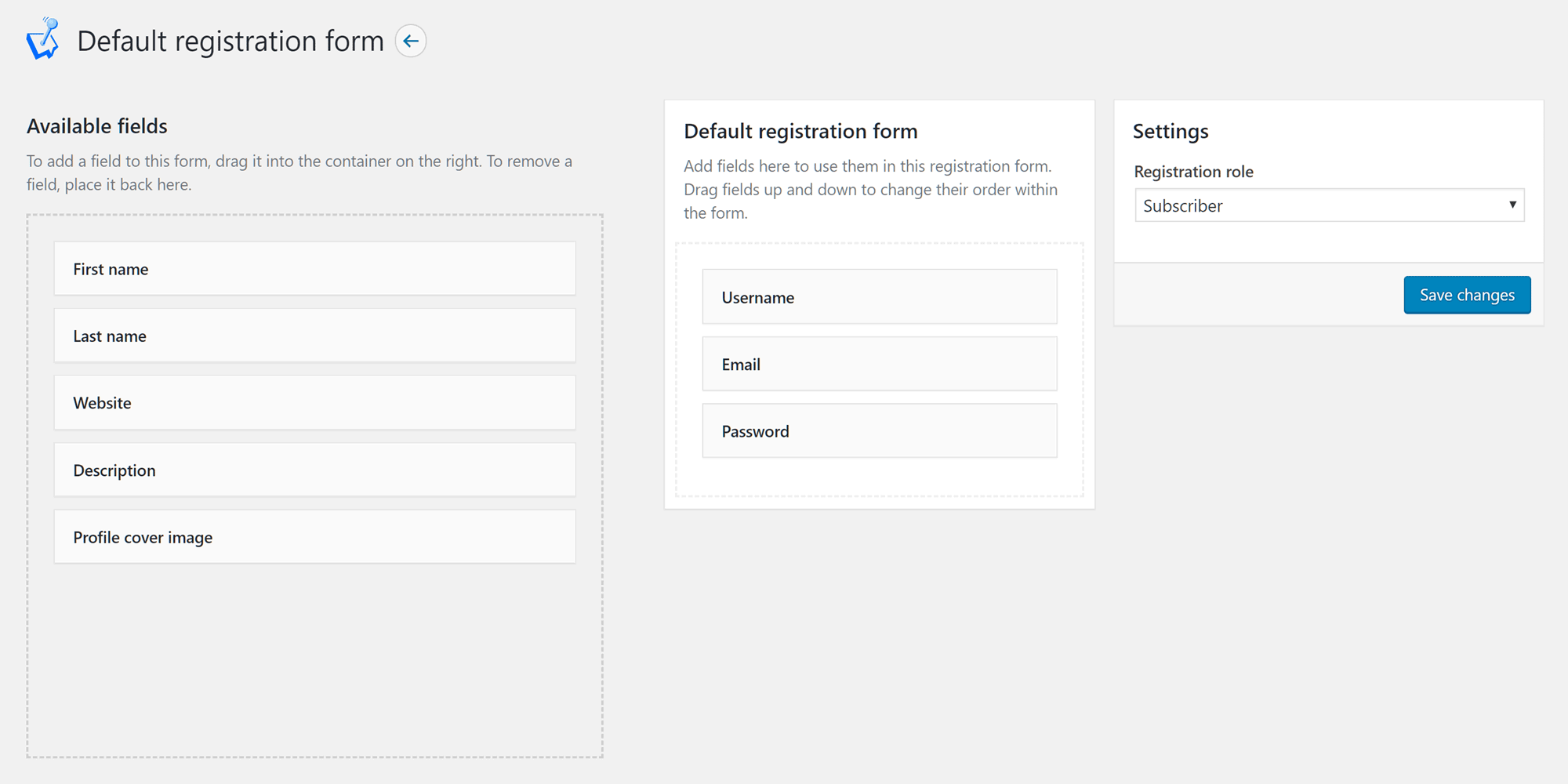 Customizing which fields are included in the forms is very straightforward. Simply drag and drop the available fields onto the column to add them to the form.
Front-end User Profiles
When using WP User Manager, your users, members, and other types of visitors who've registered at your site can manage their profiles themselves. Once logged in, they can update their profiles or add more information to the available fields though the front-end forms.
Depending on how you configure the plugin, the profiles of your users can be accessed by other visitors to your site.
User Directory Publishing
If you do want to make your user profiles publicly available, WP User Manager gives you the ability to create a user directory on your WordPress website. As we've seen already, you can add a range of custom fields to the user profiles on your site, so no matter what type of directory you want to create, you should have no trouble storing and displaying the relevant information about your users.
Features like directory sorting, searching, and pagination all help to make your online member directories easier for your community to use.
Custom Email Notifications
To save you time, WP User Manager can automatically send emails to your users after certain events, such as once a new user has registered on your site or via the password recovery form. For convenience, the templates for these emails are added to your site after the plugin has been activated.


However, as well as letting you control what data you can store about your users and which fields are included on the front-end forms, WP User Manager also enables you to customize the email notifications that are automatically sent to your users through an intuitive editor.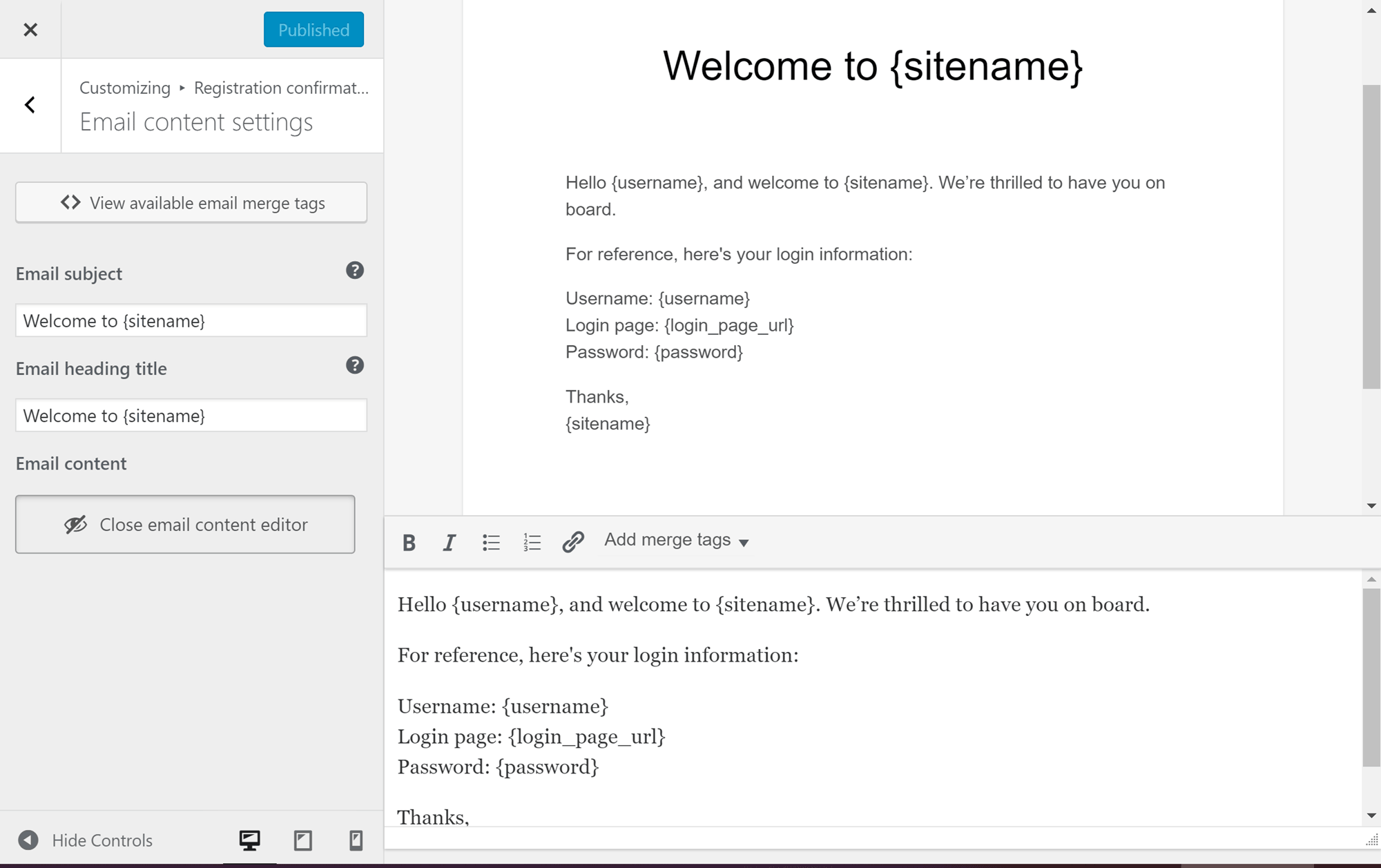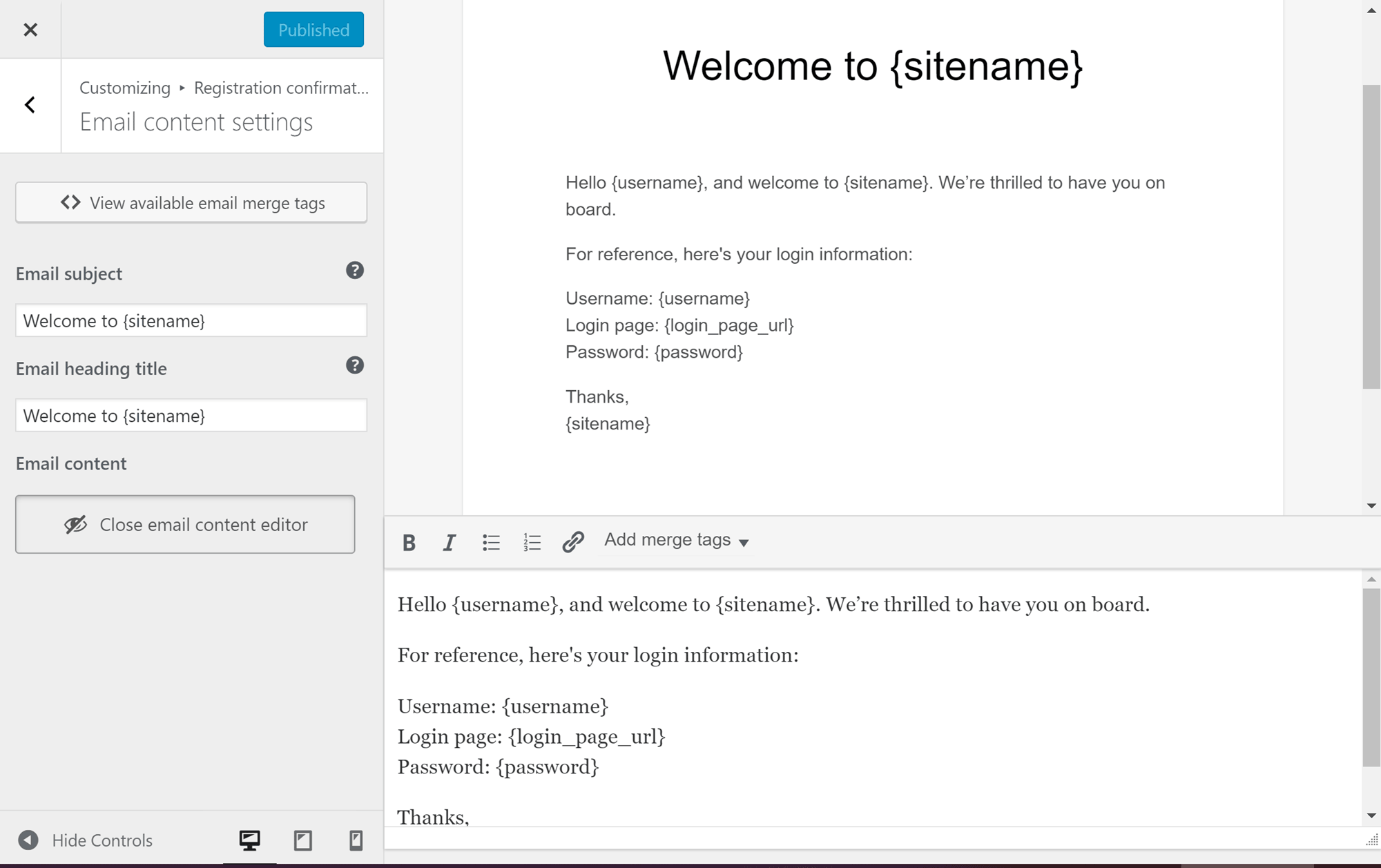 Thanks to this, your registration confirmation, password recovery, and other emails can not only contain the information you want them to, but you can also personalize the HTML templates so that they have the right look for your website.
WP User Manager Add-ons
The features detailed above cover just some of the things the free version of this plugin and its add-ons can do. However, and as mentioned, there are a number of paid add-ons for WP User Manager that unlock even more functionality. Here's a quick overview of some of those add-ons:
Custom Fields Add-on
As covered earlier, if you install the Custom Fields add-on, you can add a greater selection of field types to your user profiles, including lists and file upload fields. Therefore, if you need more sophisticated options for collecting data from your users during registration or when they're filling in their profiles, this add-on can help.
User Verification Add-on
The User Verification add-on enhances the ability of the core plugin to send out automatic emails to newly registered users. It also gives you the option of requiring registrations to be manually approved, rather than automatically verified. If you want your users to have to verify their accounts via email, then this extension was designed to add this feature to your site.
Social Login Add-on
Mentioned earlier, this add-on lets your visitors sign up and log in using their accounts on the main social media platforms. The Social Login add-on will also populate the user profile on your site with the first and last names from their accounts on the social media network they've used to register.
WooCommerce Add-on
If your site is running a store with WooCommerce, WP User Manager has an addon to connect the two, allowing your users who are also customers to manage their billing and shipping addresses from the account page. You can also display users' orders in their account, and show their purchases and product reviews on their public profile.
MailChimp Add-on
If you want to subscribe your users to your MailChimp newsletter or email list during the registration process on your site, this add-on has that functionality. Through the add-on settings, you can choose which of your lists at MailChimp to subscribe the user to. Users can also manage their subscription from their user profile on your site and site administrators have the ability to manually add or remove users via the WordPress dashboard.
If you already have a number of users registered on your site, you can still add them to your email lists by using the sync tool of this add-on to import those users into MailChimp.
If you'd like to know more about any of the add-ons available for this plugin, including the WooCommerce extension, you can view the options on the relevant page of the WP User Manager website.
Final Thoughts
Hopefully, you now have a good idea of what WP User Manager can do and if it's the right WordPress user profile management plugin for your website.
With a feature-packed free version and some very useful add-ons, WP User Manager is ideal for upgrading the core WordPress user profile functionality, giving you more control over how visitors can register, login, and publish user profiles on your website.
As you can get started with WP User Manager for free, there's no reason not to give this plugin a try.
Have any questions about WP User Manager? Please let us know in the comments below.
What to hear about our latest deals and new posts? Subscribe below 👍