If you are looking to start a dropshipping business on WordPress, you will definitely love this post. In a couple of words, we show you exactly how to start a WooCommerce dropshipping business on your WordPress site using the AliDropship plugin.
This post contains some affiliate links. We may receive a commission for purchases made through these links. See the
disclosure
for more details.
Ecommerce is booming, and dropshipping is your opportunity to get a piece of the pie. By the way, did you know that "…in 2017, retail e-commerce sales worldwide amounted to 2.3 trillion US dollars and e-retail revenues are projected to grow to 4.88 trillion US dollars in 2021."
Not a bad figure at all.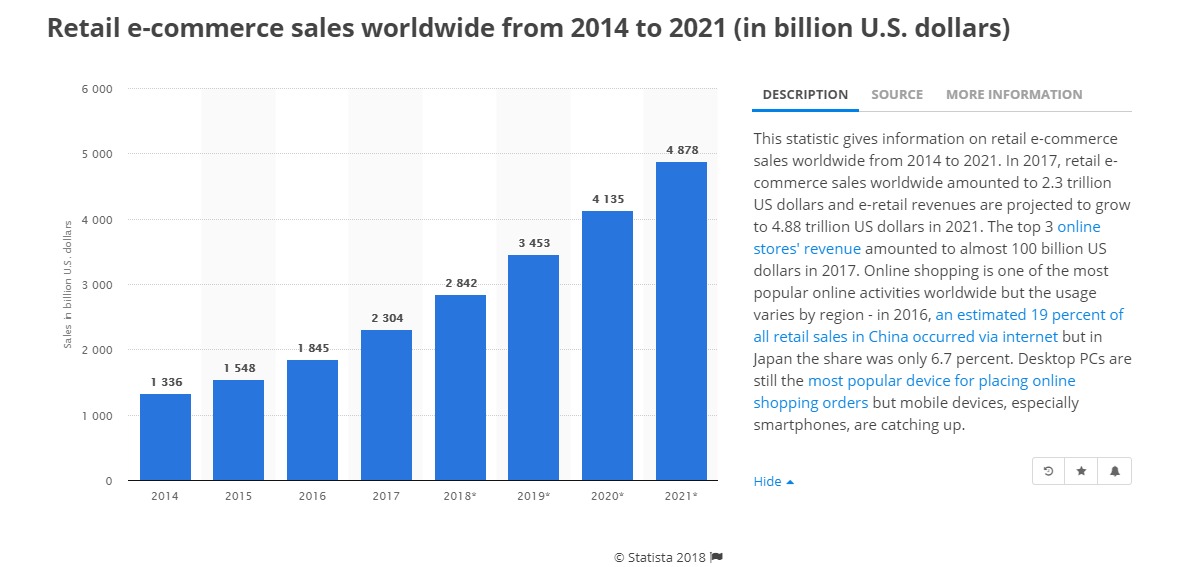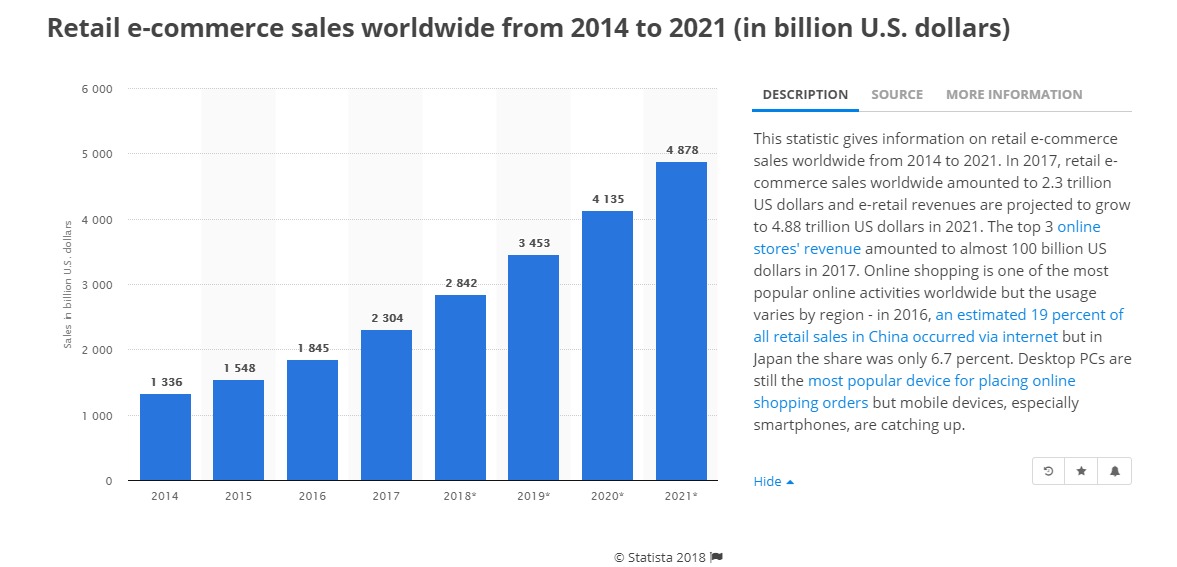 Now you're in the know but why dropshipping? This business model is easy to start even on a tight budget. By any means, it has its share of challenges just like any other business. However, if you put in the work, you can turn in a profit like many other dropshippers out there.
Towards the end of this post, we share a marvelous video and a couple of successful dropshipping case studies, so stick around for that. Other than that, get your mug ready and let us get down to business.
What is Dropshipping?
If this dropshipping business is new to you, you might be wondering what it is all about. Well, dropshipping involves selling other people's products without actually stocking them. You get the orders from your customer and buy from the supplier, who then ships the product on your behalf.
So you don't keep inventory or ship out orders. You merely market the products, get people to buy, and the supplier takes care of everything else. Your profit is the difference between the price you ask your customer and the supplier's price.
For example, if you sell a sofa at $400 and buy the same at $150, your profit is $250. Note, you don't deliver the products; it's the supplier's responsibility. This means you don't need a physical store or warehouse to run a dropshipping business, even if you're selling physical products.
The best asset you can have as a dropshipper is a well-designed website and a profitable niche. After that, you just need to promote your site (alongside the products) and make bank. WordPress, WooCommerce, and AliDropship are merely tools to realize your dropshipping goal.
Benefits of a WooCommerce Dropshipping Business
There are many different types of online businesses, so why should you choose dropshipping? Well, here is a short list of the benefits awaiting you.
Easy to setup – Setting up a WooCommerce dropshipping business is the stuff of fourth graders. It doesn't matter whether you've built an online biz before, dropshipping is the perfect ecommerce business for beginners and pros alike.
Cheap to start – Starting a dropshipping business on WordPress is cheap since you don't need to create products or rent a warehouse. You don't need to buy your own stock since you only buy the product when the customer pays.
Plenty of room for growth – Dropshipping is quite the flexible animal. If a product is not performing, you can jump onto another product at the snap of a finger. Since you don't need to keep any stock, you can play around with different products before deciding on a specific product.
The entire world is your market – Unlike a traditional stone and mortar store, the entire world is your market with a dropshipping business. After all, you just need to promote your WordPress site, which by the way, is accessible from anywhere in the world.
Independence – Dropshipping eliminates the need for warehouses (on your part), which means you can work on your business from anywhere in the world. You won't have a stock of items holding you back, just pick up your computer and get to work.
Easy to scale – We've mentioned a million times that you don't need to concern yourself with product creation, stocking or shipping. This means you have more time on your hands to focus on promoting your business like a madman.
With that out of the way, let us get down and dirty.
How to Start a WooCommerce Dropshipping Business
In this section, we go into the nitty-gritty of setting up a dropshipping business. Where do our three tools, i.e., WordPress, WooCommerce, and AliDropship come in? Well, we use WordPress to create a website, WooCommerce to add an online store to the site, and AliDropship to automate the business.
But before all that, you must think of your business needs first. You obviously want to start with a sound plan so you can know when you're making progress. The most important part of your plan is deciding on the products to pursue, which leads us to our first step.
Choose a Niche
You want to go for hot products that are easier to sell, but how do you find these products? Start your research on sites such as AliExpress, Amazon, and eBay. The secret is to look for the best selling and trending products on these websites.
Alternatively, you can pursue products that align with your interests, just ascertain there is a ready market. At the end of the day, astute research will offer you plenty of information regarding the product(s) to pursue.
Product Demand
Go for products that are in demand or have a stable or positive trend. To establish if your niche product has a positive/stable trend, you can use a tool such as Google Trends.
For instance, let us say you would like to sell iPhone phone cases. Head over to Google Trends and enter the keyword "iPhone phone cases."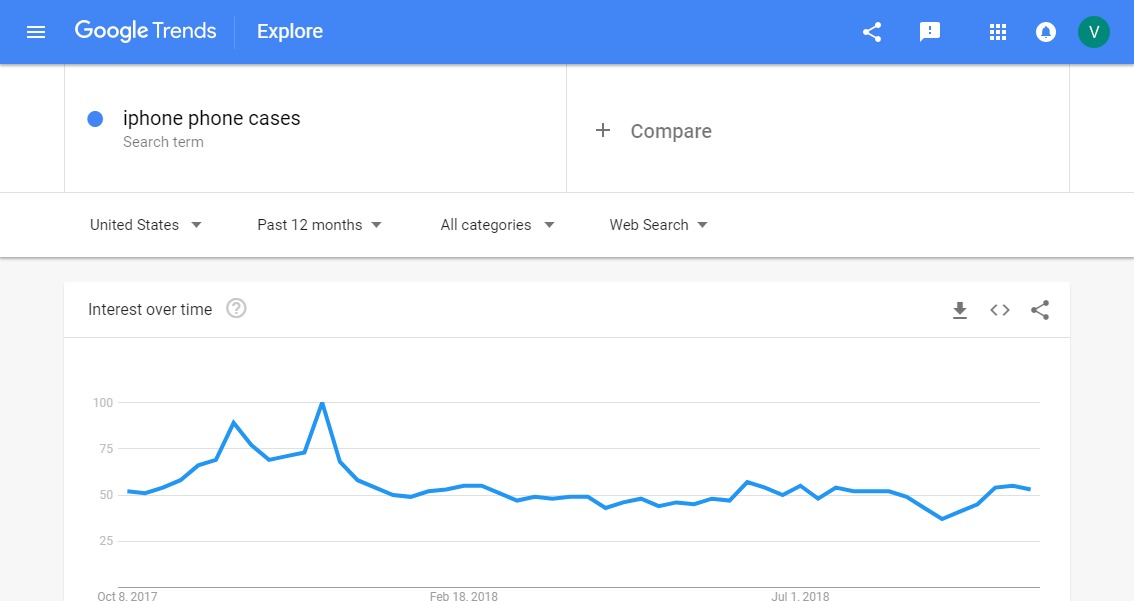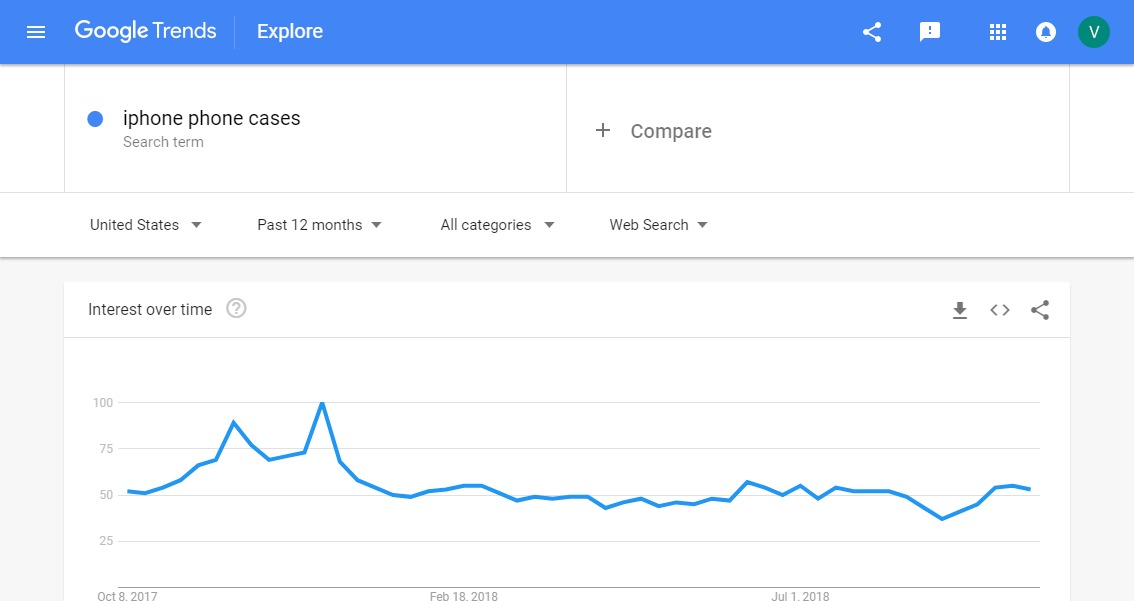 From Google Trends, we can see this keyword enjoys a stable trend, meaning this is a nice niche to pursue. You will have some serious competition to go against but who said competition is bad?
To avoid the cutthroat competition, you can go ultra-specific with your niche selection or choose another product that doesn't have as much competition. Better still, you can study the competition, build a unique website and capitalize on their weaknesses.
All in all, go narrow when choosing your niche. Steer clear of broad niches because it's hard to get traffic and orders from such niches.
Product Availability
Next, we recommend checking out AliExpress to ensure there are enough products and categories for your chosen niche.
Going with our "iPhone phone cases" example, you can clearly see there are plenty of products and categories to pursue (see image below).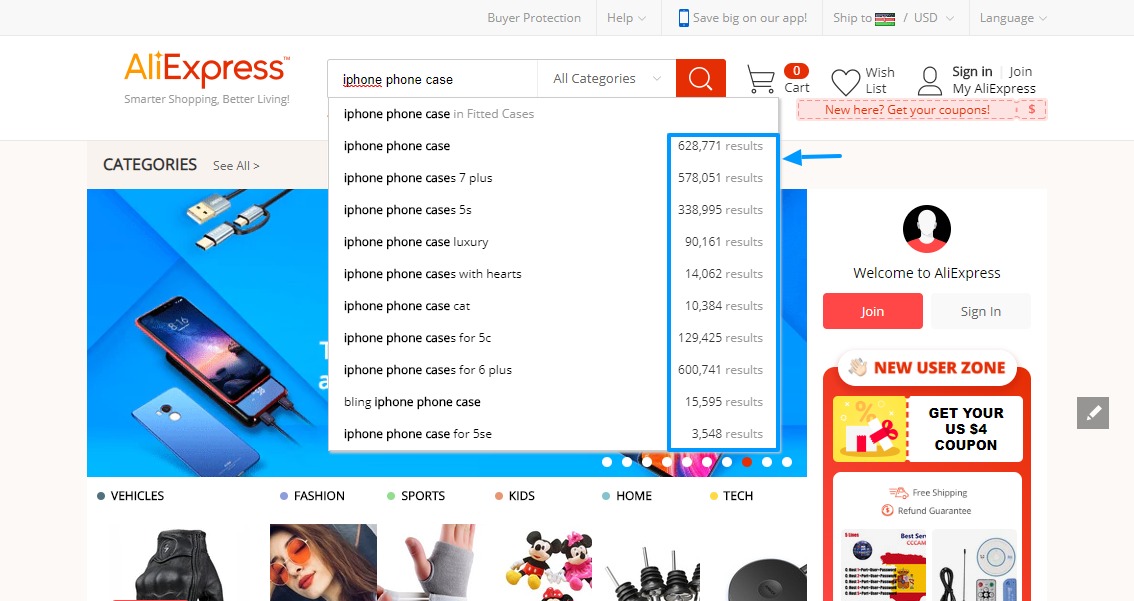 Not bad at all. This looks like a very promising niche to pursue.
Product Pricing
Now, let us determine the prices your competition charges for the same product. You want to go for the lowest price you can get. If your competitor is selling an iPhone phone case at, say, $20 bucks a piece, you want to find cases that cost $2/piece on AliExpress.
This will allow you to offer the same products at a lower price than your competition while making a killing. So, how do you go about it? It's is easy; follow the steps below.
a). Find Five Products Within Your Niche on AliExpress.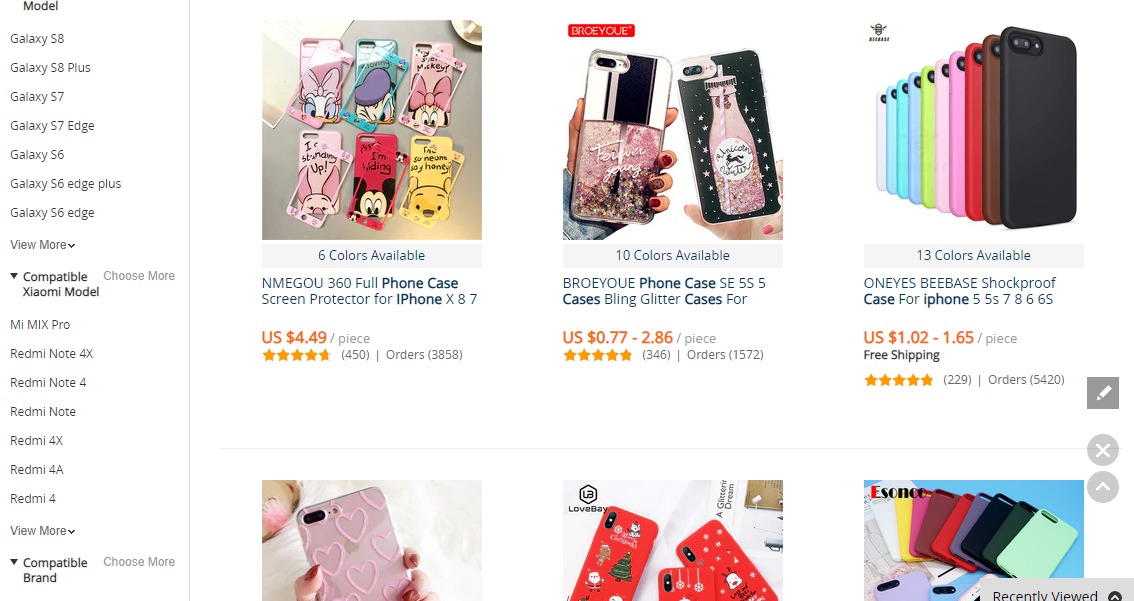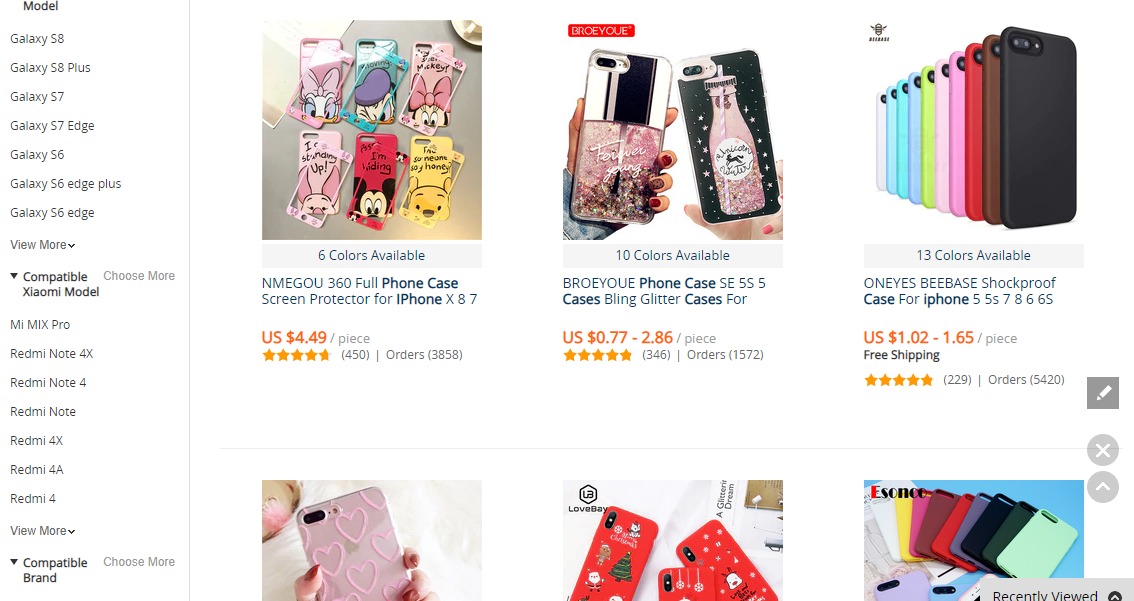 From the image above, you can see products such as NMEGOU 360 Full Phone Case, BROEYOUE Phone Case SE 5S and ONEYES BEEBASE Shockproof Case among others. Note also the prices, i.e., $4.49, $2.86 and $1.65 respectively.
Now, let us compare these AliExpress prices with what the competition is already offering.
b). Search For The Same Products on Google
A little search on Google and I found a couple of iPhone phone cases on sale on another website. Mind you, if you were to sell iPhone phone cases in real life, this company would be one of your competitors.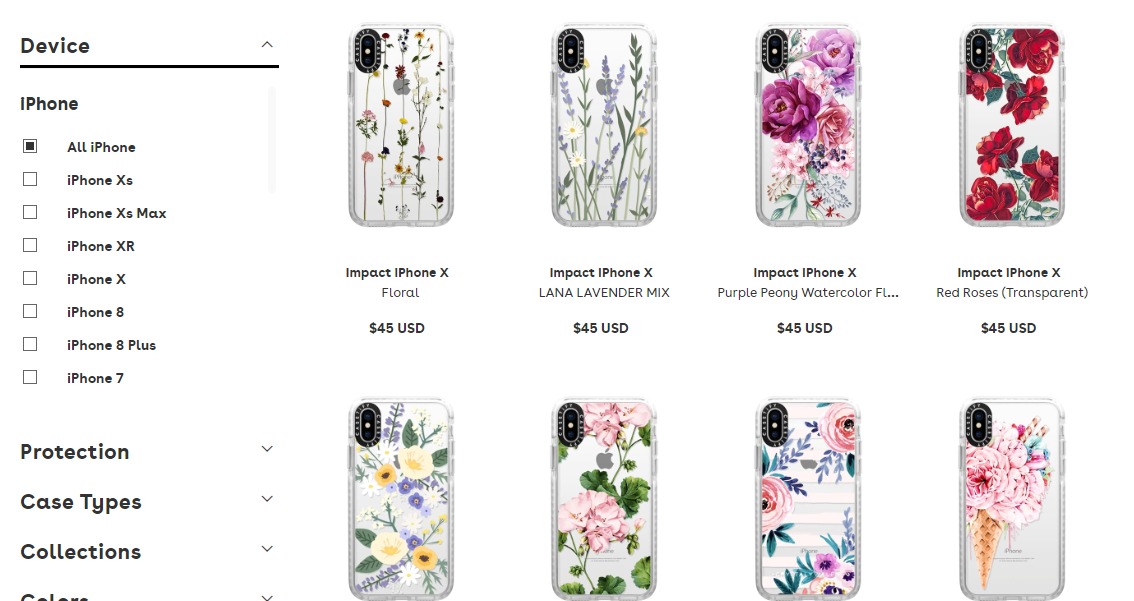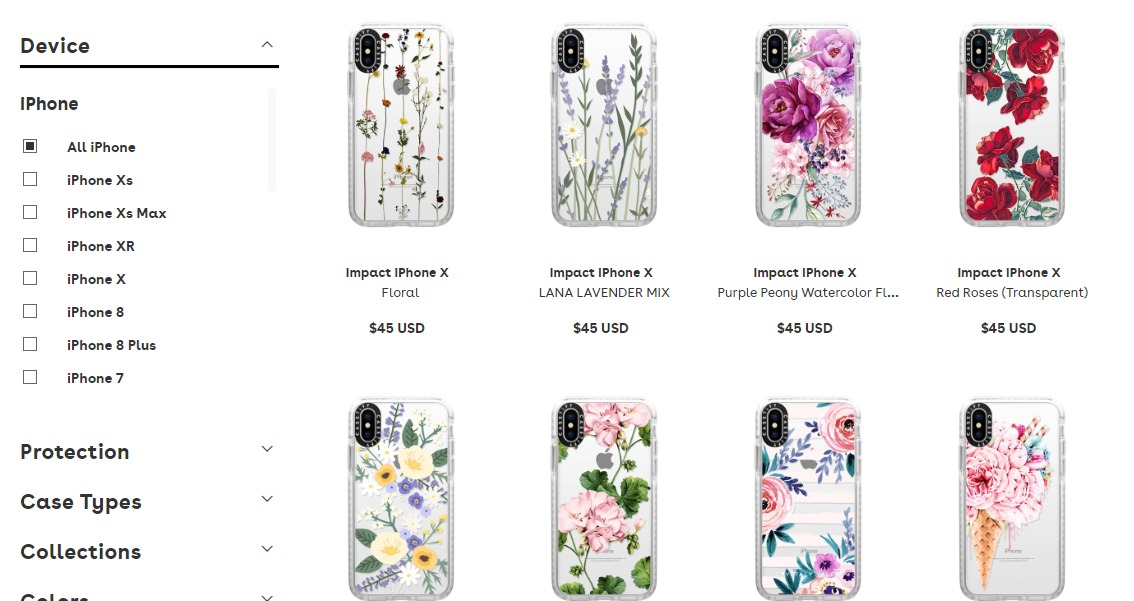 The guy is selling the cases at a whopping $45 bucks! You can sell your cases at a much lower price considering AliExpress is selling the same cases for about $2 bucks. You will source your products from AliExpress, but you're free to choose any other suppliers.
Aside: Conduct a little keyword research using a tool such as Google Keyword Planner to establish the keywords you will pursue when writing your website content. Go for long-tail keywords with high search volume but low competition.
Now that you have a popular product with a reasonable profit margin, let us forge ahead and build a WordPress site.
Setting Up Your WordPress Website
Creating a WordPress site is so easy you should be done in the time it takes to eat a sandwich. We won't go into the details because we already covered how to start a WordPress blog earlier. After all, you just need a good web host and domain name.
If you don't have a web hosting account or even a domain name, I use and endorse Namecheap for their stellar service. Buying a domain name, hosting account and setting up a WordPress site on Namecheap is as easy as pie.
Without a doubt, feel free to use any other web host such as SiteGround and WP Engine among others. We actually have a dedicated guide to WordPress hosting which should help! Just ensure you go for a reputable hosting company to avoid hosting-related problems such as downtimes, poor security, and low resources.
Once you set up your WordPress site, log in to your admin dashboard so you can install the WooCommerce and AliDropship plugins. WooCommerce is free, but AliDropship is a premium WordPress plugin that costs only $89 bucks at the time of writing.
Note: Installing and configuring WooCommerce is easy since the plugin comes with a Setup Wizard. All you will do is point and click to set options such as currency, shipping (please offer free shipping), payment gateways and so on.
Using the AliDropship Plugin
With WooCommerce ready, it is time to automate your dropshipping business. For that, you need the AliDropship plugin. This plugin allows you to search and import products from AliExpress at the click of a button.
You can import products from AliExpress manually, but that won't be feasible. Best is to automate the process with the AliDropship plugin. Setting up and using the plugin is as easy as A, B, C.
But I wouldn't dream of boring you to death with the technical stuff, more so when Sarah has done a tremendous job with the following video.
Thank you so much, Sarah, for this fantastic video. Keep up the great work. Please don't skip the video; I highly recommend that you watch it to the very end. It tackles some critical areas such as designing your website, and most importantly, configuring the AliDropship plugin.
Case Studies
If you need some impetus to start your WooCommerce dropshipping business, here are a couple of success stories for your pleasure.
Conclusion
Starting a WooCommerce dropshipping business is easy regardless of your level of experience or geographic location. Anybody with an internet connection can do it; you just need to put in the work.
There are plenty of products from which to choose especially on a website such as AliExpress, which has millions of cheap products from various suppliers. Most of the products are dirt cheap, which means a good profit margin.
Have any thoughts or questions? Please don't hesitate to let us know in the comment section below.
What to hear about our latest deals and new posts? Subscribe below 👍